Apple (NASDAQ:AAPL) may face a Samsung (OTC:SSNLF) Note 7 type public relation quagmire in China as it resisted Beijing's demand to replace battery for a wider range of iPhones reportedly encountering shutdown issue.
Apple issued a statement Friday night to repeat that it was only committed to replace batteries of some iPhone 6s manufactured in September and last year.
This is a slap in the face for the government-backed China Consumers Association (CCA) who reissued a query to Apple last Tuesday urging the smartphone giant to offer a more detailed analysis and solution for consumers.
Apple's statement explained that some iPhone 6s produced in September and October last year contained a battery component exposed to controlled ambient air too long before being assembled into battery packs.
"As a result, these batteries degrade faster than a normal battery and cause unexpected shutdowns to occur", added Apple.
Although stressing it was not a safety issue, Apple repeated its commitment to replace batteries in affected iPhones free of charge.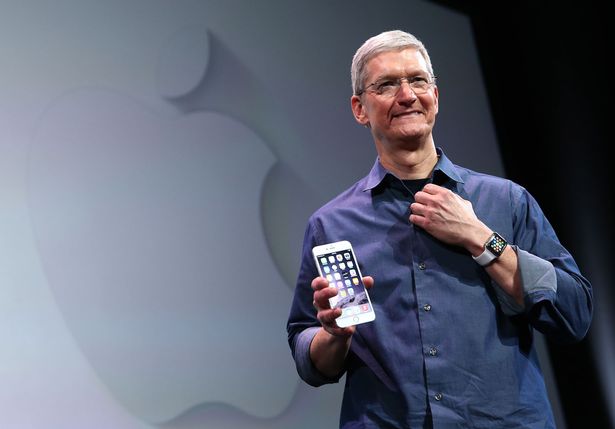 Apple CEO Tim Cook announced in September 2015 the launch of iPhone 6s. Source: Getty Images
Apple Identifies No New Factors For iPhone Shutdown
The new element of the statement is that Apple "identified no new factors that could cause an iPhone to shut down unexpectedly" after intensive investigations. That means Apple would not replace batteries of any iPhones other than those 6s made in the two months last year the company had mentioned.
However, according to CCA, many Chinese consumers had filed complaints regarding iPhone 6, iPhone 6 Plus, and iPhone 6s Plus models, as well as iPhone 6s models produced after September and October 2015. CCA hence reissued last Tuesday a query to Apple urging it to offer a more detailed analysis and solution for consumers.
In mid-November, the CCA already questioned Apple over complaints that some iPhone models will automatically shut down even if 50 to 60 percent of their battery life remains. Apple later denied it a safety issue and launched a worldwide program to replace batteries for some iPhone 6s smartphones manufactured during September and October 2015.
Comparison With Samsung's Note 7 P.R. Fiasco
Apple's battery shutdown issue unavoidably makes people compare it with Samsung's Note 7 battery fire crisis. Initially, even as Samsung recalled more than two million Note 7s in the United States and elsewhere, the company reassured Chinese customers that the phone was safe because the Chinese version of the Note 7 had a different battery. But in late October, after reports in China of phones catching fire, it finally recalled the Note 7 in China before it scrapped the phone globally.
Although iPhone's battery shutdown is definitely less serious than the battery fire of Note 7, both smartphone giants involved disregarded complaints by a sizable number of Chinese customers.
If Disregarded, Customer Problems would become Apple's Own Problem
Apple insisted only to replace the batteries of some iPhone 6s made in September and October last year, effectively hinting that Chinese customer complaints on battery shutdowns of other iPhones are groundless. Both CCA and those iPhone users complaining about this issue will not be happy. CCA will continue to investigate and perhaps issue harsher criticism if it receives more iPhone user complaints.
Three observations from Apple's statement:
1. Apple said in the statement that "an iPhone is actually designed to shut down automatically under certain conditions, such as extremely cold temperature… (Some shutdowns) are designed to protect the device's electronics from low voltage." Following this "logic", auto-shutdown is a protective feature and should be well-publicized repeatedly. It should have even been taken as a selling point of iPhones.
2. A key phrase in the statement is "To an iPhone user, some of those shutdowns might seem unexpected…" Apple here indeed admits tacitly that some iPhone users have not received timely information about this "protective feature" of battery shutdown. Yet, Apple does not hint that it should take any remedy on it.
3. Apple may be right that iPhones other than those 6s made in September and October last year do not have any technical problem. But now a sizable number of customers have indeed complained of problems that had made their usage inconvenient. Unless Apple helps them to solve these problems promptly (and it has the responsibility to do so), Apple's credibility will be at risks and it will soon face its own brand problem.
Apple Should Avoid Ruin Its Brand As It Enters Year of China Crises
China has just entered a consumer society after nearly two centuries of dire poverty. Consumerism is just budding while consumer protection regulations are not yet as complete as those of the developed countries. Foreign firms at first were happy to follow less demanding (and less costly) rules. But they soon discover that Chinese consumers react strongly to any perceived unequal treatments. For Chinese people, after being bullied and humiliated by westerners for so long, they would no longer tolerate being treated as second-class in any case.
iPhone's battery shut-down is of course a much less serious issue compared with the battery-burning of Samsung Note 7. But both smartphone giants react similarly-they disregard complaints from a sizable number of their users.
As I have analyzed earlier, if Apple disregard the complaints from the users of iPhones not covered by its battery-replacement program, the users' problems will soon become Apple's own problem.
In fact, anyone who follows the development of US-China relations would agree that Apple enters a year of crises of unprecedented magnitudes and frequency in 2017. (I will discuss it in more details later) As all crises will be China-related, the last thing Apple wants is a 100% preventable and manageable public relations quagmire in China.
Disclosure: I/we have no positions in any stocks mentioned, and no plans to initiate any positions within the next 72 hours.
I wrote this article myself, and it expresses my own opinions. I am not receiving compensation for it (other than from Seeking Alpha). I have no business relationship with any company whose stock is mentioned in this article.