The past month has been a powerful one for several commodities. Copper (NYSEARCA:JJC) is up 17% over the past month, crude oil (NYSEARCA:USO) is up 14%, and palladium (NYSEARCA:PALL) has seen a 19% gain. Despite these massive performances, they have all been dimmed by the explosive performance of natural gas. Natural gas (NYSEARCA:UNG) is up over 30% in the past 20 trading days, as the bulls trample over the remaining stubborn bears.

(Source: Barchart.com)
Less than a month ago I wrote an article on natural gas, highlighting how the odds were stacked in the bulls favor. In the article I stated that I was stalking a long entry in natural gas, asserting that odds significantly favored the bulls. I showed the below chart with both horizontal support and trendline support just below price, and since prices have skyrocketed. Natural gas has since moved from $2.73 to a price of $3.60 today, a parabolic move for any commodity.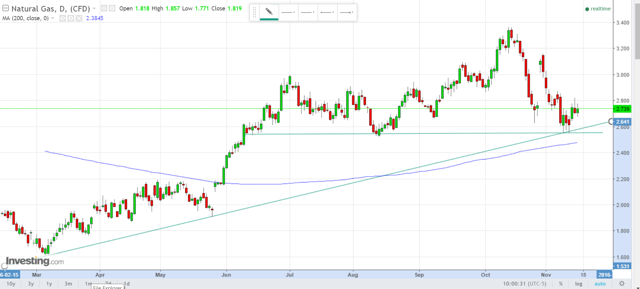 (Source: Investing.com)
Early last week I unveiled my new long position in natural gas which I initiated at $2.84. The price of natural gas was up 20% in 2 weeks, but was not interested in taking any profits. Natural gas is up another 10% since my most recent article, and I've been rewarded for sticking with my position.
The big question is, can this explosive rally continue? While I was not surprised by the move to $3.20 after natural gas touched strong support in mid November, this most recent move has even surprised me. Natural gas is showing no mercy for the bears, as prices defy gravity and continue to advance without any pullbacks. Despite the massive move over the past month, bullish sentiment has still not reached exuberant levels. This is bad news for bears, and caution should be taken for those short natural gas.
Current Sentiment Outlook
As mentioned earlier in the article, sentiment has been resurrected from its cadaverous November reading of 21% bulls. While there's no question sentiment has made a significant comeback, it has not seen nearly the exuberance exhibited in other commodities. I explained this in my most recent article for natural gas below:
"Despite this violent rally in natural gas prices, sentiment is not overly enthusiastic. Natural gas bulls currently sit at the 60% level, up from 27% bulls on November 15th. This means that despite a 20% rally in natural gas prices, we have only seen 33% more bulls come into the commodity. To put this in perspective, copper gained 20% between October 28th and November 25th, and copper bulls moved from 28% to 90%. This means that for every 1% gain in the price of copper, bullish sentiment increased over 3%. This significantly differs from natural gas where every 1% increase in the price of natural gas, bullish sentiment only increased by 1.6%. In my opinion this shows disbelief or skepticism in the recent rally, as a significant amount of market participants have still not been converted to bulls".
The above explanation was why I remained long natural gas, and today's strong advance has not resulted in a drastic change in bullish sentiment. Natural gas bulls currently sit at the 71% level, up 11% from the November 29th reading. While we have seen an 11% gain in bulls, this was on the back of a 9% gain for natural gas. This means that this leg of the rally has seen even less bulls come into the market for every percentage move in natural gas. The first 20% move in natural gas saw 1.6 bulls come into the market for every 1% gain in natural gas. The most recent 10% rally for natural gas has seen a meager up-tick of 1.2 bulls for each 1% gain in natural gas. This tells me that most market participants remain skeptical of this rally, and some bears are holding their ground. While a 71% reading may be comforting for bears as it seems overbought, this could not be further from the case.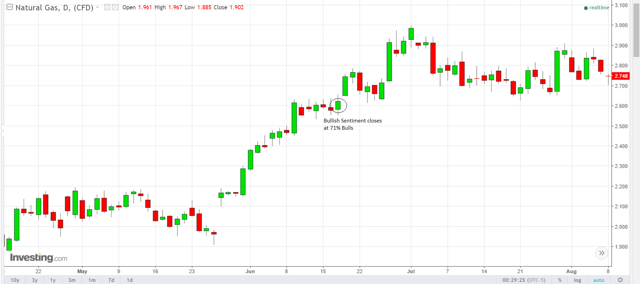 (Source: Investing.com)
A close above the 70% on bullish sentiment is nowhere near an exuberant reading, and actually in the danger zone for bears. Once sentiment gets above the 70% reading, typically the moves can get a lot more violent to the upside. This is because just as fear begets more fear, greed also begets more greed. If we look at the last time natural gas reached the 70% level, this was not a time one wanted to be short. Bullish sentiment closed at 71% on natural gas on June 17th of this year, and natural gas closed at $2.61. Over the next 10 trading days the price of natural gas catapulted itself 14% higher to a high of $2.99. Sentiment finally topped at a reading of 87% bulls on July 1st, which put an end to the summer rally. If things were to play out similarly for natural gas here, the price of natural gas could get to $4.10 before stalling out. While there is no guarantee that the past sentiment trend plays out similarly to this one, the 70% level is generally not a time one wants to be short.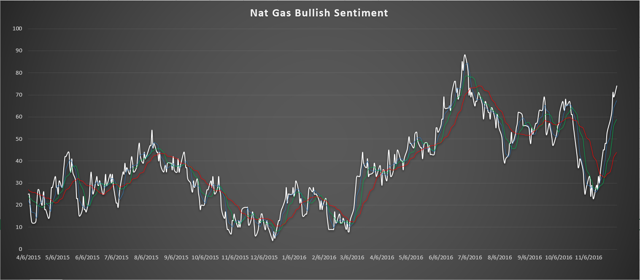 (Source: Daily Sentiment Index, Author's Chart)
Chart Legend - White Line: Nat. Gas Bullish Sentiment, Blue Line: 5-Day Moving Average, Green Line: 10-Day Moving Average, Red Line: 21-Day Moving Average
Taking a look at the current sentiment chart, things are not looking good for the bears. Sentiment currently sits at the 71% level, above rising moving averages. The sentiment trend is in bull mode, and the 21-day moving average should provide strong support at the 42% level on any dips. As we can see in the summer rally, any dips in price found strong support at the 21-day moving average for sentiment (red line). When sentiment finally remained below all of its sentiment moving averages after registering an exuberant reading above 85% bulls, it was time for longs to get cautious. Based on the current sentiment, there are absolutely no red flags for longs. While the move in natural gas has certainly been parabolic, sentiment is telling us that things can get much more exuberant. Sentiment is now above the 70% level which is in the "hot" zone for sentiment. This is where things tend to happen a lot quicker, and one of the most dangerous places to be short.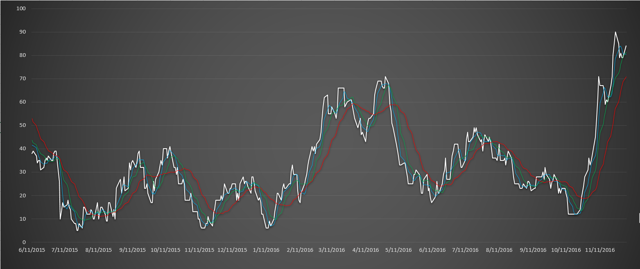 (Source: Daily Sentiment Index, Author's Chart)
For those that think the above sentiment chart on natural gas has seen too many bulls come into the market too fast, a chart of copper sentiment may change their mind. Copper sentiment has exploded higher, and a close above the 70% bulls reading was not an ideal place to be short. While shorts that were willing to be vigilant may have made out with some profits, those who were greedy and stuck around were trampled by the bulls. Copper sentiment closed on November 10th at 71% bulls, and copper pulled back 3% over the next 6 trading days. If shorts did not take their 3% profit and run, they were sitting ducks in the face of another 5% rally in the metal. Natural gas currently looks like copper did last month, and shorting is similar to trying to pick up pennies in front of a steamroller.
So how am I positioning myself?
In my most recent article, I stated that I would remain long a full position in natural gas, with my stop on a close below the 50-day moving average. Due to the fact that price is as parabolic as it is, I exited 1/5 of my long position this morning at $3.58. This 1/5 position was closed for a 26% gain, and was done only to re-balance the position's open risk. I still remain long natural gas with a dollar amount larger than my initial position taken on November 18th at $2.84, and will remain in this position as long as natural gas continues to close above the 50-day moving average.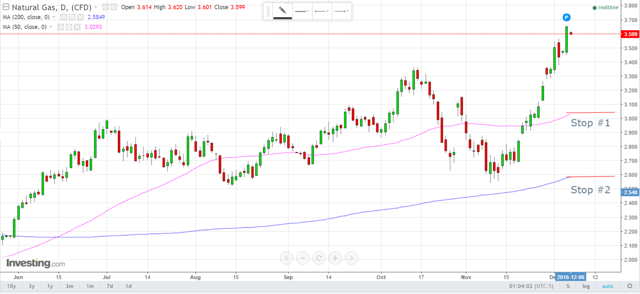 (Source: Investing.com)
The 50-day moving average (pink line) currently sits at $3.03, and any close below this level would cause me to exit half of my remaining position. This stop is my momentum stop for this trade, and designed for the swing trade portion of this long position. My second stop for this trade is on a close below the 200-day moving average. The 200-day moving average currently sits at $2.59, and I will be completely out of natural gas if we see a close below this level.
Natural gas is trending higher above its key moving averages, while both are in bullish alignment. Being a trend follower I see no reason to fight the trend here, and I have no reason to waver in my bullish stance. While I'm open to seeing a pullback to let off some steam, I have no interest in trying to catch it. My strategy is designed to catch the "big swings", and I rarely ever play counter-trend with full positions. I don't know nor care whether the next 2-3% is up or down, I am positioning myself for the next 5-10% move. I believe the next 5-10% move is higher, and bears need to be careful as they're playing with fire. Both sentiment and the daily trend support higher prices, and overbought can easily get more overbought.
Disclosure: I am/we are long UNG.
I wrote this article myself, and it expresses my own opinions. I am not receiving compensation for it (other than from Seeking Alpha). I have no business relationship with any company whose stock is mentioned in this article.
Additional disclosure: If you liked this article and found it useful, please feel free to follow me by clicking on my name next to my avatar at the top of this article. I also invite you to follow me at www.twitter.com/TaylorDart01 where I routinely share my entries, exits, and stops on new positions, as well as updating followers on sentiment data on markets I am following.