Chesapeake Energy Corp. (NYSE:CHK) is at it again, folks! On December 5th, the management team at the firm announced that they had sold additional properties in exchange for $450 million, a nice sum that can be used for any number of activities moving forward. In what follows, I will give my thoughts on not only what this transaction does right now but also what kind of impact management can have on the firm using that cash in some constructive ways.
A look at the deal
According to management, Chesapeake entered into an agreement with a private company wherein it would sell to them some properties located in the Haynesville region in northern Louisiana. The properties in question make up 78,000 net acres, 40,000 of which Chesapeake consider to be "core acreage". Collectively, these assets operate 250 wells as of the time of this writing and produce 30 million cubic feet of gas per day. If all goes according to plan, this transaction should close during the first quarter of 2017.
In addition to these assets, management is planning to sell another 50,000 net acres of land located in the northeastern portion of the Haynesville Shale, which should also close during the first quarter if management achieves its objectives. It's uncertain how much this property will fetch and how much production it accounts for, but if it's identical to the aforementioned properties then a price of between $250 million and $300 million is very realistic. Despite the confirmed transaction and the stated objective for the other, Chesapeake will still own around 250,000 net acres of land in the Haynesville region after these transactions.
There are, in my opinion, two interesting things about the deal. First is the fact that management stated that their plan is to divest of between $2 billion and $3 billion worth of assets on a gross basis in the foreseeable future (including all sales from the start of 2016). This is actually different from their previous language, stated as recently as their third quarter's conference call when management said that they were looking at sales of "more than $2 billion". Though this may sound similar in nature, the fact that management has given a higher estimate suggests that many more sales (or one or two sizable ones) could happen over the next several months.
The last interesting thing is that I don't believe this transaction will have any impact on the firm's projected oil or natural gas production for this year or next. It definitely won't this year since it's not closing until the first quarter of 2017 but even next year it's unlikely to because management stated, at the time they released their guidance for 2017, that they were expecting additional asset sales to take place soon, including the aforementioned properties. Another factor to help output will likely be the firm's decision to drill longer lateral wells, which Chesapeake said should increase their "adjusted" production in the region by around 13%.
What will management do with the cash?
As far as I can see, there are really three different options for Chesapeake with the cash it should receive (assuming that gross proceeds convert to net). The first of these is fairly simple. According to management, the company's capital expenditures next year (excluding capitalized interest) should come out to between $1.6 billion and $2.4 billion. In my table below, you can see what happens if the firm's 2017 guidance is correct and if its capex is at $2 billion, the mid-point of its range. This assumes that oil prices average $51.79 per barrel next year and that natural gas prices average $3.591 per Mcf.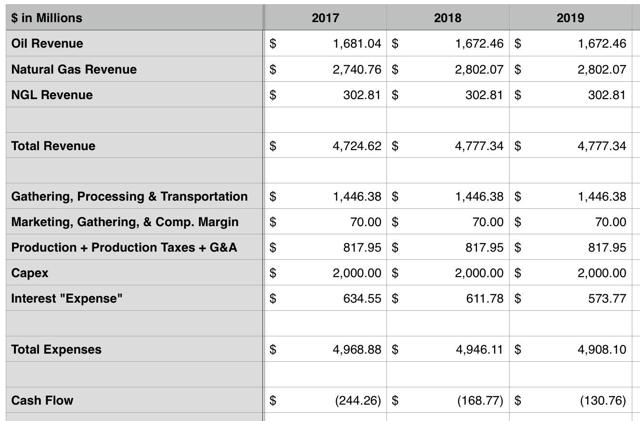 *Created by Author Using Chesapeake's Guidance
Based on the data provided, Chesapeake should see net cash outflow in 2017 of about $244.26 million, followed by outflows of $168.77 million and $130.76 million, respectively. Instead of going into more debt to continue drilling, the company can allocate the $450 million it receives from this confirmed sale toward covering up that 2017 shortfall and would still have capital remaining to drill more, serving to push its total output higher (though how much higher I do not know) than its mid-point. At the high end of the range or capex, the firm should produce around 205 million boe (barrels of oil equivalent), up from the 199.5 million I used in my model so output may not be that high but it would probably be higher than my numbers suggest. In my mind, this also involves the potential for increasing output by means of acquisitions.
The second approach here is that management can utilize that excess cash toward paying down existing debt. Whether or not they do it at once is hard to tell but a call I had with investor relations resulted in them telling me that they would love to buy back their debt but nobody's selling in large enough quantities to do anything serious. Because of this, it may be necessary to wait until the firm redeems its debts naturally.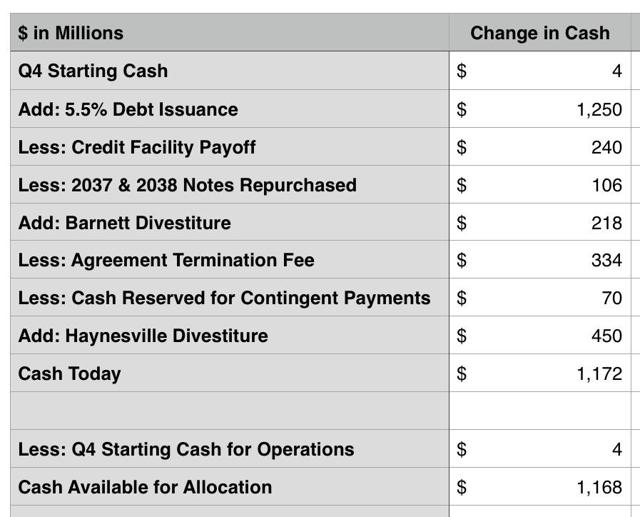 *Created by Author Using Chesapeake's Data
In the table above, I created a cash flow analysis showing, based on management's input following the end of the company's quarter, how I believe the company's cash balance likely looks today. If we include this $450 million coming in during the first quarter of next year and assume that its previously small amount of cash on hand plus incoming revenue is enough to counteract any cash outflows during this quarter, then the firm's pro forma cash should be around $1.168 billion next quarter. This excludes any other potential sales as well.
Next year, the company has $520 million in long-term debt coming due and another chunk of debt that may be forced on them. Previously that amount was $130 million but the company has, since the end of its third quarter, bought back $105 million of its debt due between 2017 and 2018 that can be put to it and they paid $106 million to do so. I'm making the assumption that the debt bought back is 2017 debt so they would owe, if I'm right, $25 million there. That's a total of $545 million of debt due next year if all puttable debt is redeemed. Following the same methodology, the company has $667 million in debt due in 2018.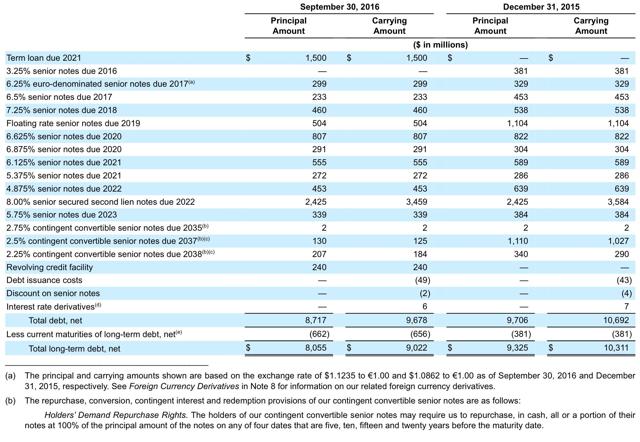 *Taken from Chesapeake's Q3 Report
If we make the assumption that management's additional sales are enough to cover the 2017 capital shortfall for the mid-point of guidance next year (it almost certainly will be if energy prices remain unchanged), then management could afford to allocate its cash toward debt reduction as debts come due or in advance if and when available. If they merely allocate that capital toward all of 2017's debts and then toward what they can for 2018, focusing on higher-interest rate debt, the firm could see a reduction in interest expense starting in 2019 of $70.76 million. If they can avoid refinancing the $44 million shortfall in 2018 debt (this assumes its notes are all redeemed), then interest would fall by a total of $71.75 million per year beginning in 2019.
The final approach they have is to hold the cash and wait for the right opportunity. Whether this means making strategic, sensible acquisitions, or it means using it to add wells when it's appropriate or it means waiting to see if, indeed, paying off debt due instead of trying to refinance it, remains to be seen. There's a certain beauty to this approach because it gives the firm flexibility in the event that energy prices head south again. However, it also comes with certain opportunity costs that need to be considered. Drilling more now or paying off debt now or making an acquisition now may lead to more cash flow in the end as opposed to waiting and seeing. However, it's also the "safest" method.
Takeaway
Right now, I don't know what Chesapeake is thinking regarding its cash position but, based on my estimates, the firm is sitting pretty from this perspective. Ultimately, the company will need to figure out what they should do regarding this cash, especially if they engage in additional sales like they've planned, but for now investors are being left to wait for details. Personally, if I were a shareholder, I would probably favor debt reduction today, even if that comes at a slight premium to par, since it will lower annual interest expense and lower the probability of a liquidity problem down the road. No matter what happens though, there's very likely little chance that anything bad can come from this and other planned transactions.
Disclosure: I/we have no positions in any stocks mentioned, but may initiate a long position in CHK over the next 72 hours.
I wrote this article myself, and it expresses my own opinions. I am not receiving compensation for it (other than from Seeking Alpha). I have no business relationship with any company whose stock is mentioned in this article.