After cresting more than 30% above its November 2015 IPO price this summer, Hydro One (OTC:HRNNF) shares are now more than 25% down from their all-time highs. The company has exceptional size and stability and has been unfairly caught in the utilities sell-off. Forget Procter & Gamble (NYSE:PG) and Coca-Cola (NYSE:KO) - this is a true "bond proxy".
Never heard of Hydro One? You can be forgiven for missing the biggest Canadian IPO of 2015, and one of the biggest on the TSX in 15 years. In Canada, there is no company innovating at the level needed to produce a 10-figure, buzz-generating high-flier IPO a la Fitbit (NYSE:FIT), GoPro (NASDAQ:GPRO), or Snapchat (CHAT). Thus, the biggest IPO in memory on the TSX is the result of the cash-strapped Ontario provincial government selling off the public electricity transmission and distribution system in four 15% chunks (two of which have been completed to date), with the eventual goal of the company being 60% publicly traded and 40% owned by the province. The company trades under ticker symbol H on the TSX and unfortunately, is still over the counter for US investors. The stake that is already publicly traded generates over $1B of operating cash flow and pays about $600M per year in dividends or 84 cents per share. At current prices, this represents a 3.7% yield: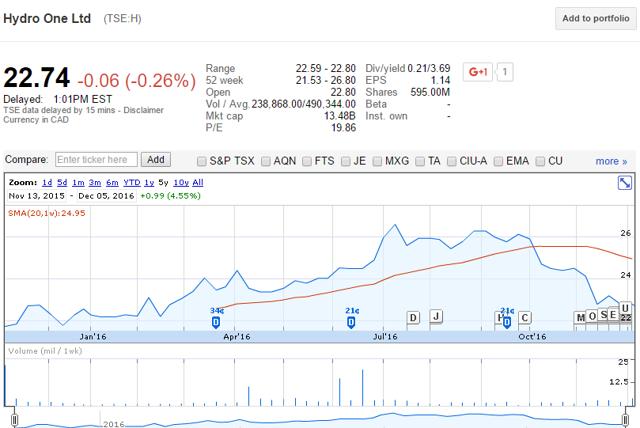 Nobody is going to get rich overnight investing in this company, but it could be a key piece of a conservative, income-generating portfolio. After all, while investors' lack of interest to date might be explained in part by leeriness toward mismanaged and bloated government bureaucracies, public opposition in Ontario to this privatization was and remains very strong. No wonder this company is a toll-booth business source of income whose revenues are passing from public to private hands. That is the essential point and any investor can benefit from that.
Fears of investing alongside the notoriously inept Ontario government are likely overblown too. The company was transitioned to a private sector business model on the eve of the IPO in the fall of 2015, meaning there is not supposed to be any political interference on corporate decision making and the province's role is limited to that of ordinary shareholder. Many people will be understandably skeptical of this, as 40% ownership does not represent just any ordinary shareholder, but the chairman of the board David Denison (who used to run the CPP Investment Board, the investment arm of the Canada Pension Plan, the Canadian equivalent of Social Security) committed to this shareholder-prioritizing arrangement in his year-end address following the IPO last year.
Accountable to shareholders, the company now must try to cut costs, improve its infrastructure, grow revenues, and become leaner and meaner. Often, the best price to be had on income stocks is at a "show me" stage like this, before the (hopeful) execution. And the future looks pretty good: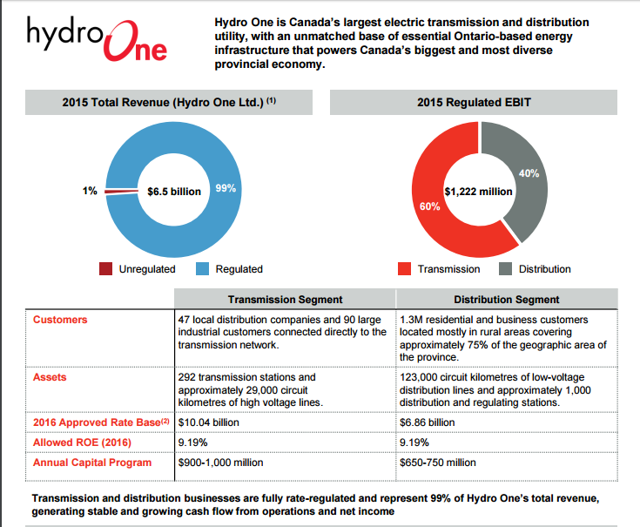 (Source: 2016 investor fact sheet)
What differentiates Hydro One from other utility companies is that all its returns are regulated, meaning stable but not excessive, and it virtually has a monopoly on electricity distribution in 75% of the geographic area of a province with a population of almost 14 million. Of this, it counts ~1.3 million among its business and residential customers. And it doesn't generate any of the electricity itself; it just moves it. How many publicly traded businesses have a virtual monopoly on something 1.3 million people need to pay for every month? Not many. But the market is indifferent. On just about every metric, we see more pessimism being priced into Hydro One than its five largest Canadian competitors:

(Source: my excel table using data obtained from YCharts)
Of the six, Emera (OTCPK:EMRAF) is priced the cheapest on a PE and PEG basis, but is carrying the most debt to equity. Hydro One has the lowest debt to equity, lowest PE, highest PEG, and lowest liabilities to assets ratio. It has the third highest ROE, but it is important to remember that 99% of its business is regulated, which will mean slightly lower returns for greater stability long term. It is also important to remember 2016 is its first full year of being a private sector operator, so efficiencies are likely to follow in the years to come.
On the macro level, there's no question utilities in general is a beat down sector right now. However, anxiety in the sector due to interest rate fears is likely overblown. First, as George Schneider recently pointed out, a blue-chip utility like Duke Energy (NYSE:DUK) took about six months to digest the last fed interest rate increase and regained all of its lost ground. Similarly, a 0.25% increase in the Fed funds rate two weeks from now represents an attractive entry point for the sector while there is maximum pessimism. The material impact to utilities (including 100% Canadian Hydro One) will likely be minimal if not non-existent long-term, and all the more so if market volatility (which is on nobody's radar right now) causes a rotation into "defensive" sectors.
The other reason interest rate fears are overblown is that the US is paying less interest on its debt today as a percentage of GDP than it was in the late 1990s, despite the debt doubling under Bush and doubling again under Obama. It would simply not be in the US economic interest to have exorbitant interest payments on the national debt, now approaching 20 trillion. For this reason, near-term future increases by the fed will likely be as moderate and slow as this last one was.
With rates and inflation both likely to rise over the long term, owning utilities is a great way to hedge against this risk. Looking at the same six utilities for size, yield, and relative cheapness right now, Hydro One again holds up surprisingly well:

(Source: my excel table using data obtained from YCharts)
Canadian Utilities (OTCPK:CDUAF), Fortis (NYSE:FTS), and Emera are known quantities; CU and FTS have the longest Canadian dividend growth streaks going. But though it offers higher yield, it also carries more debt and is not as cheaply priced now relative to its annual lows. In the analysis on Fortis I did some weeks back when it debuted on the NYSE, I showed that it was set to become the 17th biggest utility in the US. Hydro One, when the stake is fully sold, would be the 14 th biggest based on a 22% discount to its $28B Canadian market cap. Over time, size usually equals liquidity in the capital markets and it will eventually be too big to ignore, compared to the relatively low volume its shares attract right now.
The sector is, of course, not a screaming buy and could fall further. Hydro One will have significant capex requirements to maintain its infrastructure over the next several years, to the order of about $1.5 billion for you. However, this is to improve and maintain existing infrastructure which is expected to drive long-term cash flow growth. As the company has an objective to pay out 70-80% of its cash flow in dividends, this should translate into growing dividends.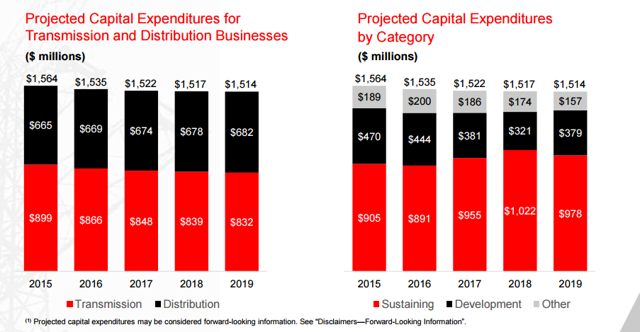 (Source: IPO Presentation)
The IPO had delivered big gains within six months. Though it was priced at 20.50, the shares traded at 21.65 by the time the public could buy them, and after hitting 26.70 this summer, the price is almost right back where it started. The business you are buying a stake in generates no electricity itself but transmits and distributes and thus has no pricing risk. I suspect reason you have never heard of Hydro One is because 1) it's Canadian 2) it has no US listing 3) it seriously challenges for the title of the most boring company on Earth. But boring is what pays the bills and maybe provides some stability and income to your portfolio. Although there's no guarantees, the company might come as close as you can get to being able to do just that.
Other utilities companies are the same, of course. But they must do more to grow their revenues, such as spend money on acquisitions as Fortis and Emera have done over the years to grow out of their tiny Atlantic Canada markets. This has increased debt and it can expect a higher cost of capital going forward because of its lower credit ratings. They are, after all, private companies. Hydro One is unique in this way because the government retains 40% ownership and regulates it with the arms-length Ontario energy board. While the company is not "diversified", its regulatory environment is about as stable and predictable as it gets.
Why is this important? People who are starved for yield, and who continue to reach for it in dividend aristocrats like General Mills, Coca-Cola, Proctor & Gamble, and Johnson & Johnson, are taking on an excessive amount of risk. Most of these companies have flat or even falling earnings but have become committed to extreme shareholder friendliness in the low rate environment. This has in many cases caused their prices to be bid up considerably. Hydro One, on nobody's radar, is all but guaranteed to grow its earnings, revenues, and cash flow, and in doing so will likely provide dividend growth through 2020, and for the most part trades cheaper than its utility competitors.
Risk Factors
Decelerating CAGR in the broader sector
According to a MarketLine website report, the Canadian power generation industry had total revenues of $54.7bn in 2014, representing a compound annual growth rate (OTCPK:CAGR) of 8.6% between 2010 and 2014. In comparison, the US and Mexican industries grew with CAGRs of 1.7% and 8%, respectively, over the same period. The performance of the industry is forecast to decelerate, with an anticipated CAGR of 4.1% for the five-year period 2014-2019, which is expected to drive the industry to a value of $66.8bn by the end of 2019. In other words, like in any industry, there is a risk the company will not experience revenue growth the same way it has.
Still a Comparatively Inefficient operator
Two publicly held Canadian entities, BC Hydro and Hydro Quebec, generated margins in excess of 18% and 20%, respectively (Source: MarketLine), while Hydro One is stuck in 10-12% range. However, these entities, like Hydro One's private sector competitors, in addition to being monopolies, have more debt, therefore more leverage, and therefore better returns on equity.
Political Lightning Rod
If you Google this company you will find a boatload of negative media coverage. It is a company that is controversial because it was publicly owned and sold off by a government desperate to pay some bills. The same thing happened in the early 2000s, but a group at that time challenged the sale in court before it happened and won. This time, it is a done deal and shareholders will of course be protected by the Ontario legal system from any challenges to their ownership. Having said that, the company is deeply resented in many of the rural areas where it operates for past faulty billing practices, poor customer service, and high prices. The high prices are in part a result of clean electricity policies pursued by the Ontario government but here, again, the company will be able to objectively make business decisions about these arrangements and untangle itself from them if needed, free from political interference.
Like any beat-up investment, Hydro One is not without its warts and wrinkles. But the risk/reward, in my opinion, is attractive right now, given pessimism in the sector, the negative association people have with the company, and its stable and predictable future revenues. Instead of reading angry editorials about the government's mismanagement of this file, investors can sleep well at night collecting a dividend that is probably as safe as any being paid out there.
Disclosure: I am/we are long HRNNF.
I wrote this article myself, and it expresses my own opinions. I am not receiving compensation for it (other than from Seeking Alpha). I have no business relationship with any company whose stock is mentioned in this article.
Editor's Note: This article discusses one or more securities that do not trade on a major U.S. exchange. Please be aware of the risks associated with these stocks.