Background
Yum China Holdings, Inc. (NYSE:YUMC), a spin-off from Yum! Brands, Inc. (NYSE:YUM), officially became its own entity as trading for this stock began on November 1st. Following this separation, Yum China became a licensee of KFC, Pizza Hut and Taco Bell on the China mainland, while owning Little Sheep and East Dawning outright. This was not a traditional IPO as current investors in Yum! Brands were given a pro rata direct distribution of stock in Yum China, rather than the company having an underwritten offering. The stock is currently trading at $28.15 following this week's close. In its first month, it climbed from a low of $23.79 to a high of $30.37, with a stock market capitalization of roughly $11 billion and an average target price of $32.00.
Qilai Shen | Bloomberg | Getty Images
Yum China has already seen great success, after learning how to compete in the Chinese market over the past 30 years. With over 7,300 restaurants in 1,100 cities, employing over 400,000 people in China, Yum is the leading restaurant brand in the country. As Yum China opened an average of two new stores per day over the past five years, KFC remains China's leading quick-service restaurant, with a two-to-one lead over Western fast-food competitors, and Pizza Hut leads in the casual dining sector, holding a seven-to-one lead over competitors. In 2015, Yum China generated over $8 billion in system sales and $323 million in net income, while KFC China alone earned $499 in operating profit and Pizza Hut Casual Dining earned $145 million. Yum China has more than $900 million cash on hand and remains debt-free. Of its 7,000+ locations, more than 90% are directly owned as opposed to franchised, allowing close control of every aspect of operation, centralized purchasing, and a larger share of profits. The company's goal is to triple its growth in stores to reach over 20,000 in the coming years.
Spin-off
Despite its success in creating brand recognition throughout China, pioneering a market for Western fast-food and introducing pizza to the country, sales growth has been stagnant as of late.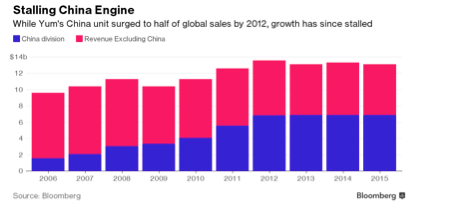 Since 2012, Yum China has seen its market share drop from 40% to 30%. A food-safety scandal linked to tainted meat at KFC locations, coupled with improved, cheaper local alternatives are two main reasons. Shaun Rein, Shanghai-based managing director of China Market Research Group, points to the company's slow reaction to market changes as reason for motivating the separation from the parent company.
"They didn't make corporate decisions quickly enough, such as in adopting mobile payments, or adapting to consumers wanting more premium offerings," Rein said. "Their ability to deal with the more complex environment here was held back by the lack of knowledge, the slowness of the U.S."
Improvements
Following the split, Yum China seeks to improve many areas of its business operations. CEO Micky Pant noted that delivery would be an important aspect of growth in the future, as the company seeks to reach customers dining at home. Currently, delivery is just 10% of the company's sales, but it is seeking investment in this sector, and according to Reuters, is rumored to be in talks to buy food delivery services firm Daojia for up to $200 million.
Mobile integration is a necessity now in Chinese business, from being able to both pay and order via multiple platforms, such as Alipay or WeChat. Yum China is already the biggest user of Alipay mobile payments service, and is now investing in its own mobile systems to cover ordering and loyalty programs to entice more customers.
China's market is swiftly changing and being able to keep up with the changes requires close attention to detail. The split allows each store location to tailor to customers based on local preferences, as menu offerings may change as the cuisines of China's different provinces can vary greatly. Ivan Feinseth, partner and chief investment officer at Tigress Financial Partners LLC, has very high expectations for Yum China. "The company is getting brand acceptance with the help of social media," he said. "Also, the menu is more geared to the Chinese consumer. We are very bullish on Yum."
Conclusion
Among the most important factors influencing Yum China's success as the company moves forward is the growth of the middle class. I have been to China the past three summers and I can see how these restaurants stand out as Western icons, with fancier infrastructure than their American counterparts. These are not restaurants the lower class can afford to eat at, at least not frequently. In essence, an investment in Yum China is a bet on its growing middle class. According to a 2012 McKinsey & Co. study, China's middle class is set to rise by 283 million people from 2002 to 2022, quite a substantial number considering the population of the USA is just over 300 million. Yum! Brands CEO Greg Creed, regarding growth in China, stated, "We are so far from being saturated it's not even funny." Yum China seeks to capitalize not only on population growth, but strategic placement of new locations resulting from rapid urbanization and infrastructure construction. Yum China seems to be in a good position to begin to accelerate its growth and I would suggest taking a long position in the stock.
Disclosure: I/we have no positions in any stocks mentioned, and no plans to initiate any positions within the next 72 hours.
I wrote this article myself, and it expresses my own opinions. I am not receiving compensation for it. I have no business relationship with any company whose stock is mentioned in this article.