By Parke Shall
We've been writing about brick-and-mortar retailers for the last year or so now, and we have always made the argument that brick and mortar was not going to completely go away. Many times it's easy to get caught up reading about how retail is this terrible sector, how the machines are taking over and everything will be going through online ordering in the future. People don't even go grocery shopping anymore, they have their groceries delivered to their house once a week. They do the same with their pet food, their Christmas presents, and their wardrobe.
This is something we've struggled with over the last year, especially as we have been a large advocate for retailers like Macy's (NYSE:M) at certain points throughout the year. However, when you go back and read our multiple theses on Macy's, you'd see that we always arrived at the same conclusion. We thought that retail would continue to get smaller, but would not go away completely. We have said on more than one occasion that we think there is a recipe and mix between both online and in store that most retailers will wind up fitting into over the next few years.
As a matter fact, to make our case, we actually cited the fact that Amazon (NASDAQ:AMZN) was looking at purchasing department store some months back. Here's what our article looked like this past summer,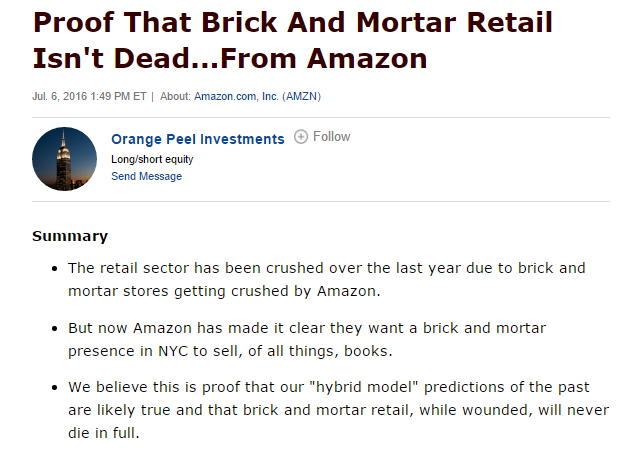 In it, we wrote,
One thing is for sure and that is the death of retail is not as sure of a thing as some financial websites and publications might have you believe.

Amazon's moving to in-store distribution and book sales tells us that there is a baseline necessary for a brick and mortar presence, even if it is mostly used for distribution purposes and for sales purposes as a supplemental part of the business. Companies like Macy's and Dick's with a strong retail presence is and real estate assets have a firm enough foundation that we believe could be worth a look at.
Now, what we have predicted has come to fruition. It was reported yesterday that Amazon is actually looking to open 2000 grocery stores. Reuters reported,
Amazon.com Inc said on Monday it has opened a brick-and-mortar grocery store in Seattle without lines or checkout counters, kicking off new competition with supermarket chains.

Amazon Go, the online shopping company's new 1,800-square-foot (167-square-meter) store, uses sensors to detect what items shoppers have picked off the shelves and sends a bill to their Amazon accounts if they do not replace them.

The store marks Amazon's latest push into groceries, one of the biggest retail categories it has yet to master. The company currently delivers produce and groceries to homes through its AmazonFresh service.
These will be different than most grocery stores. The shopping experience looks like it will be completely automated. Instead of picking your items and then checking out before you leave, it looks as though everything will be monitored by RFID or some other technology that will allow you to simply stock your items and walk out of the store. Amazon is looking to eliminate the slowest and most inefficient part of going to the store, which is the checkout.
On one hand, this is actually fantastic for the industry. Not only is it going to be an evolution for all other stores to follow, but it should improve productivity and efficiency while saving costs at many brick-and-mortar retail locations. While many will argue that this is a negative because it is going to cost people their jobs, we think it actually will be a net positive as it will allow more stores to remain open than normal, had the industry not adopted these tactics. We are still in the early stages, so there is a lot of beta testing that needs to be done with this new concept, but now the sector at least has a roadmap as to what is coming next. This may allow CEOs in the industry to focus on this innovation instead of simply closing down locations.
Make no mistake, however, this is a positive for retail. Amazon is basically telling us that they are saturated online and that there is something missing from the customer experience that they are trying to capture with retail stores. We have argued this many times before; there are parts of the retail shopping experience in person that simply can't be duplicated by online transactions.
While Amazon getting into grocery may not be a positive for direct competitors like Whole Foods (WFM), we believe this should give renewed hope and confidence into those who are on the fence about whether or not to invest in other retail stores at extremely low valuations. Over the last month, retail has really seen its multiple expand and we have seen the entire sector do very well, as you can see from the chart below.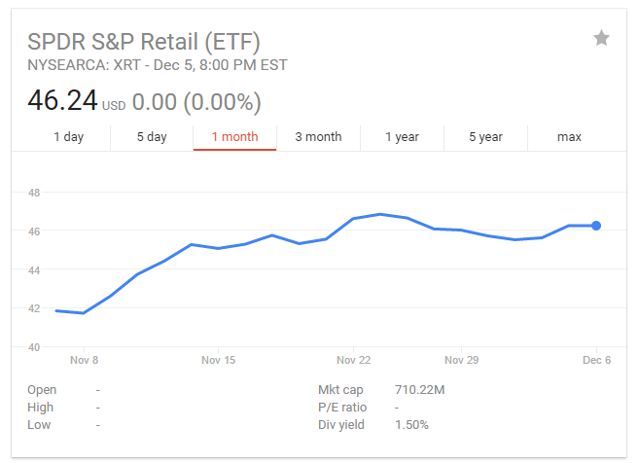 We are not saying you should go out and immediately start buying up retail stocks on this news. What we are saying is that there is another brick in the wall for our case that retail in the future will exist with both brick-and-mortar and online, and certain in store locations.
We are anxious to see how Amazon does with their stores, obviously, but we are far more anxious to see the effect that it has on the sector altogether. Amazon is providing a roadmap for the retail sector to move forward and the next time retail stocks present themselves at a steep discount, we think investors should be more inclined to dip their feet in. Don't think of it as more competition, think of it as affirmation that brick-and-mortar will survive, and it'll survive with a new innovation leader in the industry.
Disclosure: I/we have no positions in any stocks mentioned, and no plans to initiate any positions within the next 72 hours.
I wrote this article myself, and it expresses my own opinions. I am not receiving compensation for it (other than from Seeking Alpha). I have no business relationship with any company whose stock is mentioned in this article.