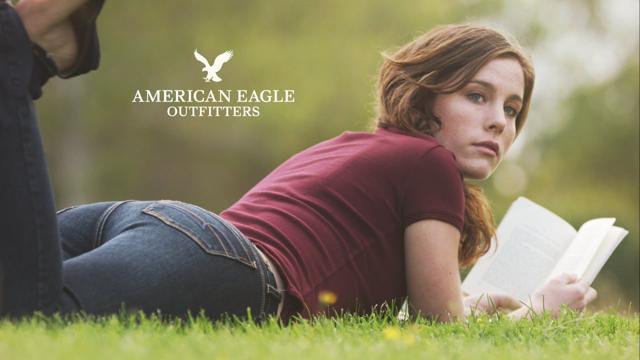 Image Source: American Eagle "Farewell, Summer" Advertisement directed by Adam Drakewolf
Intro
After American Eagle Outfitters (NYSE:AEO) provided soft holiday guidance during last week's earnings report, the subsequent 12% stock correction provides an opportunity for bullish investors with a time horizon of 3 to 4 years to buy shares of a debt-free apparel retailer at a bargain; collect a 3% quarterly dividend, and participate in the company's growing and strengthening position in lingerie through their Aerie concept.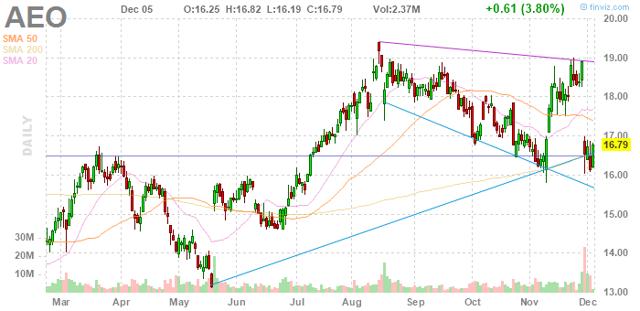 5 Reasons To Buy American Eagle Outfitters
1. Post-earnings stock decline provides opportunity to buy cheap.
Softer-than-expected holiday guidance caused a 12% stock decline in AEO shares after earnings. If you're long-term bullish on AEO, this is a great spot to begin building a position and perhaps adding more on any short-term corrections.
If you buy shares at $16.74, you're only paying 8.4 EV/EBIT--a steal considering the next four reasons.
EV/EBIT Calculation:
EV = $2,698M
EBIT value used = $320M (approximation).
Market Cap = $3,000M (at $16.74 price per share)
Subtract Cash and Short Term Investments = $248M
Subtract Long Term Assets = $54M
No debt.
$2,698M "EV" ÷ $320M "EBIT" = 8.4
2. Aerie (American Eagle's lingerie, intimate apparel, and activewear retailer founded in 2006) provides a clear growth catalyst for the company.
Aerie was a first-mover in bralettes approximately 5 years ago, helping to popularize the style in the U.S. along with social media stars such as Kylie Jenner.
Although it's easy to make a bralette, it's difficult to create a brand that resonates with consumers and comes off as genuine. Aerie managed to do just that, by encouraging women to embrace their body as it is. In 2014, Aerie made a commitment to stop airbrushing their models in campaign ads, choosing to keep "flaws" rather than photoshopping them out. They also chose to showcase their bralettes and lingerie using a variety of models of different sizes and shapes--a sharp contrast to Victoria's Secret (NYSE:LB), who is well known for their extraordinarily skinny, toned, and tall, picture-perfect "angels." In the same year, Aerie was awarded a first-ever "seal of approval" by the National Eating Disorders Association.
Considering there are only 97 Aerie stores compared to 952 American Eagle stores at the end of Q3 2016, there is still a lot of room to grow their physical footprint across the United States.
Aerie has proven to be a major thorn in Victoria Secret's side with CEO Leslie Wexner lamenting in an investor meeting last month that, "…the changes that we have made, I wish we had taken those actions two years ago, or three."
With bralette adaptation picking up steam, the growth trend could last another 3 to 4 years and AEO has comfortable lead while Victoria's Secret is struggling to play catch up.
Since Q3 2014, Aerie's sales have more than doubled. There is a great chart on Forbes showing Aerie's comparable sales rising quarter by quarter.
3. American Eagle Outfitters is the preferred retailer for teens to buy trendy denim.
Aerie is not the only bright spot for AEO. The company's namesake brand is also doing well in denim, particularly among upper-income female teens.
Piper Jaffray conducted a survey among 10,000 teens across America to find out what the hottest trends were in their schools. They found that ripped jeans were "really hot" among upper-income females, who still continue to spend heavily on fashion despite an overall softer apparel retail environment. When asked where they like to buy their jeans, "American Eagle outfitters was the resounding winner with more than one third of the vote," Piper Jaffray analyst Neely Tamminga exclaimed in a CNBC interview in mid-October.
4. AEO pays a quarterly dividend that amounts to a 3% annual yield.
AEO has paid a quarterly dividend since the beginning of 2006--almost 11 years, and counting. This makes owning AEO for the long term even more attractive as investors receive cash for being an owner and being patient.
5. AEO has no debt and positive cash flow, which makes the company well-equipped to continue competing in a tough apparel retail environment without the risk of defaulting on a loan or filing for bankruptcy.
2014 and 2015 was the year of apparel-retailer bankruptcy and store closings. There was Deb Shops and Delia's in 2014 (bankruptcy), Body Central in 2015 (bankruptcy after bleeding almost $70.2 million in its final 12-months of operation and defaulting on a loan), and also Wet Seal who closed two-thirds of their locations in 2015 after receiving a default notice on $27 million in notes.
AEO has zero debt is a big deal and a big advantage in such a tough retail environment. Furthermore, AEO generated $101 million in operational cash flow in the first half of 2016.
In contrast, L Brands (owner of Victoria's Secret) reported just a few days ago that they had $5.7 billion of long term debt on the balance sheets at the end of Q3'16.
Online Shopping
30% of AEO's sales in 2015 came from online shoppers. AEO management has correctly focused its efforts on winding down store counts to reduce overhead and capitalize on the growing online shopping trend which bodes well for the company's long term prospects.
Recent Analyst Price Targets
8/19/16 - Cowen & Co has a price target of $21 on AEO.
12/1/16 - Stifel Nicolaus has $20 price target on AEO.
Conclusion
Buying and holding AEO shares for the next 3 to 4 years should allow investors to profit from Aerie's growing brand power, capitalize on the bralette trend to its fullest potential, and benefit from the namesake company's strong position in denim, while collecting a reasonable dividend. Zero-debt balance sheet and positive operational cash flow despite a tough retail environment makes AEO likely to emerge a winner in the apparel-retail segment.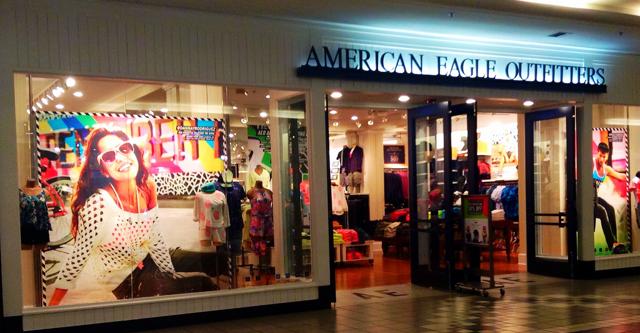 Image Credit: Mike Mozart
Disclosure: I am/we are long AEO. I wrote this article myself, and it expresses my own opinions. I am not receiving compensation for it (other than from Seeking Alpha). I have no business relationship with any company whose stock is mentioned in this article.