On 11/30/16, we got a call from an investment banker offering the opportunity to participate in the IPO of Innovative Industrial Properties (NYSE:IIPR) at $20 per share. We chose not to participate as the overhead expense of the offering would cost about $2.17 per share and there were no assets going in to the IPO. Therefore, participating in the IPO would essentially be buying $17.83 of cash for $20. Not a great deal.
Less than a week later, the stock is publicly traded at just $15.40.

Market pricing as of 12/5/16 close
That is a much better deal. At this price, it is buying cash for $0.86 on the dollar ($15.40 nets $17.83).
Where do these numbers come from?
In the prospectus, IIPR outlines the dilution inherent in the offering.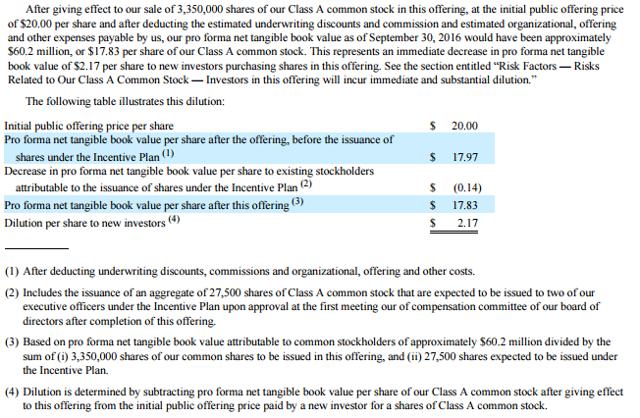 Thus, the $20 offering price is worth $17.93 plus or minus the NPV delta on acquisitions for which the money is used. Our estimate is that acquisitions will be NPV neutral or better resulting in an intrinsic value of at least $17.83 per share.
Acquisitions
While IIPR had no properties at the IPO, they do have an acquisition lined up. It is a 127k square foot medical-use cannabis cultivation facility along with 37 acres with expected future development of an additional 204k square feet of facilities. This comes as a $30mm sale-leaseback to PharmaCann LLC with a 15-year lease. Base triple net rent of $319,580 per month equates to a 12.8% cash cap rate and the rent escalates annually at the higher of 4% or 75% of CPI.
Additionally, IIPR is contracted to receive a supplemental base rent for the first 5 years of $105,477 per month, which along with a property management fee, takes the cap rate up to 17.2%.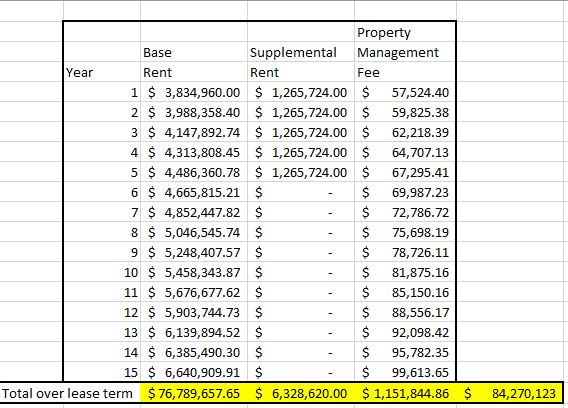 Source: Information from prospectus and analyzed in Excel.
Over the entire 15-year term, IIPR is owed $84.3mm, which is a fairly good return on their $30mm investment.
Beyond the ready-to-go acquisition, IIPR has identified a pipeline of $88mm of additional potential acquisitions, which are in various stages of review. As only ~$60mm was raised in the IPO, the $30mm property plus the up to $88mm pipeline should be enough to get the initial proceeds invested within a reasonable time frame.
We do not have any cap rate information on the pipeline, so at this point, our valuation on it is that the pipeline is NPV neutral while the initial acquisition is NPV positive due to the extremely high cap rate and long lease term.
Thus, we think IIPR is worth at least the $17.83 in cash that it has today which gives about 16% upside to a purchase at $15.40.
Industry overview
While cannabis is a relatively nascent legalized industry in the US, it is already of reasonable size. ArcView records 2015 sales of $5.4B, 92% of which was for medical use. They estimate the sales to expand to $21.8B by 2020.
We believe the industry structure is favorable for Innovative Industrial Properties, because their potential tenants are highly fragmented, consisting of many small growers/operators while sources of capital remain fairly limited. This should allow IIPR to have leverage in sale-leaseback negotiations and achieve a strong ROIC as they did in their initial property.
Risks and concerns
IIPR is still a bit too small and if it fails to grow its capital base, it could be crushed under the overhead of operating a public company. The high ROIC helps in that the threshold for sufficient size could be lower for IIPR than it is for lower return property types.
IIPR's core tenant is a new company, which makes its creditworthiness less than proven. While the license obtained by the tenant provides substantial competitive advantage, it remains to be seen how well this translates into profitability.
Medical-use cannabis is subject to political and regulatory risk, which is hard to estimate. This provides both upside and downside to IIPR as there is room for laws to either tighten or loosen. The recent trend is toward looser regulation, but a new administration could cause reversal.
The Bottom Line
IIPR can be had for substantially less than its asset value, which we view as a favorable entry point into what could be a burgeoning industry.
2nd Market capital and its affiliated accounts are long IIPR. I am personally long IIPR. This article is for informational purposes only. It is not a recommendation to buy or sell any security and is strictly the opinion of the writer. Investing in publicly held securities is speculative and involves risk, including the possible loss of principal. The reader must determine whether any investment is suitable and accepts responsibility for their investment decisions. Dane Bowler is an investment advisor representative of 2MCAC.
Disclosure: I am/we are long IIPR.
I wrote this article myself, and it expresses my own opinions. I am not receiving compensation for it (other than from Seeking Alpha). I have no business relationship with any company whose stock is mentioned in this article.