Historically, major companies have avoided politics altogether. It's good business to do so, unless it is specifically part of a niche brand image. This rule should be considered to be especially true in the current U.S. political environment where the population is divided into almost two equal-sized and frequently hostile political camps.
Under such circumstances, companies should never put politics over profits. They do so at their peril, and the more broad-based their customer base is, the larger the potential there is to damage their brand. Corporate boards should never allow this behavior on management's part. Investors should avoid stocks of such companies because their activities at the very least are likely to hurt the bottom line and thereby the price of the stock.
Amazingly, there have been a number of companies or their CEOs who decided it's a good idea to take actions that indicate a political preference after the 2016 election against the winning candidate and his supporters. There were some cases of this behavior last year, such as Macy's (NYSE:M), which banned Trump menswear from its store in July 2015 (they continued to sell Ivanka Trump's line of clothing, however), when no one thought Trump had a chance of winning the Republican nomination, let alone the presidency.
After the election, however, politically motivated anti-Trump corporate actions are still taking place. Trump boycott movements have been the driving force behind getting retailers to ban Trump-related merchandise and anti alt-media groups have tried to prevent companies from advertising on Conservative news sites that supported Trump.
According to Business Insider, six retailers have stopped carrying Trump family merchandise since the election - Bellacor (privately held), Wayfair (NYSE:W), Zulily (owned by Liberty Interactive QVCA), RueLaLa (privately held), Stein Mart (NASDAQ:SMRT), and Shoes.com (privately held). Despite intense pressure from left-wing groups, there is good reason the number is so small. According to market research firm Brand Keys, before Donald Trump ran for president, the Trump name on a brand meant a 25% premium price could be charged for an item (A-list celebrities add around 15%).
During the presidential campaign, the Trump percentage fell to as low as plus 8% at one point. After the election, though, the Trump name on merchandise meant a 35% higher price could be charged. Retailers, who focused on making money, realized it was a potential gold mine for them. Nordstrom's (NYSE:JWN) had the perfect response to political pressure groups demanding Ivanka Trump's products be removed from their store: "Every single brand we offer is evaluated on their results - if people don't buy it, we won't sell it." The company announced it was keeping Ivanka's line. This is the type of a bottom-line oriented company that an investor wants to own.
The anti-Trump forces are engaging in a second line of attack by trying to get companies to pull advertising from pro-Trump media outlets. Kellogg's (NYSE:K) decided to make a political statement by pulling its ads from Breitbart.com, a conservative news site and major Trump supporter with 45 million readers.
As reported by Bloomberg, a spokesman for Kellogg's stated, "We regularly work with our media-buying partners to ensure our ads do not appear on sites that aren't aligned with our values as a company. We recently reviewed the list of sites where our ads can be placed and decided to discontinue advertising on Breitbart.com. We are working to remove our ads from that site."
Apparently, no one at Kellogg's looked at a map of where their customers lived and where Trump got his votes. In the map below, the blue, red and orange states have Kellogg's cereals as their most popular brand.
These were some of Trump's strongest states. Trump won West Virginia with a 42% margin, North Dakota with a 36% margin, Kentucky with a 30% margin, Alabama with a 28% margin, Arkansas with a 27% margin, Tennessee with a 26% margin, Montana with a 21% margin, Louisiana with a 20% margin, and Mississippi and Missouri with a 19% margin. Presumably, Kellogg's isn't interested in their business anymore because these consumers, "aren't aligned with the values of the company."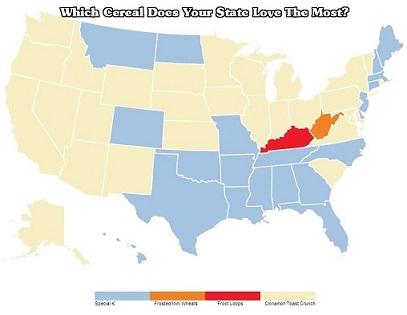 No one in the marketing field would maintain insulting a large number (perhaps even a significant majority) of your customers' "values" is a good way to do business, but that's exactly what Kellogg's did. Moreover, Kellogg's main line of business, cereal products, have a 93% penetration among the public and are about as universal a consumer product as exists in any market. Trying to please one political faction at the expense of the other one under such circumstances can be disastrous.
It was inevitable that a boycott Kellogg's movement would immediately spread through the Internet among conservative and Trump-supporting factions. While the Trump's social media following is approximately 30 million, his loyal followers expand those numbers much further. The Trump boycott forces aren't as organized - as of yet - as those on the Left's, but they likely will be. The reaction immediately following Kellogg's move was negative for its stock price.
Kellogg's Stock Price November 28th to December 2nd, 2016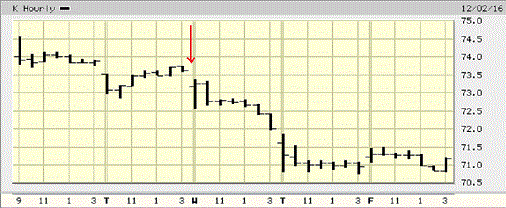 Red arrow when Kellogg's controversial statement hit the Internet
Politics and investing shouldn't be mixed. Someone who wishes to express a political opinion, should do volunteer work at their local political party headquarters or in a campaign. Companies should strive to be politically neutral and avoid alienating consumers and damaging their brand (decades of a carefully crafted brand image can be destroyed in a relatively short period of time). Any company that thinks the consumer should be aligned with its values has gotten the marketing equation backwards.
The company should be aligned with its consumer's values, not the other way around. Companies like Kellogg's that have forgotten this most basic marketing precept are not likely to have prosperous long-term futures. Investors should avoid them (and this includes institutional investors who have a fiduciary responsibility to not allow such corporate behavior). Companies that focus exclusively on the bottom line, like Nordstrom's are good long-term prospects. The ultimate purpose of a company is to make money and maximize shareholder value, after all.
Disclosure: I/we have no positions in any stocks mentioned, and no plans to initiate any positions within the next 72 hours.
I wrote this article myself, and it expresses my own opinions. I am not receiving compensation for it (other than from Seeking Alpha). I have no business relationship with any company whose stock is mentioned in this article.