The strong rally since 2009 caused multiples expansion for most companies in the economy. But now, after 7 years, the steam needs to slow down or maybe even reverse and the most investors to get punished (not by stock percentage decline, but by loss with respect to risk aversion) are the ones who invested heavily in companies I call "dividend traps".
Coca Cola (NYSE:KO), the global leader in the beverage industry, is considered (at least to me) a dividend trap stock.
Even though the company is a global leader with a strong brand name and a solid financial status, this doesn't mean its stock is fortified from downside risk.
In this article, I will discuss the reasons for why KO stock at these levels has a high risk/reward ratio, and why fixed-income investors should be careful.
Shift in consumer behavior
Even though most investors following KO stock know about this danger, it is important to mention this risk in every KO article.
US Coca Cola sales represent 46% of total sales, with beverages like Coca Cola, Coca Cola diet, Sprite, Fanta, and the "Zeros" family representing more than 60%.
Meanwhile, according to the National Institute of Diabetes, more than 1 in 3 adults and 1 in 6 children are considered to be obese. Another study found that 50% of adults in the US have either diabetes or pre-diabetes (condition where a person has elevated blood sugar and is at risk to develop diabetes).
These diseases will push for a significant decrease in demand for heavy-sugar drinks and fast foods in the future. That's why we are seeing organic-food restaurants like Chipotle Mexican Grill (NYSE:CMG) gaining market share in the industry. The effect of these diseases on companies like Coca Cola and PepsiCo. (NYSE:PEP) takes time to show up. That's because pre-diabetic people need time to stop the habits of drinking high-sugar drinks; after all, like the biggest investors in Coca Cola said: "Chains of habits are too light to be felt until they are too heavy to be broken". For example, my dad knew he had diabetes more than one year ago, but it took him more than 9 months to start reducing his Pepsi drink daily consumption (he used to drink more than 4 cans a day, now he barely drinks one).
I expect people to follow this trend in the future. Even diet cokes are not seen as substitutes. Numbers can show that, in 2015 Diet Coke sales witnessed a staggering 9% drop in sales (page 48, October 2015 10-Q)
Declining unit volume sales
In the last 3 years, Coca Cola's annual revenue witnessed a decrease of 12.5% since its peak in 2013. And since I believe that a good portion of the decline is contributed to foreign exchange loss, it would be better to use unit sale volume to know how the business is going.
Unfortunately, unit sales volumes are not impressive at all. I gathered the information from Coca Cola's annual reports and illustrated the results for better use.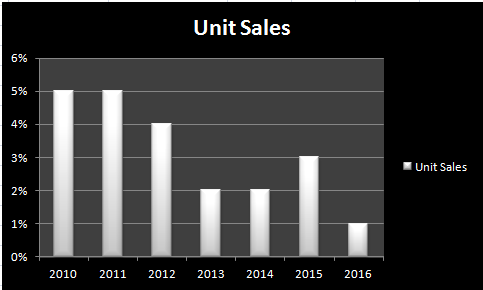 As seen, unit sales growth declined from 5% in 2010 to merely 1% in late 2016. That's a worrying sign considering that the company spent $6.8 billion (15% of annual revenue) on marketing last year, and is estimated to have spent $8 billion on advertising in 2016.
What discounted cash flow analysis shows?
Although revenues are affected by foreign exchange losses and don't give a clear sign about how the company is performing, these losses are part of the company's global risks and are included in the free cash flow calculation.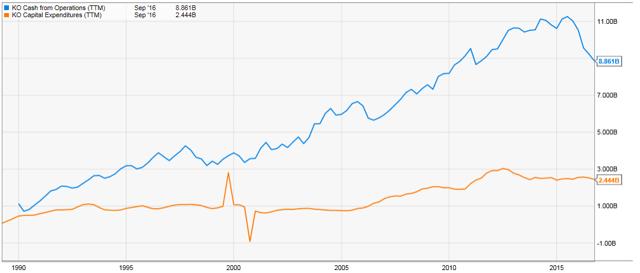 As seen, KO's operating cash flow had decreased significantly in the last year, while its capex remained steady. This translates into $6.4 billion on TTM basis.
However, since we still don't know if the reversal in 2015 is a short-term reverse in the trend or a long one, it would be safer to use 2015's peak of FCF in the DCF analysis.
In addition, I assumed that the long term growth rate of FCF is 1%, since I believe that it will be harder for Coca Cola to increase its unit sales volumes further over the long-term especially regarding the risks stated above.
With respect to its weighted average cost of capital, KO's structure is mostly equity based (90% of the enterprise value is equity based) which means that its WACC is hugely dependent on its cost of equity.
KO is currently offering a 3.4% dividend yield, which translates into an estimate 4.5% required annual yield (the P/S ratio of 4 shows that investors are expecting growth in revenue and thus are requiring more capital appreciation).
Entering the stated inputs into the DCF model, Coca Cola's equity value would be around $179 billion (3% higher than current market value).
Sounds good right?
Well it would be if the valuation was done in a different environment.
Rising interest rates won't have a material effect on KO's already low interest rate on its debt. However, it will push KO's cost of equity higher (like all dividend paying companies), since dividend yield of 3.4% won't be enough for income seeking investors in a higher rate environment.
Just for the record, KO's low long term growth rate will increase its sensitivity to increasing WACC.
For example, if KO's WACC increased only 1% to 5.5%, its intrinsic value will decrease by 13%.
Do Coca Cola's multiples reflect the company's fundamentals?
One of the most overvalued metrics for Coca Cola is the PEG ratio. To show the extent of this overvaluation, I created the table below.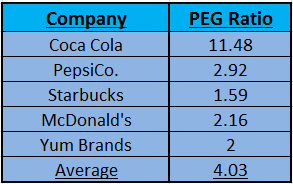 (Source: Thomson Reuters)
As seen, KO is significantly overvalued with respect to similar companies on an expected 5 year growth of P/E.
I regard PEG as the most important metric for a company, because it takes into account the medium-term growth of the P/E ratio.
Given all of the above, I believe that the upside for Coca Cola is limited while its downside is not. I don't recommend shorting a stock like KO- no one dares to- after all, it still has a global brand name with one of the strongest balance sheets in the market. However, I recommend income-seeking risk averse investors to get out of the stock at these levels and wait for a better entry point after a couple of interest rate hikes.
I also believe that KO has the ability to have a higher valuation by cutting operating costs as much as it can (3G capital can do the job), thus increasing both net income and free cash flow. However, until we see a major step towards this plan, investors should remain cautious about the stock.
Disclosure: I/we have no positions in any stocks mentioned, and no plans to initiate any positions within the next 72 hours.
I wrote this article myself, and it expresses my own opinions. I am not receiving compensation for it (other than from Seeking Alpha). I have no business relationship with any company whose stock is mentioned in this article.