This review updates my initial look at Peregrine Pharmaceuticals (NASDAQ:PPHM), from my September 30, 2016, article, "Peregrine's Phase III Failure Creates Opportunity Revisit."
Though I hope you will read the original linked article in full, my bottom-line assessment and buy recommendation at the time were as follows:
Unfortunately, PPHM suffered dramatically when its Phase III test failed to provide the necessary benefits it had promised. Yet, PPHM has gained tremendous knowledge from the testing results and is in the process of utilizing that information to explore Bavituximab's application as a biomarker or in biomarker applications that are truly beyond my limited understanding.

However, what I do understand is that PPHM has dramatically cut the amount of monetary resources it is currently expending in this latest round of research. For example, it has paid $2,000,000 to the National Comprehensive Cancer Network (NCCN) to have them help with the heavy lifting.

But the bottom line of my encouragement and the reason I believe my preferred investment in PPHM is secure is because of Avid Bioservices, Peregrine's manufacturing arm, that is rapidly expanding to handle its growing contracted business of biomanufacturing products and services.
Let's see how PPHM's common shares have performed over the past quarter, since I wrote the previous articles. Because of the greater volume of common shares traded as opposed to the limited liquidity of most preferreds, I find the commons to be a better indicator of a company's overall performance.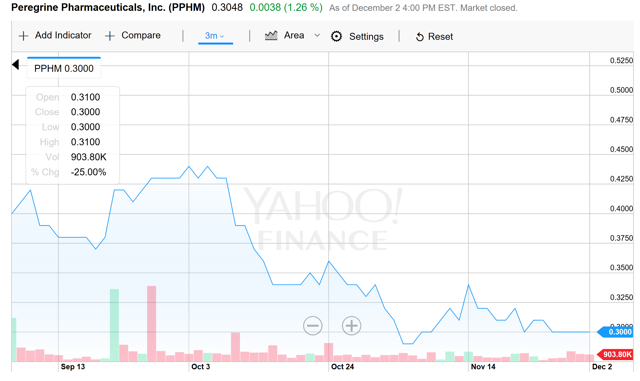 It appears that over the past three months PPHM's share price movement has been trending down. On September 6, it traded at $0.40; now it's priced at $0.3048. That loss of $0.0952 per share is not very encouraging.
Before we discuss PPHM's future prospects, let's see how its preferreds fared during the past three months. The following chart is provided by MarketWatch: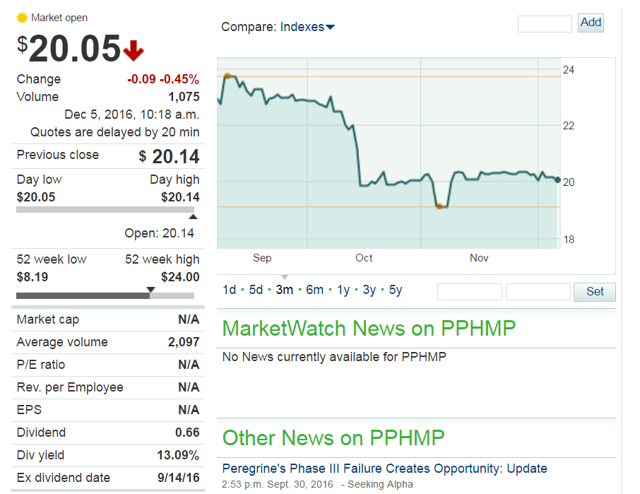 As with its common shares, the performance of its preferreds also fell, by approximately $2.50/share. However, it continues to distribute its quarterly dividends.
And as I previously reported:
Now let's compare and contrast its preferred figures I first reported on March 7, and as it was on June 6, 2016, as I wrote that day:

Serendipitously, Peregrine preferred had one of its best days in the market for as long as I have been following it. It ended Thursday up $3.02, closing at $16.92, and reached $17.89 as the high of the day. And no, I have not cherry-picked it for that reason. I picked Peregrine for this article because it was the next in line of this series of articles as they were first published. It's easy to check by clicking on the link to the original article, which is dated as are all articles.
PPHMP Prices 3/15/16 and 6/6/16
| | | | | |
| --- | --- | --- | --- | --- |
| Symbol | 3/15 | 6/6 | 9/30 | Difference |
| PPHMP | 15.60 | 16.92 - 17.89 | 23.00 | +7.40 |
Consequently, although PPHM had a discouraging quarter, its preferred remains markedly higher priced than it was on March 15 of this year.
Now for a little forward guidance:
TUSTIN, Calif., Nov. 14, 2016 (GLOBE NEWSWIRE) -- Peregrine Pharmaceuticals, Inc. a biopharmaceutical company committed to improving patient lives by manufacturing high quality products for biotechnology and pharmaceutical companies and advancing its proprietary R&D pipeline, today announced the presentation of positive data from multiple new preclinical studies of the company's phosphatidylserine (NASDAQ:PS)-targeting antibodies. Study results highlight that PS-targeting antibodies similar to bavituximab synergize with checkpoint inhibitors and radiation to improve anti-tumor activity in various animal tumor models. Importantly, the improved anti-tumor activity seen in these studies was even greater when PS-targeting therapy was a part of triple combination treatment including antiPD-1 and another therapy. Data were presented by Peregrine scientists, as well as researchers from Memorial Sloan Kettering Cancer Center (MSK), at the Society for Immunotherapy of Cancer (SITC) 2016 Annual Meeting, which was held November 9-13, 2016 in National Harbor, MD.
What are we to take away from the above latest press release and recent earnings that evidenced another losing quarter? Obviously, PPHM is still losing money, which is disturbing, but not unexpected because, if I recall correctly, during their last conference call, management suggested that did not expect to become cash positive until late 2017 and possibly into 2018.
Furthermore, as stated in the above release, PPHM is both a biomanufacturer and pharmaceutical company advancing its proprietary R&D pipeline that fully intends to pursue its development of Bavituximab's phosphatidylserine (PS)-targeting antibodies. Although management continues to tout positive testing results, frankly, my continued encouragement rests with it biomanufacturing arm, Avid Bioservices. Avid actually earns income, and I continue to believe it will keep PPHM afloat until it either succeeds in bringing some iteration of Bavituximab to market (PS-targeting antibodies or biomarker) or it fails. If it fails, I hope it will then concentrate more fully on Avid and the earning wing of the company.
Time will tell, and at this time, although I remain invested, I caution all considering an investment in PPHMP, or PPHM, its common. I don't ordinarily invest in commons, but at its approximate $0.30/share price, it offers a low-risk investment (dollar-wise — although it might be a risky bet, the amount risked is trivial) that might be worth taking for the potential of a big reward if Peregrine strikes gold with Bavituximab. I figure you can buy 1000 shares for $300.00 with a lot better chance of a payoff than betting it on a trifecta at the track. If you can afford a $300 loss, it might be a gamble worth taking. Above all, be certain to do your own careful due diligence before placing your bet.
Disclosure: I am/we are long PPHMP, PPHM.
I wrote this article myself, and it expresses my own opinions. I am not receiving compensation for it (other than from Seeking Alpha). I have no business relationship with any company whose stock is mentioned in this article.
Editor's Note: This article covers one or more stocks trading at less than $1 per share and/or with less than a $100 million market cap. Please be aware of the risks associated with these stocks.