Late last week, B&G Foods (NYSE:BGS) acquired Victoria Fine Foods Holding Company and Victoria Fine Foods, LLC. The information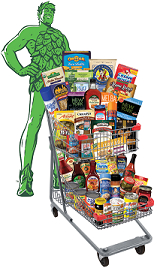 provided in the press release included the following:
Purchase Price of $70 million in cash, subject to a working capital adjustment.
After integration, the company projects annualized sales of $41 million with EBITDA of $9 million.
The acquisition, and related fees and expenses, was funded with cash and additional loans under its revolving credit facility.
As with most of the B&G acquisitions, CEO Bob Cantwell expects
...the acquisition to be immediately accretive to [B&G's] earnings per share and free cash flow.
For those less familiar with B&G, the company regularly levers up to buy accretive acquisitions, expects to turn half the EBITDA into free cash flow and return half of that to shareholders in the form of increased dividends. At the end of Q3, B&G had 66,406,314 shares outstanding. If it adheres to its objective, there would be ~$2.25 million of additional cash available for a dividend increase, or less than a one cent per quarter increase to the dividend. (Note: B&G increased its dividend four times between September 2013 and September 2015, with three of those increases by $0.01/quarter.)
B&G not only manufactures some of its own products, but it also uses third party co-packers. Unfortunately, the release did not state whether or not this acquisition included any employees or physical assets, such as a manufacturing facility.
The Products
Having never seen Victoria products, I decided to visit their website. Victoria produces a large variety of pasta and specialty sauces, including traditional, Organic and Vegan varieties. In addition, it sells marinated artichokes, olives, peppers and spreads.
There were three things on the website that caught my attention and should be of interest to investors. First, B&G has been placing more focus on the changing patterns of its consumers, including those that are always in a hurry. Victoria's Chef Collection Penne Alla Vodka includes penne in the sauce, and the site boasts that this heat and serve meal
... brings traditional Italian elegance to your table in under two minutes. Penne alla Vodka is a decadent classic, combining penne pasta with rich, creamy vodka sauce.
Second, there were also four sauces under the "Victoria Trading Company" brand that would appear to be made specifically for Wal-Mart (NYSE:WMT), a customer that B&G has been cultivating for the past several years. And, third, they sell a two pack of 40 oz. jars of marinara sauce. The description includes:
This slow kettle-cooked sauce is Costco's # 1 Selling Sauce in the US because it is delicious!
Warehouse and club stores are another area where B&G has been trying to increase its presence. Having a top selling product at Costco (NASDAQ:COST) is an interesting plus to this acquisition, as are the products made specifically for Wal-Mart and the one targeted for consumers in a hurry.
The Purchase
As of the end of Q3, B&G had paid off its revolving credit facility and had $240.6 million of cash. Since then, the company closed on its $365 million purchase of ACH Food Companies on November 21st, using that cash (which was raised during an August stock offering) and funds from its revolving credit facility. Now B&G will be paying another $70 million for Victoria with cash on hand and funds from its revolving credit facility.
It seems fairly clear that the total purchases of $435 million will require a substantial draw on the revolver. Such draws are typically followed by another round of raising capital through another secondary stock offering.
Summary
The most recent purchase seems like a solid fit for a company that already has Emeril brand pasta sauces, Don Pepino pasta sauces and pepper slices, and B&G peppers in its product portfolio. Although the purchase price at nearly eight times EBITDA appears to be on the high side, the relationship with Costco and Wal-Mart may justify that price.
The Green Giant's shopping cart just became much more crowded with dozens of Victoria products. Is it a good time to buy shares? If, as I expect, a new secondary offering will be needed to raise cash to reduce the revolver and prepare for future acquisitions, investors interested in taking a new position in B&G may wish to wait until that offering is announced and priced.
Disclosure: I am/we are long BGS.
I wrote this article myself, and it expresses my own opinions. I am not receiving compensation for it (other than from Seeking Alpha). I have no business relationship with any company whose stock is mentioned in this article.
Additional disclosure: In addition to my long positions in BGS, I have covered calls written against a portion of my long position. I also reinvest dividends and may add shares or write additional calls at any time. I have no positions in any of the other companies discussed in this article and no plans to initiate any new positions in those companies in the next 72 hours.