Investors are intrigued by Under Armour's (NYSE:UA) improving market share, but it is going to take more than a few celebrity endorsements to unseat the king. Everyone knows that Nike (NYSE:NKE) dominates the NBA and the Olympics, but it is also impossible to miss the swoosh in your neighborhood coffee shop, co-working office space, or art gallery show. How long will it be before you see a man wear Under Armour shoes paired with jeans and a blazer to a first date?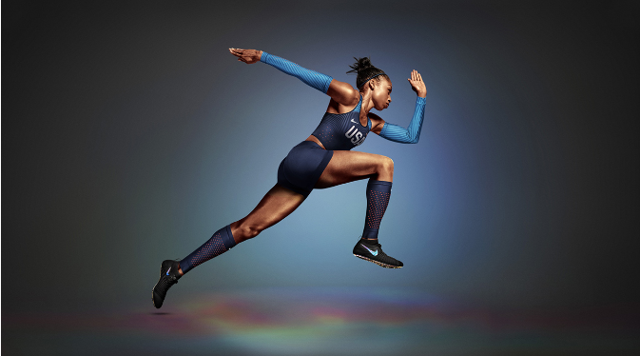 To truly become a market leader in athletic apparel, Under Armour is going to need to be more innovative and take more risks. The company cannot simply follow in Nike's shadow hoping that one day the 800-pound gorilla makes enough missteps for it to stand in the spotlight. Even if Nike's brand was not as strong, its financials are.
On Under Armour's 2Q 2016 (ending July 26, 2016) earnings call, CEO Kevin Plank begins with discussing their success/expected success with the NBA Finals, Copa America, European Championships, U.S. Open, British Open, Wimbledon and Olympics. With the exception of golf, Nike dominates the other events. Next, Mr. Plank discusses their efforts to expand "consumer access," aka, trying to get people to wear its Under Armour Sportswear line as casual wear. Again, Nike (along with a few other brands) dominates this space. Under Armour has done a great job gaining ground in golf and football. It needs to seek out new opportunities similar to Reebok's now untouchable brand in the Mixed Martial Arts world.
Don't get me wrong, Under Armour is doing a good job, but does it warrant its price? On this same call, it reported 19% growth YOY in apparel revenue. That's great. Footwear revenues grew 58% during the same period. That's even better. Nike grew apparel 12% and footwear 10% YOY. 12% in apparel growth for Nike is $349 million. 19% for Under Armour is only $98 million in new sales. Every time these companies sell their product, it becomes a walking billboard. $349 million of sales compared to $98 million can be considered investment in its marketing campaign. It is a snowball.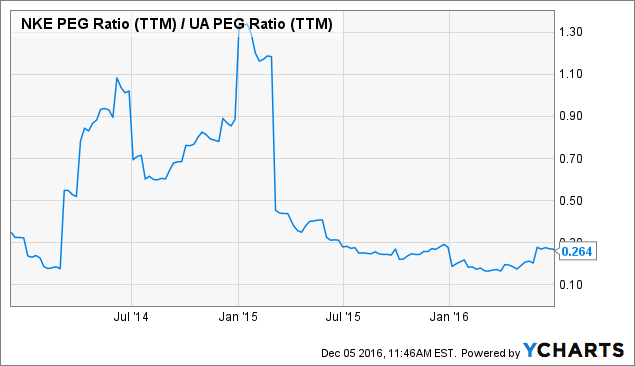 Fundamental Chart data by YCharts
Comparing Nike's PEG ratio to Under Armour's PEG ratio, we can see that Nike is relatively cheap. With an eye for growth at reasonable prices and not taking our eye off of financial strength, Nike is the better bet.
Let's review Nike's financial strength.
Income
Nike reported strong 1Q Fiscal 2017 results reflecting growth in both domestic and international markets. Five of six geographies grew by double digits. The company reported growth for the Nike brand all across Europe as well as in Japan, China, and other emerging markets. The Converse brand showed growth in North America but declines in Europe and Asia Pacific.
Strengths
· 8% increase in revenue
· 6% increase in net income
· Return on equity has improved from 22% in 2012 to 30% in FY 2016
Weaknesses
· Strongest business lines (Basketball, Running, and Soccer) are already mature markets
· A slowdown in any of the economies Nike serves will hurt consumer spending
· Gross margins are down 200 basis points
Nike still continues to pay a dividend, and in 2015, announced a $12 billion share buyback plan. In the quarter ending May 31, 2016, Nike repurchased 9 million shares at an average price of $59.89 (page 17 of annual report).
Balance Sheet
Nike continues to have a solid balance sheet with ample liquidity and very low debt. Cash and short-term investments totaled $4.7 billion as of the end of 1Q FY 2016 and its quick ratio was 1.8X. Short-term obligations primarily consist of trade debt and accrued liabilities. CPLTD and notes payable were only $66 million.
Debt increased 86% from the prior year but cash at 1Q FY 2017 ($2.6 billion) still covers both the current portion and long-term debt of $2.0 billion. Cash has not been reported at FY-end lower than $2.2 billion since 2012.
This balance sheet positions Nike to continue its strong history of R&D, withstand the inevitable economic slowdown, and/or to take advantage of strategic acquisitions.
Diversification and Innovation
A wide range of demographics wear Nike in and out of the gym, which keeps the Nike brand alive at all hours of the day. The company reported growth in multiple categories. Year-over-year multiple business lines drove this growth including: Running 10%, the Jordan brand 21%, and Sportswear 22%. Overall Women's revenue grew 17%. Nike is doing a great job of keeping the brand relevant for men and woman, adult and child, urban and suburban, domestic and international.
Nike also continues to be a market leader in terms of innovation. New tread patterns? Online customization of shoes? Self-tying shoes? Lifetime contracts with athletes? Technology integration? Nike is the leader.
Summary
Long term, Nike is a great company to own. In the near term, the greatest risk to Nike is a slowdown in consumer spending, not a competitor stealing its sunshine. Under Armour will continue to win market share in some of Nike's channels, but footwear and apparel are not stagnant markets leaving plenty of new customers to go around.
Nike does not have the same need to build new sales channels that Under Armour does, which will help it maintain its balance sheet strength and relatively high margins. At a current P/E ratio of 22.6, the stock might not seem like a bargain, but it is near its 52-week low, and remember, this company is a growth stock! Nike deserves a look.
Disclosure: I/we have no positions in any stocks mentioned, and no plans to initiate any positions within the next 72 hours.
I wrote this article myself, and it expresses my own opinions. I am not receiving compensation for it (other than from Seeking Alpha). I have no business relationship with any company whose stock is mentioned in this article.