Oil prices surged on November 30th and continued to rise throughout the week after news broke that OPEC and non-OPEC member Russia agreed to cut oil production for a period of at least six months in order to stabilize the energy market. While this was big news (the biggest oil-related news in years in my opinion), other news broke that I believe should be covered, namely weekly oil data provided by the EIA (Energy Information Administration). In what follows, I will look at the data provided and give my thoughts on what it should mean for investors in companies like Whiting Petroleum (NYSE:WLL), Approach Resources (NASDAQ:AREX) and Legacy Reserves (NASDAQ:LGCY), as well as for the United States Oil Fund (NYSEARCA:USO) and other oil-related ETFs moving forward. As a whole, I will also investigate whether changes that have taken place over recent months, from a rig count perspective, have had a material impact on the market and the aforementioned investments.
Oil inventories were mixed but worsened a bit
According to the EIA, crude oil inventories during the week fell by 0.9 million barrels, dropping from 489 million barrels to 488.1 million. While this may not seem like a great deal, it's actually larger than the 0.7 million barrel drop estimated by the API (American Petroleum Institute) a day earlier and was far better than the nearly 0.6 million barrel build that analysts had been forecasting. In the graph below, you can see the trend that crude oil storage has taken in the US over the past 52 weeks.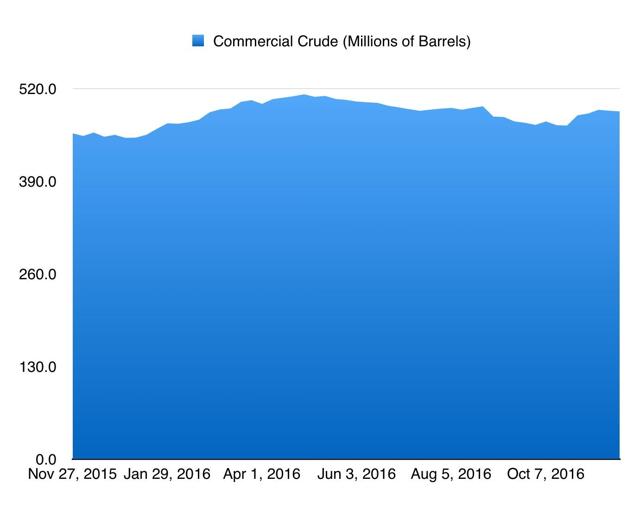 *Source: Created by author with data from the EIA
In addition to seeing crude stocks fall, we did see some other areas of improvement. Take, for instance, the "Other" category of petroleum products, which reported a drop of 3.8 million barrels, falling from 274.8 million down to 271 million. Meanwhile, propane/propylene stocks managed to fall by 1.9 million barrels from 102.7 million barrels down to 100.8 million, and fuel ethanol stocks declined by 0.6 million barrels from 19 million to 18.4 million. Residual fuel stocks remained flat at 40.3 million barrels for the week.
Unfortunately, not everything was great according to the report. Data shows that, if the EIA is correct, motor gasoline stocks climbed by 2.1 million barrels, rising from 224 million to 226.1 million. Distillate fuel stocks fared far worse, soaring by 5 million barrels from 149.2 million barrels to 154.2 million, and kerosene-type jet fuel ticked up by 0.6 million barrels from 41.7 million to 42.3 million. Thanks to these categories of petroleum products, total crude plus petroleum products saw their inventories rise by 0.5 million barrels, climbing from 1.3408 billion barrels to 1.3412 billion.
Not much going on with production and demand
While the picture was pretty volatile for oil inventories during the week, the same cannot be said of domestic oil production. According to the EIA, crude production in the US averaged 8.699 million barrels per day, an increase compared to a week earlier of only 9 thousand barrels per day (or 63 thousand barrels for the week) from the 8.690 million barrels per day previously reported. What's more is that the Lower 48 states saw output dip by 2 thousand barrels per day while it was Alaska that reported the increase. In the graph below, you can see the trend that oil production has taken in the US over the past 52 weeks.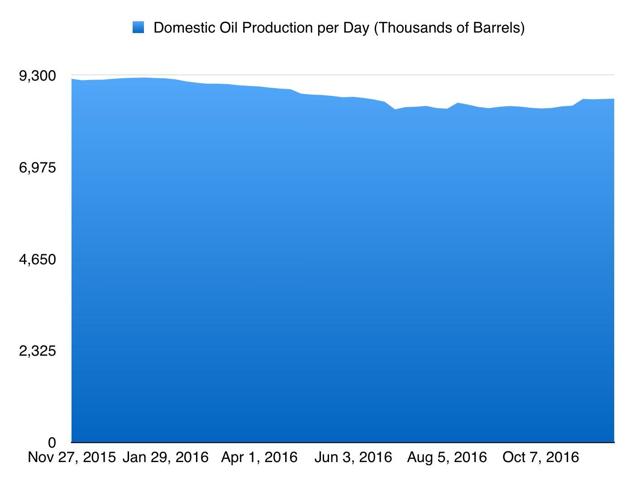 *Source: Created by author with data from the EIA
The picture for demand is similar in nature to the production picture for the week. If the EIA's models and data collection are accurate, the demand for motor gasoline during the week came out to 9.080 million barrels per day, just above the 9.024 million barrels per day seen a week earlier but down 2.2% year-over-year. If you look at the four-week average figure, however, total demand averaged 9.169 million barrels per day, essentially flat compared to the 9.161 million barrels per day seen the same time a year earlier. Distillate fuel demand, on the other hand, was a different creature entirely. The EIA believes that its four-week average figure came in at 3.987 million barrels per day, a nice increase of 4.1% compared to the 3.829 million barrels per day seen the same time last year.
Another uptick in the rig count
The last piece of data I looked at for the week came from Baker Hughes (BHI). According to the firm, the number of oil rigs operating in the US rose by 3 to 477. This is negative in and of itself but seeing as how the rig count is still 12.5% below the 545 units seen a year earlier, we are still in a good place in my view. In Canada, however, the oil rig count rose by 6 units to 100, a meaningful increase over the 77 units seen in the same period last year. This is something that needs to be monitored carefully since increased rig counts can lead to higher oil production down the road.
Valuable insight regarding the market
While this data is valuable in and of itself because of the update it grants regarding the US oil picture, it's important for what this means regarding the energy market as a whole. You see, one fear over the past several months that I've seen among my readers is that as the oil rig count increases, US production will increase as well, a move that would, if the rise is large enough, possibly mean a lot lower oil prices for a lot longer period of time. Using this data that I collected, I decided to put this to the test and see what the end result is.
In the graph below, you can see the results of my analysis. What I decided to do was look at the change in the oil rig count, which has soared from a low of 316 units back in May to 477 units as of the time of this writing. Naturally, and especially since the vast majority of the increase has come from the Permian, a region with low decline rates compared to other major oil and gas producing basins, you would expect this change in the rig count to negatively impact oil production here at home at some point in time.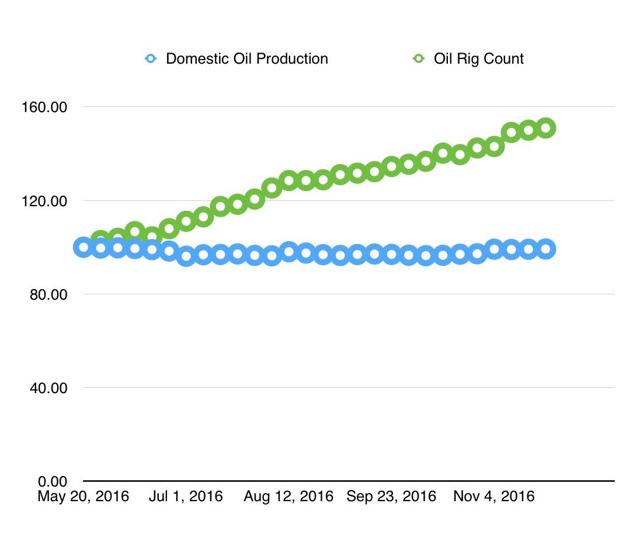 *Created by Author with EIA and Baker Hughes Data
While this belief makes sense at some point, the graph above, which normalized the weekly oil production data and the rig count data, setting each to a benchmark of 100 and changing on a percentage basis thereafter, shows that to not be the case so far. While the rig count has soared by around 51% over this six and a half months, oil output in the US has dropped by 0.8%. This is hardly a victory for investors who believe that the amount of oil produced in the US should fall further but it's also not a victory at all for those who believe US output should rise near-term.
Interestingly, the EIA happens to agree with me here. In the third quarter of this year, domestic output averaged 8.68 million barrels per day and this should fall to 8.67 million barrels per day the same time next year. In the fourth quarter of next year we should see an actual uptick in production, with output rising to 8.87 million barrels per day compared to the 8.68 million barrels per day estimated for the fourth quarter of this year. However, this will be driven by a sizable increase in the Gulf of Mexico, where production should grow by around 0.18 million barrels per day year-over-year in the fourth quarter while production amongst shale producers should rise by only 0.01 million barrels per day if the EIA's estimates are correct.
There is one valid point you may be thinking right now; time lag. While estimates vary, the EIA believes that from the time a rig comes online, it takes about two months for the effects to show up in the oil production metrics. By that logic, a weekly comparison side by side may not be appropriate for this data but when I compared the data on a two-month lag, the graph was remarkably similar. This suggests that, even with a two-month lag put into place, we should not need to worry about the increase in the rig count, as reported by Baker Hughes, having a material impact anytime soon (unless prices rise enough to send rigs flooding back onto the market).
Takeaway
Based on the data provided, it's clear that inventory, production and demand data took a back seat to OPEC's news and for good reason. That said, this data is still important and should not be ignored since it provides us the closest to real-time data of how the market is changing in the US and will be some of the first data to point us to really good or really bad news for the energy space. What's more is the fact that, when you put this data into context and compare the rig count data with the EIA's oil output estimates, there appears to be no relationship, at this time, that suggests that investors have anything to fear regarding the broader market. This does not mean that the picture won't change for the worst at some point but for now it seems as though investors shouldn't worry that much.
Disclosure: I am/we are long WLL, AREX, LGCY.
I wrote this article myself, and it expresses my own opinions. I am not receiving compensation for it (other than from Seeking Alpha). I have no business relationship with any company whose stock is mentioned in this article.
Additional disclosure: I own LGCYO, not LGCY.