President-Elect Trump is already creating major moves in the stock market and these could indicate that a major economic boom is coming in 2017. After the election victory, President-Elect Trump has now set his sights on improving the U.S. economy. After a major financial crisis that started in 2008, and after several years of minimal economic growth, I think many Americans have come to believe that a chronically weak economy is part of the new normal, but it might not be the case going forward.
I believe the recent election was a vote on the economy. When you look at the results of the Presidential Election, it is clear that the West and East Coast were far more supportive of a status quo candidate like Hillary Clinton. These areas have been boosted by easy money that flows in Silicon Valley on the West and Wall Street money on the East Coast. These areas also have far higher real estate prices which have been buoyed even further to astronomical levels thanks to a ridiculously low interest rate policy. Adding to that has been the rise in stock prices which is also heavily supported by low rates. If you are living in California and have benefited indirectly or directly by the riches of Silicon Valley, (or Wall Street if you are on the East Coast) and your home value has surged along with your stock portfolio, the status quo is not bad at all. However, most Americans living in the heartland have not been as fortunate. Take a look at the chart below and you can see that the average American wage is less than it was about 18 years ago: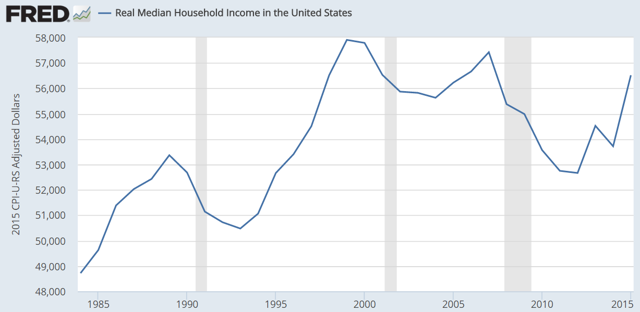 Source: U.S. Federal Reserve
If you remove the gains in paper assets and real estate over the past several years, (that was largely fueled by ridiculously low interest rates), and add in the fact that the U.S. National Debt has exploded (actually doubled) in the last eight years, then add in virtually no wage growth for the past 18 years, it is hard to say that this economy is not in need of change and major improvement. That is probably why a message for real economic growth with actual wage gains is resonating with many Americans that are not on the West or East Coast. What we have seen over the last several years is financial engineering-incredibly low rates that have boosted asset prices, not real wage growth. The financial engineering created by central banks has reached a point of diminishing returns and that makes it increasingly likely that leaders around the world (including Trump) will have to implement fiscal policies like massive infrastructure spending, in order to create GDP gains and wage growth. Trump also seems prepared to implement major tax cuts for corporations and individuals and deregulate many industries, all of which could help to create an economic boom that starts in 2017.
If you look at the stock market action since the election, it is becoming clear that investors are dumping high growth tech stocks, and recession resistant industries like drugs and biotech and plowing into industrial and infrastructure stocks that are poised to surge in the event of an economic boom. Let's look at some charts to see what has gone down since the election: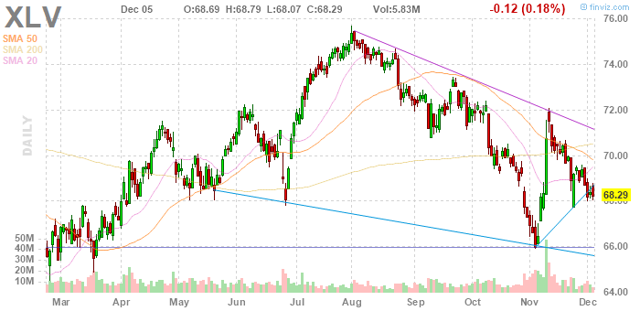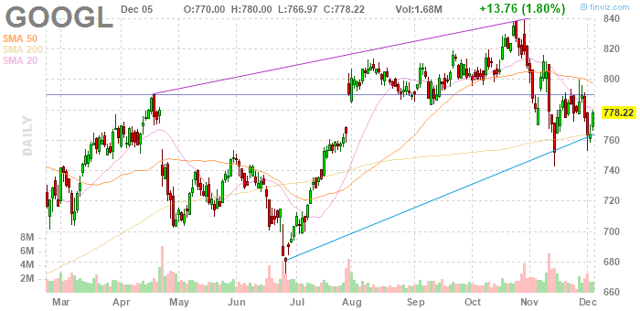 As you can see from the charts shown above, the Healthcare Select Sector SPDR (XLV) and high growth tech stocks like Alphabet, Inc. (GOOG) (GOOGL) are down sharply since the election and this is in spite of the fact that the market has rallied by about 5% in the past few weeks. Now let's look at what is surging higher since the Trump victory: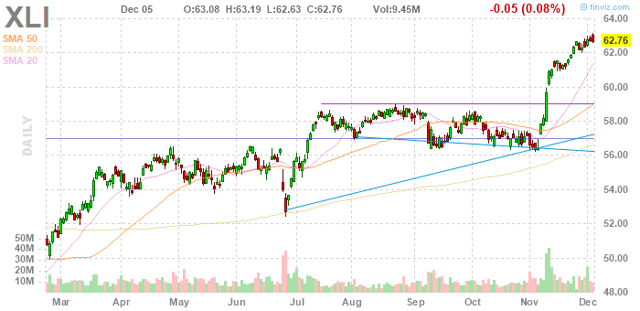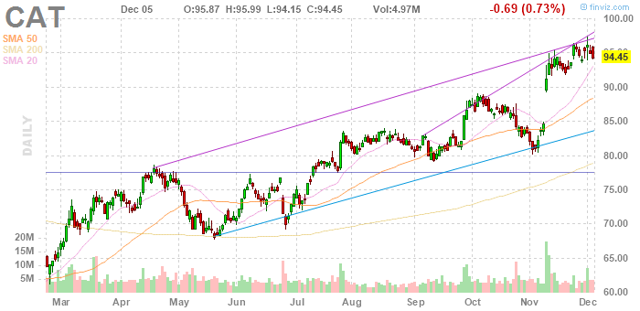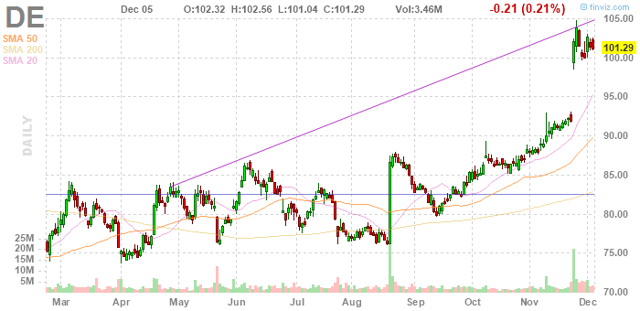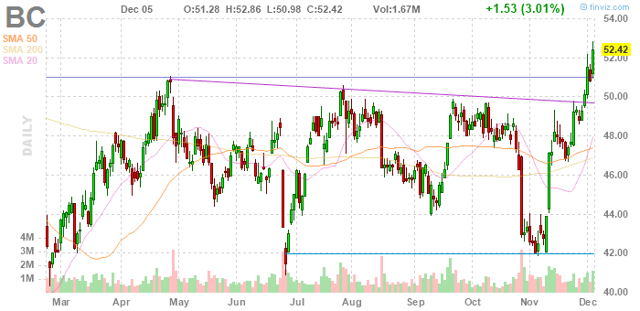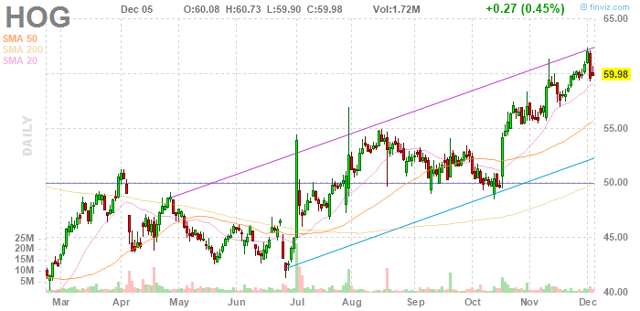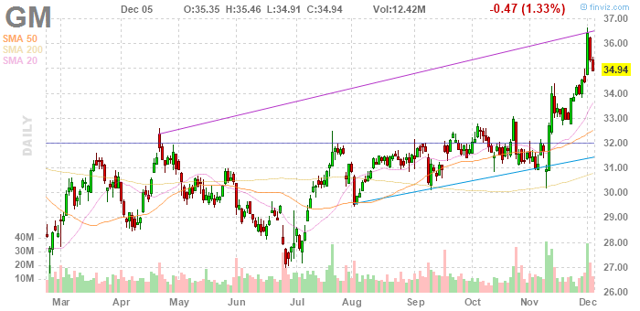 The charts above show a major breakout rally for the Industrial Select Sector SPDR ETF (XLI), Caterpillar (CAT), Deere & Co (DE), Brunswick Corp. (BC), which makes boats and other consumer goods, Harley-Davidson (HOG), and even General Motors (GM) is finally moving higher. These are the types of companies that outperform the market during economic booms. These companies can benefit if infrastructure spending increases, and if both corporate and individual tax rates are cut significantly. The major moves in these names is clearly a sign that powerful improvements in the economy could be coming, and that is why tech (which typically has relatively higher growth rates in a stagnating economy) and healthcare stocks (which are also relatively strong during tough economic times), have become less attractive in the past few weeks.
After a big run-up in large cap stocks like Caterpillar, Deere & Co, Brunswick Corp., Harley-Davidson, and General Motors I don't think investors should rush to invest new money in these names now. So, what should investors do? Right now, I am looking for opportunities that are a little off the beaten path and that means I am investing in small cap stocks that also appear poised to benefit from infrastructure spending, tax cuts and deregulation. For example, I recently discovered a small cap company (trading for just about $2 per share) that actually supplies every single one of the companies mentioned above, and could be poised to see revenue growth and a much higher share price in 2017. I am also looking at other small cap stocks that can benefit from increased consumer spending, which may soon participate in a catch-up rally that would offer similar or even better gains than what we have just seen in many large cap stocks in these sectors. For contrarians, I believe it makes sense to take advantage of some of the recent weakness in the healthcare sector. Generic and other drug stocks like Mylan (MYL) have been beaten down as investors rotate into industrial names and also because there have been many negative headlines for this sector about price-controls, and an investigation into the sector over potential collusion by the Department of Justice. This sector is also under pressure from tax loss selling. While the Department of Justice might take a pound of flesh before year end from generic drug makers, this sector should see far less regulatory concern under a Trump Administration. Mylan is now trading near 52-week lows at $35 per share and for just around 7 times earnings. Clearly, this is a bit of a contrarian play at this time, but it could pay off fairly soon as tax loss selling pressure will fade towards the end of December and end completely in January.
In summary: There has been a major rally in stocks that typically outperform during economic boom times and conversely, companies that are seen as defensive or as relatively fast-growing in spite of a stagnant economy are not faring well these days. While the market might pause a bit for now, we may see another leg higher as we approach Inauguration Day as more investors realize how quickly Trump might be able to move in the first 100 days, especially with Republican control of the House and Senate. If Trump's policies to massively increase infrastructure spending, deregulate, enact major tax cuts and keep manufacturing jobs from going offshore are implemented, the rest of the USA might soon be able to more fully participate in the wealth effect that has been mostly felt on the coasts. If this is the case, a real and nationwide economic boom could be starting in 2017.
Data is sourced from Yahoo Finance. No guarantees or representations
are made. Hawkinvest is not a registered investment advisor and does
not provide specific investment advice. The information is for
informational purposes only. You should always consult a financial
advisor.