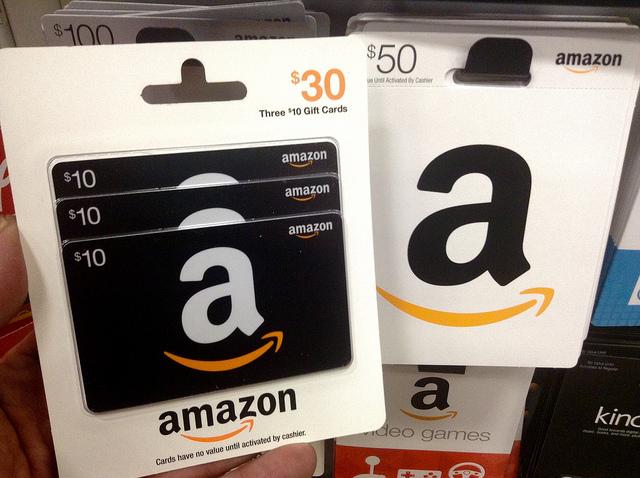 Image Source: Mike Mozart
Let's cover some ground on Amazon's (NASDAQ:AMZN) third-quarter report, released October 27.
What management said:
"Alexa may be Amazon's most loved invention yet - literally - with over 250,000 marriage proposals from customers and counting," said Jeff Bezos, founder and CEO of Amazon. "And she's just getting better. Because Alexa's brain is in the cloud, we can easily and continuously add to her capabilities and make her more useful - wait until you see some of the surprises the team is working on now." - CEO Jeff Bezos
The scoop:
The game has changed at Amazon. No longer is the company struggling to generate meaningful free cash flow. In fact, it is now throwing off copious amounts. During the trailing twelve months ended September 30, 2015, operating cash flow jumped nearly 50%, to $14.6 billion, while free cash flow jumped to $8.6 billion from $5.4 billion during the same time period a year ago. Operating income and net income continue to be marginal (in relative terms). However, even as Amazon's top line continues to grow like a weed. Net sales of $32.7 billion advanced nearly 30% in the third quarter on a year-over-year basis, a very impressive showing.
Amazon Web Services (AWS) continues to announce increased availability (now operating in 38 "availability zones" across 14 technology infrastructure "regions" globally), and AWS' partnership with VMware (NYSE:VMW) looks promising. Amazon Studios is expecting big things from the second season of The Man in the High Castle, the first season of which was the most watched original series on Prime Video. The company continues to dedicate developer resources to build new skills for Alexa, and management had positive comments about its tablet Fire HD 8 and its Fire TV Stick. The expansion of AmazonFresh continues unabated, with the grocery delivery service now serving northern Virginia, Dallas, Maryland and Chicago. This is Amazon's busiest time of year, with 120,000 seasonal jobs to be added in customer-related functions this holiday season.
Insight from the quarterly conference call:
"...specifically to International, we are seeing expansion to support selection, expansion at fulfillment network increases. We're also investing in digital content and additional Prime benefits, fresh location Prime Now. But by far the biggest individual thing is the investment in India that we continue to make and very excited about it, the initial reaction in India from both the customers and also sellers." - CFO Brian Olsavsky
"...we continue to believe consumables, groceries are a key part of the offer to customers and we are playing with very different models to see which works and for what needs. So we're very happy with the AmazonFresh and we've now expanded quite a bit as you see in this year." - CFO Brian Olsavsky
"...The thing I can tell you about (AWS) pricing is that…price reductions are a core part of our philosophy, of course. We had a price decrease in Q3, and that was our 52nd since we started this business. So we are comfortable with price decreases. Not only did we lower the prices of our products but we also create new services that are cheaper that customers can switch to…why do people choose AWS…basically what we hear are the functionality and pace of innovation is greater than our competition. We have added more new significant features and services this year already than we had all of last year…We have a partner and customer ecosystem. You've read about the VMware deal that we signed this quarter. So we continue to extend with partners and build ecosystems that better can support customers. And finally experience. We've been in this business a long time, longer than anyone else, and we've used that time to make our products and services better. So there are going to be a lot of winners in this space as we said, but we are very happy with our position and the customer reception to our products." - CFO Brian Olsavsky
"As far as long-term operating margins, I can't forecast that right now. I can't forecast that for our AWS business either." - CFO Brian Olsavsky
Are we changing our minds with our position?
We don't include Amazon in either newsletter portfolio, and we're fine with that. The company's ~$375 billion market capitalization implies that it is trading at more than 40 times trailing twelve month free cash flow, too steep of a price for us to consider, even for a fast-growing entity like that of Amazon. It's also difficult for us to get comfortable with a company that offers such wide forecasting ranges in its guidance. The future may be great for Amazon, but is this already embedded in its price? - and how might Google (NASDAQ:GOOG) (NASDAQ:GOOGL), Facebook (NASDAQ:FB) and Microsoft (NASDAQ:MSFT) fit in to the long-term competitive landscape, and how might initiatives they haven't even dreamed of yet hurt Amazon? Nobody truly knows - uncertainty reigns supreme.
For example, looking at Amazon's expected fourth quarter net sales performance alone, the top line is expected to come in between $42-$45.5 billion, a large range implying between 17% and 27% growth. This quarter's guidance range for operating income may be even more telling of the unpredictable nature of Amazon's business -operating profits are expected to come in at break-even ($0) or as much as $1.25 billion. It seems that Amazon believes only that it will be profitable this quarter, but we know that even that can't be guaranteed. Pegging a meaningful point fair value estimate on Amazon's shares, in light of the variability of next quarter's results, let alone without knowing what long-term operating margins look like, is practically a near-impossible task.
That said, we're huge fans of AWS, its balance sheet, free cash flow generation, and we're expecting some big things from Prime Video, but the company is a "trading" stock in light of the financials, a stock for speculators that put their faith in the view that the long-term will be bright, despite cash-rich rivals, fast-paced changes in technology and the fickleness of the consumer. Of course our view doesn't mean shares won't continue to "run," however. After all, if the market accepts a trading price of 40+ times trailing free cash flow for Amazon's shares, why not 60 or 80 times? You know where we stand though: We won't be chasing shares of Amazon anytime soon. Now read, "Amazon Is Uninvestable (August 2016)."
--------------------------------------------------
This article or report and any links within are for information purposes only and should not be considered a solicitation to buy or sell any security. Valuentum is not responsible for any errors or omissions or for results obtained from the use of this article and accepts no liability for how readers may choose to utilize the content. Assumptions, opinions, and estimates are based on our judgment as of the date of the article and are subject to change without notice. For more information about Valuentum and the products and services it offers, please contact us at info@valuentum.com.
Disclosure: I/we have no positions in any stocks mentioned, and no plans to initiate any positions within the next 72 hours. I wrote this article myself, and it expresses my own opinions. I am not receiving compensation for it (other than from Seeking Alpha). I have no business relationship with any company whose stock is mentioned in this article.
Additional disclosure: Several companies mentioned in this article are included in Valuentum's newsletter portfolios.