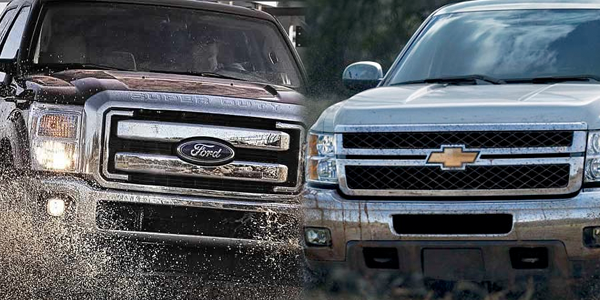 Pickup Trucks vs. Cycle Tops
November auto sales numbers show that America loves pickup trucks, and U.S. automakers are reaping the benefits from a prolonged cycle of low-interest rates, rising wages, pent-up demand from the prior recession, and cheap gas. In the United States, the average age of cars on the road hit 11.6-years, which suggests this cycle may have more left in the tank. The top of this current cycle has been called for many times by many analysts as well as the financial media. However, truck sales continue to dominate the market, and remain impressive despite the street chattering about discounts and subprime loans. Ford (NYSE:F), General Motors (NYSE:GM), and Dodge all produce great selling trucks, and November's year-to-date numbers illustrate this trend: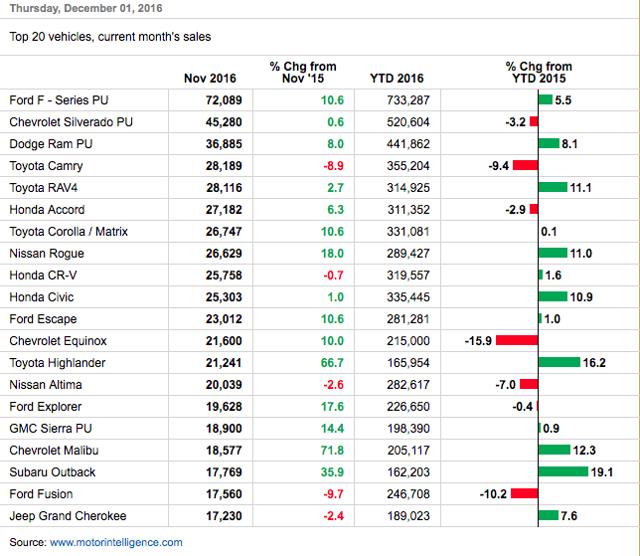 The momentum for the Ford F-Series continues strong, but if you add the GMC Sierra numbers than both GM and Ford pickup sales remain about even year-to-date. The Chevrolet Malibu posted tremendous sales again, bucking the trend towards SUVs and light pickup trucks. Besides the F-Series, Ford produces a number of hot-selling vehicles. Though numbers for the Ford Fusion and Chevy Equinox have dropped this year, both cars currently reside in the top twenty. Both GM and Ford have prospered from this current cycle, and pickup trucks have led the way.
Last month's (October, 2016) fleet sales decline of 10% y/y had many analysts calling a top, but November's 4.6% increase signals good news for bulls. Trends shift with the season, and month-to-month corporate spending habits do not automatically indicate a slowdown in the economy. As reported by Automotive Fleet, sales look strong on a yearly basis.
Commercial fleets added 7,563 cars for a 16.1% increase over the same month from a year ago and 40,424 trucks, vans, and SUVs for a 2.7% increase in a year's time. Year-to-date, fleet sales have increased 3.4% to 567,573 for 11 months of 2015. The truck category increased 1.2% to 471,470, while the car category has increased 15.9% to 96,103 units."
Valuation & Earnings
Predicting the peak or trough of a business cycle can prove difficult, especially in terms of revenue and EPS growth. Valuation numbers rely upon future earnings, and numbers for both Ford and GM seem to imply much ado about those cycle tops: (numbers as of closing market prices on 12-2-16)
Ford ------------------------ General Motors
Market Cap: 49.53B ----------------- 53.11B
Enterprise Value: 151.45B ------------ 103.65B
PE Ratio: 6.11 ----------------------- 4.06
PEG Ratio: 0.09 ---------------------- 0.02
Price/Sales: 0.32 --------------------- 0.33
Price/Book: 1.57 ----------------------1.19
Price/Tangible Book: 1.57 --------------- 1.38
Price/Cash Flow: 2.53 ------------------ 3.33
Enterprise Value/Sales: 0.99 ------------- 0.64
Enterprise Value/EBITDA: 10.56 -----------5.27
As valuation numbers indicate, investors do not see much growth ahead. Earnings tell the true story, and last month both companies reported two slightly different quarters. First, consider GM earnings on October 25th. The company beat Q3 estimates by $0.28 with an EPS of $1.72 and revenue of $42.8B (+10.2% Y/Y), beating by $3.51B. Segment results for GM:
GM reported record net income of $2.8B during Q3, with an EBIT-adjusted tally of $3.5B, up 14% Y/Y. The EBIT-adjusted margin rate was 8.3%, and segment EBIT-adjusted: North America +$3.5B, Europe -$100M, International Ops +$300M, South America -$100M, GM Financial +$200M. Automotive free cash flow of $3.5B was recorded during the quarter, and GM expects full-year EPS at the high end of its range of $5.50 to $6.00."
All in all, a very good quarter for General Motors, but the street didn't care too much and the stock failed to take off after the report. Ford, however, reported a very different quarter, but the stock results were about the same. Ford Motor reported a Q3 EPS of $0.26, beating by $0.06 with revenue of $35.94B (+0.3% Y/Y), beating by $2.79B. The company dealt with higher recall and product launch costs, and profit fell y/y with automotive segment operating margins of 3.3% in Q4.
Ford, like GM, depends on diverse worldwide markets to help deal with cyclical tops as economies expand or contract. Geographical breakdowns for Ford in Q3 illustrate this point:
North America: Revenue $21.8B, market share 13.6%, operating margin 5.8%, pre-tax profit $13.B. Europe: Revenue $6.3B, market share 7.9%, operating margin 2.2%, pre-tax profit $138M. Middle East/Africa: Revenue $798M, market share 4.1%, operating margin -19%, pre-tax profit -$152M. Asia Pacific: Revenue $3.1B, market share 4.0%, operating margin 4.3%, pre-tax profit $131M. South America: Revenue $1.3B, market share 9.4%, operating margin -22.1%, pre-tax profit -$295M."
Overall numbers for Ford slipped modestly with net income of $1.0B, down $1.2B from a year ago; and total adjusted pre-tax profit $1.4B, down $1.7B. Ford continues to expect total company adjusted pre-tax profit to be about $10.2 billion for 2016. Ford's global market share of 7.5 percent was down one-tenth of a percentage point from a year ago. However, Ford Credit delivered the best quarterly profit since 2011, and provides reliable cash flow for the company. Automotive segment operating cash flow dropped from a year ago with automotive segment pre-tax profit $1.1B (down $1.7B y/y). Ford possesses strong cash and liquidity including automotive cash of $24.3B, cash net of debt $11.2B and total liquidity $35.2B. All reported cash flow, profit and margins numbers on a segment basis can be found in Ford's Q3 press release.
As the chart below illustrates, the stocks hit rough patches at the end of October after reporting earnings, and continued lower on news of Donald Trump's election victory. That initial election shock wore off as the mad rotation into and out of sectors continues amid Trumponomic speculation, and Ford and GM rose with the tide. November auto sales numbers helped lift the sector higher, and GM has handily outperformed the S&P 500 (NYSEARCA:SPY) rallying more than 10-percent off the post-election lows.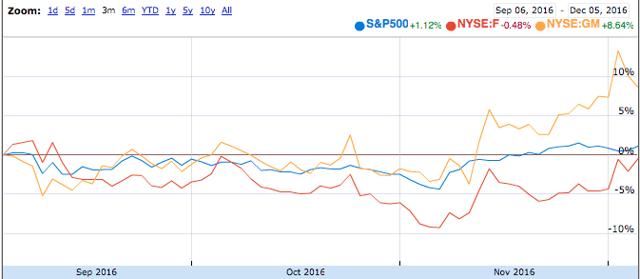 Chart courtesy of Google finance.
In terms of stock performance, GM steadily outperformed Ford during this current cycle, but lagged the broad market. However, GM gained a healthy balance sheet courtesy of government bailouts, and much of that outperformance can be attributed to write-offs and tax exemptions, which boosted the bottom line. These irregularities come at the expense of taxpayers, with shareholders reaping the benefits. Regardless, what's done is done, and investors need only play the hand they're dealt. As the chart below indicates, the top for this current cycle was priced in circa late 2013 and early 2014.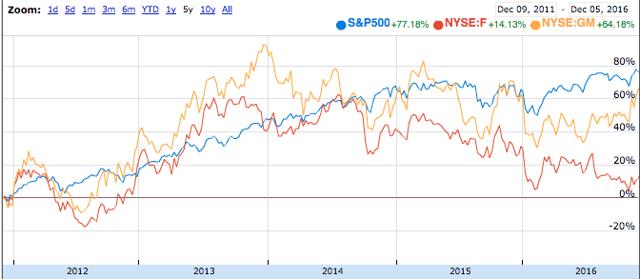 Chart courtesy of Google finance.
The Rebuilding of America
The initial stock reaction to the election stemmed from worries over Trump trade politics (Ford and Mexico specifically), and those concerns cannot be discounted. However, Trump's promise to "rebuild America" sent a bullish signal to many beaten up sectors and stocks (Caterpillar (NYSE:CAT) for example shot up nearly 8% the day after). The rebuilding of America requires pickup trucks, and Ford and GM make pickup trucks, lots of them, and the stocks finally took off a week later. Can Trump policy coincide with his campaign against free trade, NAFTA, and Mexico? The steep decline in the Mexican peso ($MXN), the rising dollar ($USD), and a possible breakout for the U.S. automakers (especially Ford) might feel counterintuitive. Regardless, the U.S. economy depends upon Mexico, and many other nations, for production of components as well as assembly and consumption. The precariousness of this situation, for the moment, seems to be of no concern to Wall Street.
Fundamentals should always be a concern, and both companies trade at reasonable valuations, possess strong balance sheets with significant cash reserves, and pay healthy dividends with shareholder friendly capital expenditures continuously in the pipeline. A sentiment shift could be upon us, and both stocks look like bargains should this cycle continue strong. The last recession, and the near-death event for some automakers like GM, created clouds of skepticism regarding the sector, resulting in bargain valuations as the norm. The airline sector suffers from the same assumption or history of large capital investments turning south, and airline stocks also trade at lower valuations despite a strong profit cycle, low input costs, and healthy balance sheets. Warren Buffett buying the sector recently changed some of that sentiment, for now. How long the market ignores the new GM or Ford can be frustrating for bulls, but the dividends paid by both companies help to ease the pain as well as justify the investment.
Risks: The economy, recalls, and some charts.
The U.S. economy remains the largest, and perhaps most important economy in the world. U.S. companies rely upon world consumers for growth via new markets, and a strong dollar (NYSEARCA:UUP) plays with profits when companies bring this money home. In May 2016, Ford's management pumped optimism for worldwide GDP-growth. Since Brexit estimates have dampened towards the lower end of the prior range as stated in last month's earnings call: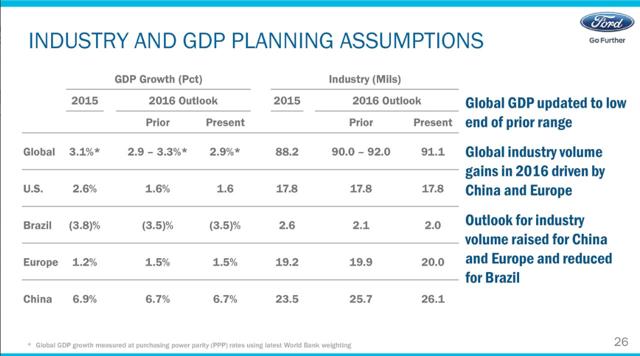 The possibility of an earnings trough, and a continuation of auto sales growth, could become a reality with a healthy mix of infrastructure spending and corporate tax cuts. The devil is in the details, and Wall Street will be trading on every detail, rumor, and sound-byte until, at least, the Inauguration Speech in January 2017, which will provide a whole new set of speculative trades. Politics, specifically trade policy, poses a potential set of risks for the U.S. automakers, and investors should expect volatile reactions and overreactions in the coming year.
The biggest risk to owning any automaker's stock, recalls. Safety and emission recalls pose a larger risk, but any recall can spell disaster if not properly handled. Both Ford and GM have experienced recalls in the past, and stock prices can suffer greatly from such events, Volkswagen (OTCPK:VLKAY) being a recent example. Recalls, by nature, cannot be completely avoided, and sometimes occur for minor adjustments or repairs. Both companies have a record of recalls, some good and some bad, but the past is the past nonetheless.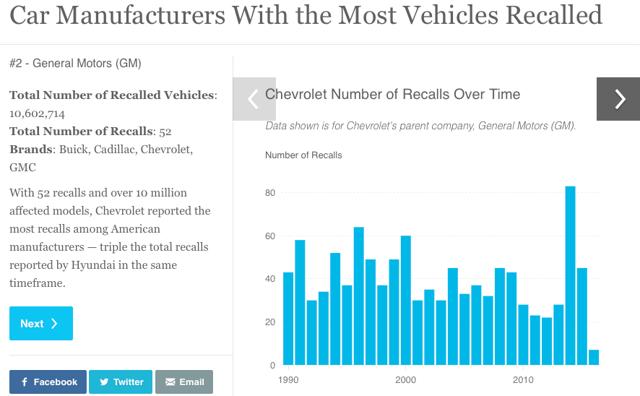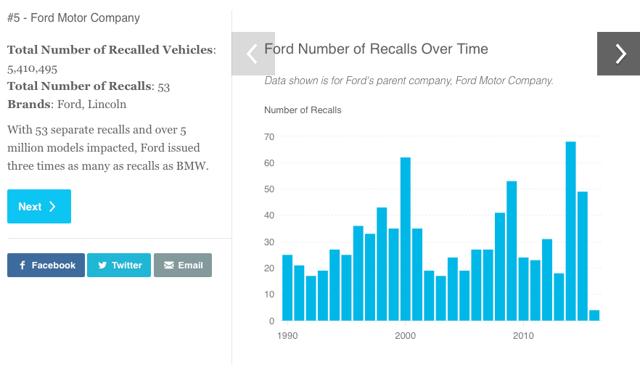 The good news for bulls, the charts for both companies look poised for a breakout to the upside. GM captured its 200-day moving average in early August and the stock bounced nicely off that moving average since. Some consolidation should be expected after the tremendous November run, and currently the Relative Strength Index stands at 59.71 after cooling off in December. The current dividend yield for GM equals 4.35%, with a mean analyst price target of $36.00 per share.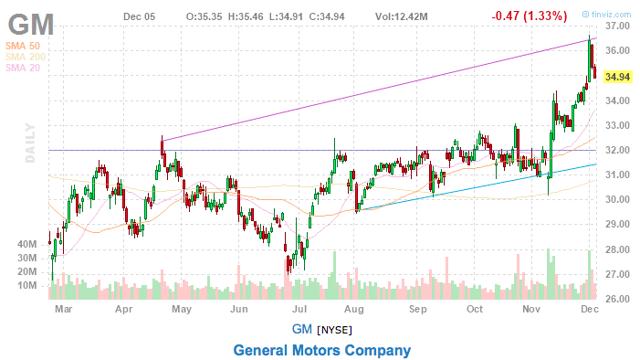 Ford sits a smidgen below (-0.29%) its 200-day moving average, and has struggled to keep pace with GM during this Trump rally. Earnings hurt the stock, but Ford recovered those losses quickly and may finally provide some hope for bulls looking for price appreciation. The Relative Strength Index reads 62.67: warm but not too hot. The current dividend yield equals 4.82%, with a mean analyst price target of $12.60 per share.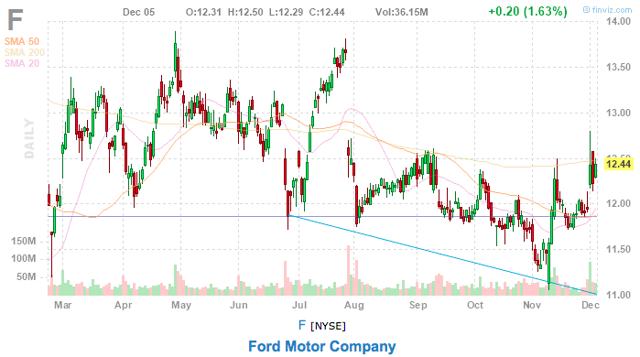 Other risks exist including market turmoil, subprime auto loans, growing inventories, and shifting sentiment. Ford versus GM? Both stocks look good as either a year-end trade or future dividend machine. Some analysts have priced this cycle in, and some have dubbed the sector a ticking time bomb citing the risks outlined in this article. A credit implosion could occur, and send auto markets spinning out of control, but is that the boogie man talking or a viable thesis for ignoring value in a toppy market? Only time will tell.
Disclosure: I am/we are long F.
I wrote this article myself, and it expresses my own opinions. I am not receiving compensation for it (other than from Seeking Alpha). I have no business relationship with any company whose stock is mentioned in this article.
Additional disclosure: This article is intended for information, engagement & entertainment purposes only, and is not to be construed as investment advice or direction. Investors are strongly encouraged to perform due diligence and/or consult with their financial advisor.