If you were to look at a price chart of GoldCorp (NYSE:GG) without knowing the identity of the underlying asset, you might think that the stock is either the greatest buy ever -- or a total market dud. But the reality is that any time there is this much of a difference between the opposing viewpoints, something is being misjudged by the market and this is looking to be the case for GoldCorp, as well.
Chart View: GoldCorp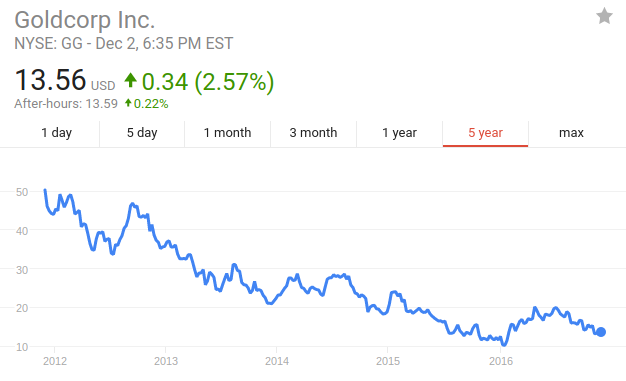 Chart Source: Gold Traders
Since the beginning of July, the stock has lost nearly one-third of its value and investors have started to wonder when the carnage will stop and when the relief reversals will begin. Fortunately, for those with long positions there is reason to believe that these bearish trends have run their course. Even better, if you are missing exposure to metals miners within your portfolio current levels present some interesting opportunities for those establishing a stance with a longer term viewpoint.
Renaissance in Manufacturing
From a broader perspective, it is reasonable to expect that the renaissance in manufacturing that is being promised by President-elect Donald Trump will be a rising tide that lifts all ships. This could be even more true in the case of GoldCorp, given the extent of the sell-off and the company's efforts to reduce operating costs in its central businesses. Overall, this has improved the earnings outlook over the next few quarters and it is clear at this stage that these are positively that have not yet been factored into the price of the stock.
Of course, we will need to see improvements in the underlying price of gold in order to bring some positive attention back to the space but this is something that is likely to happen if macroeconomic data like non farm payrolls and consumer spending figures remain subdued. In the last few months, we have seen significant rallies in stocks and assets like the PowerShares DB US Dollar Index Bullish (NYSEARCA:UUP) and there is a growing likelihood that we will see a reversal in these trends once investors start to take their profits at the highs and start to move back toward defensive positioning.
Chart View: XAU/USD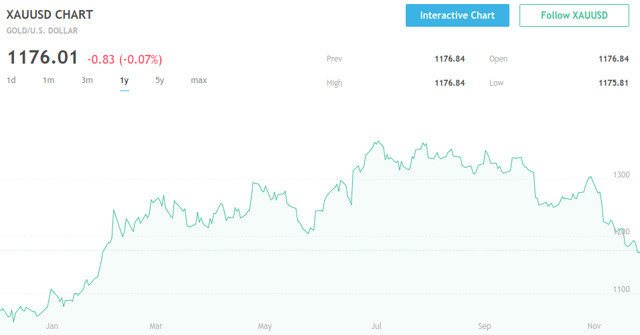 Chart Source: Gold Traders
It pays here to remember that gold is priced in US Dollars and rallies have been difficult for assets tied to the value of gold as markets are still dealing with the fact that the Federal Reserve is ready to start raising interest rates again.
Structural Repositioning
At the moment, there are all factors that have depressed stock valuations for the precious metals miners. But we are already seeing massive improvements in the earnings outlook for GoldCorp as the $59 million in net earnings ($0.07 per share) posted last quarter has far surpassed the $0.23 per share loss that was posted during the third quarter of 2013. This is notable given the fact that these improvements came as lower production levels created a 21% decline in revenues and the resultant activity in the market has been far harsher than most of the company's peers.
These are all factors that should correct themselves going forward and continued optimism over its Kaminak Gold purchase in Q3 and the opening of its first electric mine in Chapleau next year will likely keep sentiment positive as external influences fade from the headlines. As part of the Kaminak Gold deal, GoldCorp acquired its lauded Coffee project, which could produce as many as 200,000 each year from 2020. The stock also comes with a 0.59% dividend yield, so if you are an investor that is willing to ride-out these from periods, there are still significant gains left to be had in GG.
Disclosure: I/we have no positions in any stocks mentioned, and no plans to initiate any positions within the next 72 hours.
I wrote this article myself, and it expresses my own opinions. I am not receiving compensation for it (other than from Seeking Alpha). I have no business relationship with any company whose stock is mentioned in this article.