I've seen a lot of experts scrambling to find an investing paradigm in a Trump presidency. Admittedly, it's very difficult to do so because we are in such uncharted waters. There are many new forces to consider, as well as many more uncertainties. There's been talk of a 'great migration' away from bonds and into cyclical stocks. There are worries about greater budget deficits, trade wars and labor market problems, just to begin with. Then, of course, is the question of how much of his agenda Trump will really be able to accomplish.
There are a lot of moving parts, almost too many. For that reason, at this time, I much prefer to take things on a case-by-case basis. American Electric Power (NYSE:AEP) is a stock that should be able to work well in a Trump presidency, especially given the content of the President-elect's address regarding his first hundred days.
AEP is a utility, but it is a utility that is set to grow both earnings and dividends by mid-single-digits. It will do so by active investment in transmission infrastructure until the end of the decade. That makes a good case for the stock not being treated as a bond (which utilities usually are), and should, therefore, help it avoid the 'bond equivalent' stigma in the long run if the market really is turning to cyclical stocks.
Here are a few other things that would make AEP "Trump's utility." It operates a good chunk of its business in the Rust Belt and Coal Country. A large amount of its customers are industrial. And finally, another good slice of its business goes to counties in the Eagle Ford, Marcellus, Permian and Utica shale.
In his video speech shortly after winning the election, Trump said that he would begin to remove regulations hampering production of both coal and shale oil. A resurgence in both of these would have very positive consequences for American Electric Power. This article takes a look at some of AEP's strategic initiatives, and how the company might benefit from a Trump presidency.
Uniquely suited for this economy
If the fate of coal is going to improve, then I suspect electricity load demand in traditionally coal-producing areas is going to increase, from both improved industry prospects and from a stronger economy in that region. A similar analogy is valid for shale oil producing areas, particularly because energy drilling is quite energy-intensive. In that case, have a look at AEP's industrial exposure.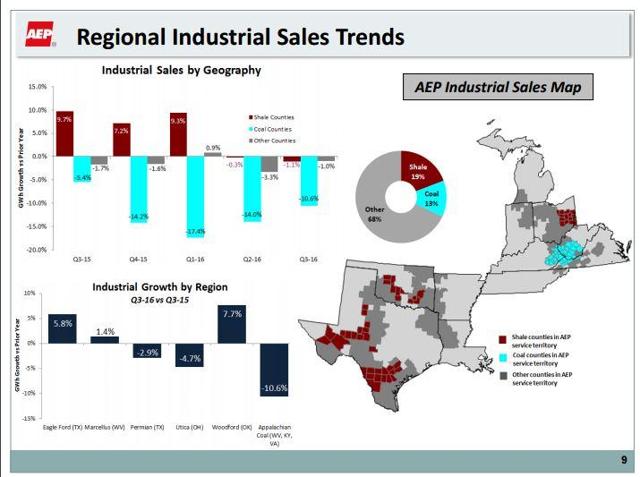 Courtesy of American Electric Power Investor Relations.
Have a look at the charts above for a moment. We can see that coal country has not been doing so well, and load demand growth in the shale has been chopped down to nothing. I believe that a Trump presidency will be good for both of these regions.
But I think this is more than just shale and coal. Look at the other service areas. It includes Ohio, eastern Indiana and western Michigan; all of which are major "rust belt" areas that have been hurting for quite sometime. Trump doesn't really need to turn these regions completely around to help AEP, he just needs to stop or slow the decline there. Personally, I'm optimistic about a Trump administration, and I think many of these areas, particularly West Virginia, south Texas, West Texas and Ohio are going to do markedly better in the coming years.
sometime in the early part of this decade, I heard someone in the financial media, I don't recall who, sardonically refer to Illinois-based utility Exelon (NYSE:EXC) as "Obama's Utility" for various reasons. Well, I'd like to dub American Electric Power as "Trump's Utility," for the reasons I've written above.
I view AEP's good positioning for a Trump administration to be accidental. The good part is, the company's strategic initiatives should bring about earnings growth and dividend growth in the mid-to-high single-digits. How can a utility do that? A few ways. First, the company is switching its business model almost entirely to regulated markets, and is doing so by selling off a good piece of its power generation business and investing heavily in transmission. Also, AEP is replacing a lot of its older infrastructure, most of which was built sometime between the 1940s and 1970s. Doing so will lead to higher rates passed on to customers, which will help AEP's bottom line.
To give color to AEP's shift in focus, in 2014 about 79% of earnings came from 'regulated' businesses, and the other 21% was in generation and marketing. By next year, 97% will be from regulated businesses and only 3% will be from generation and marketing. That will allow for much greater revenue and earnings stability, which I think most utilities investors will appreciate.
Large investments are centered around a few places. The largest single project is a 156-mile line project from North Edinburg, in the middle Rio Grande Valley, to Laredo. This will connect multiple wind farms in the area. This will be brand new infrastructure in one of the fastest growing areas in the country.
Much of the remainder of AEP's spending comes from supporting regional stability. For example, the company is working on a $235-million project on a brand new 28-acre substation in Appalachia. This substation will correct thermal overloads and voltage problems in the older infrastructure in that region. Another, smaller project is up in the Marcellus area, which is also designed to improve reliability there and address low voltage issues. The Marcellus project, unsurprisingly, will support local shale gas development. While many of these projects are simply infrastructure refreshing, as a regulated business AEP will be able to raise electricity rates to get a certain return. This is how AEP will continue to raise its earnings and I believe it is a solid plan.
Superior low-risk investment
You might not get rich buying AEP right here, but I believe this stock will work well as a low-risk investment. AEP is down well off its highs of $70 and now sits at about $59. Currently, shares yield 4%, which is not bad for a utility that should grow by mid-single-digits. According to data from FASTGraphs, shares have averaged 13.9 times earnings over the last ten years. It now trades at 15.5 times; down from over 18 times just a couple weeks ago. AEP is still trading above its average valuation, but it's not by much. Given the growth ahead and the possibility of some much better earnings under a Trump administration, I'd say that AEP is well worth a buy here.
If you're interested in AEP, feel free to follow me here on Seeking Alpha. I will continue writing update articles when doing so is both material and relevant.
Disclosure: I/we have no positions in any stocks mentioned, and no plans to initiate any positions within the next 72 hours.
I wrote this article myself, and it expresses my own opinions. I am not receiving compensation for it (other than from Seeking Alpha). I have no business relationship with any company whose stock is mentioned in this article.