If you have read any of my articles, you already know that I am a stock screening and historical backtesting enthusiast. After a recent blog post where I wrote about 17 stock screening strategies that beat the market, I received a comment from Seeking Alpha member, John Beresford Tipton, encouraging me to regularly write and update real-time performance and picks.
After giving it some thought, I realized this was an excellent recommendation giving me opportunity to explain and demonstrate various alpha-creating techniques to the Seeking Alpha community while creating a track record they could follow. Thank you, John Tipton, for that suggestion.
I would like to expand on this idea and offer to anyone who reads this article that you can suggest any strategy or model in the comments section below. I will endeavor to write about it, and if there is enough interest in that model, I will regularly post updates here. So please fire away with any ideas you may have.
Blowout Quarterly Earnings Strategy
The first model I want to discuss uses earnings surprises as its main driver. This is not a new concept. It was reported on in 1989 by Bernard and Thomas in a white paper titled, Post-Earnings-Announcement Drift: Delayed Price Response or Risk Premium?, and has been a hotly debated subject ever since. I am not here to argue why this anomaly occurs or to take sides in the 'more risk' or 'slow reaction time' camps.
What I do find is that tiny stocks with little analyst coverage and whopping big earnings surprises have extraordinary returns for at least 4 weeks following the reported earnings blowout.
My Simple Earnings Surprise System
My rules for the Earnings Blowout Strategy is very simple.
Market capitalization under 500 million
Average daily turnover (price x volume) for the past 20

days more than $50,000

4 weeks or less since earnings announcement
At least 100% EPS surprise in the most recent quarter
In a historical backtest starting in January 1999 until December 2016, the gross average annual performance of this simple system is 35.3%.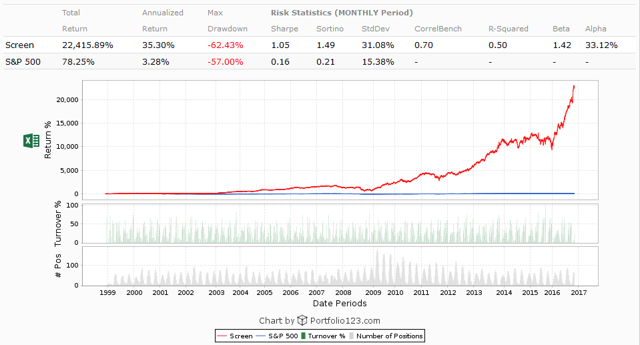 Of course, you would have to take into consideration brokerage fees and slippage for net returns. I don't include this because so much is dependent on how much capital you are trading, your brokerage and execution skill.
Is Bigger Better?
It is important to note that I do not find significant out-performance for stocks which are larger than $500 million. Earnings surprises in stocks such as Big Lots (BIG), Central Garden & Pet (CENTA), Frontline (FRO), Guidewire Software (GWRE) and Workday (WDAY) have far less little impact if you jump on the bandwagon after the announcement.
I believe that the larger and more liquid and widely-covered a stock is, the more efficient the market is at pricing this in. Well, so much for not stating which side of the argument I fall on.
Recent Large Surprises
So far in 2016, this strategy has returned 95% to date as opposed to an equal-weight S&P 500 total return (RSP) of around 13%, or 10% if you use the cap-weighted S&P 500 SPDR (SPY).
Here are some stocks which have a recent earnings surprise of at least 100%. Remember that our strategy holds no longer than 4 weeks.
Atossa Genetics Inc. (ATOS) - 105% surprise
Bazaarvoice (BV) - 1,498% (kinda bogus figure as the expectation was 0 and they made 2 cents)
Christopher & Banks Corp (CBK) - 800%
Exa Corp (EXA) - 500%
Platinum Group Metals Ltd (PLG) - 586%
Tabula Rasa Healthcare Inc - 216%
Xcerra Crop (XCRA) - 350%
Keep in mind that some of these numbers will look a little wild due to small or even negative earnings numbers in the mix. As always, do your own due diligence.
Further Information
Which of the 17 strategies would you like me to report on next? Or do you have a new suggestion? Please let me know and I will do my best to provide timely and updated reports here on Seeking Alpha.
To stay informed of any updates on this topic and others, click the "Follow" tab at the top of this article.
Data provided by Portfolio123 (this partner link doubles the length of your free trial period. I may receive a small fee if you later decide to use a paid subscription, at no additional cost to you).
Editor's Note: This article covers one or more microcap stocks. Please be aware of the risks associated with these stocks.