I recently had a discussion with a friend who is average in terms of their understanding of the financial markets and investing (mildly interested but mostly clueless). Fortunately, they "know what they do not know" and asked questions about the state of the equity markets today versus other time periods. I mentioned we are in an elevated environment in terms of multiples and that caution and skepticism is a prerequisite for obtaining favorable risk adjusted returns in the current U.S. stock market. I explained how in other periods, such as the first couple years after the recession, simply identifying a firm with durable competitive advantages, a sound balance sheet, and solid management was all that was needed because valuations were reasonable. With the S&P 500 between 18 and 22 times earnings depending on how it is measured, we no longer have that luxury. Far from it, in fact, as finding value requires work and even a little bravery.

One example of this was my July 11th article CF Industrial Holdings: It Is Darkest Before The Dawn containing my buy thesis for CF Industries (NYSE:CF) in the low $20s per share and subsequent purchase. Here is the timeline: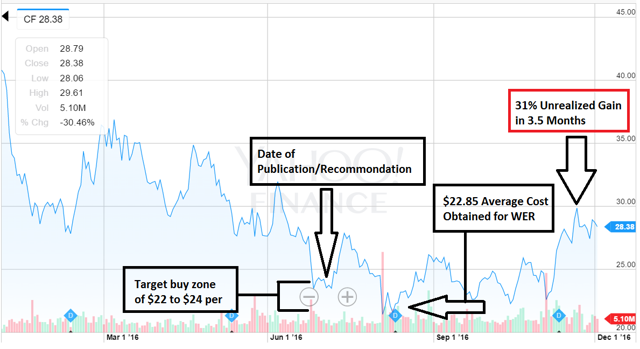 Source: Yahoo! Finance and The Author
I take my work and recommendations very seriously. When practical (e.g. not already over allocated to the sector, have capital available to invest, et cetera), you can count on Williams Equity Research to invest alongside my recommendations.

Source: The Author
We can see my purchase of CF in early August at an average cost of $22.85. I added to it around $24 and continue to hold every share. CF had a few things going for in terms of a deep value play. First, it was heavily out of favor and market participants had left it for dead. The brutal sell-off from its 52 week high of $44.60 to the low $20s tells you all you need to know regarding that.
Second, the firm is complicated as is its sector. Major drivers of its costs and revenues, such as natural gas spot prices and fertilizer costs per ton, respectively, are in of themselves tricky to get a solid grasp on. It is easy to miss the heavy CapEx spending and fortified market position CF was building over the past few years while its peers curtailed projects and went into survivor mode.
Lastly, CF was trading at a depressed valuation no matter how it was measured. A single quarter of decent results had a moderately high probability of sending the stock higher.
And what did we receive on November 2nd? Adjusted Earnings Per Share ("EPS") of $0.13 exceeded analyst estimates by $0.14. Revenues missed by $110.84 million and management was transparent about other challenges, particularly fertilizer pricing, but overall the firm is chugging along. Given the starting point of rock bottom, coupled with other positive news we'll soon discuss, the stock responded enthusiastically and continues to trade 25-30% higher: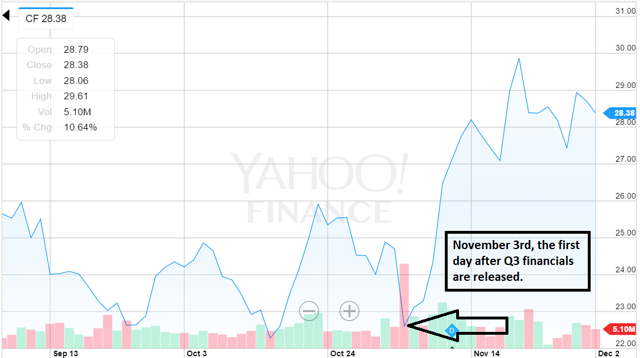 Source: Yahoo! Finance and the Author
Q3 has a high statistical reliability of being the worst quarter for CF and its peers because both volumes and prices are at their lows. Its Adjusted EBITDA of $83 million is thus unsurprisingly small relative to its year-to-date figure of $725 million. The good news is pricing was already improving significantly at the end of Q3. As two specific and important data points, Chinese port prices were $194 per metric ton in September but rose to $220 per metric ton in November while U.S. Gulf pricing improved by $30-40 per ton over the same time period. CF ended the quarter with $1.5 billion in liquidity via cash and the undrawn balance on its revolver. The company's entire market capitalization is only $6.6 billion and that is after it increased nearly 30% since early November. CF also stated an $800 million tax credit (functionally this is a cash payment) will be obtained in 2017. That's $3.50 per share to put it into context.
Since I already went over the fundamentals in depth in my previous article, let's cover the most critical elements.
CF has the among the lowest deliverable cost of nitrogen fertilizer in the United States. 30% of U.S. consumption is still imported so CF realizes a "home country" premium. Despite the recent rally in Henry Hub spot prices, the U.S. continues to have a cost advantage in terms of supply and pricing of Natural Gas - the major cost input for CF and its peers. 4-5 world scale (largest production capacity) plants are required annually to meet modest demand expectations. Due to significant underinvestment by just about every firm except CF, there is a high and increasing probability that demand finally outstrips supply in 2017 and the currently oversupplied market reverses. Even a near balancing act will result in much more favorable results for CF. Modifications to its capital structure, particularly on the debt side, coupled with an $800 million tax credit, means CF should not have major issues covering its current 4.25% distribution or dealing with liquidity concerns through 2020. Investments by CF to expand production capacities have been significant and overall cost effective (though there have been massive but thankfully shared cost overruns). As a good measure of this, keeping leverage approximately steady, production capacity per share increased from 2.6 tons to 8.1 tons since 2010.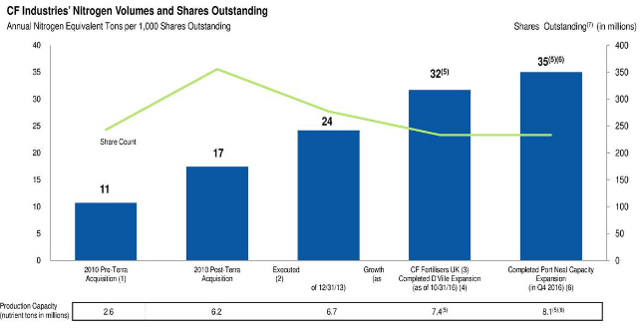 Source: CF
CF has historically stuck its long-term business plan and objectives even when times are tough. This results in a high stock price sensitivity to associated commodity prices. To demonstrate, look at the performance of CF versus its peers as nitrogen prices are in a bull market: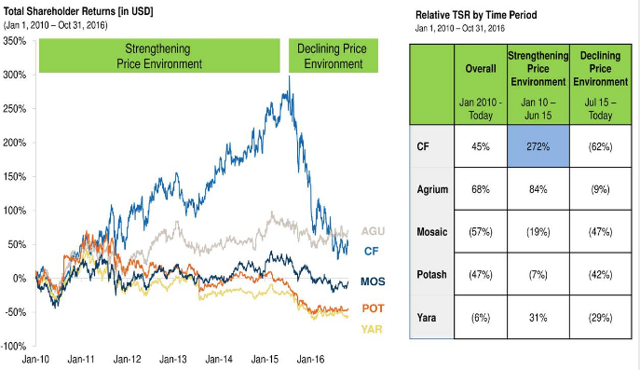 From the time period of January 2010 through June 2015, which represents the last time period of steadily improving nitrogen prices, CF crushed its peers Agrium Inc. (NYSE:AGU), Mosaic Co (NYSE:MOS), Potash Corporation of Saskatchewan (NYSE:POT), and Yara International (YARO). CF's levered nature to the commodity's prices goes both ways - CF lost two thirds its value since the last top. This is a good time to mention CF's hedging policy or lack thereof; management decided not to engage in any hedging activities to minimize the impact of a rise in natural gas prices saying they are confident it will remain low cost here in the U.S. As someone very long natural gas via my positions in Gastar Exploration (NYSEMKT:GST), Legacy Reserves (NASDAQ:LGCY), and EV Energy Partners (NASDAQ:EVEP), CF serves as a natural ballast to my personal portfolio.
CF's aggressive expansion projects, which are carrying on into Q4 of this year and Q1 of 2017, will fortify its ability to reap substantial financial gains when the cycle turns. The market began to recognize this after the release of Q3's figures. In the interim, we need to make sure CF can handle an extended downturn. Its $800 million tax credit windfall and very manageable maturity schedule through 2020 suggest it can. I fully expect those brave enough to invest in the later stages of the current downturn, which I believe started in the middle of this year, and hold through the up-cycle are well positioned to experience significant capital gains while enjoying a 4%+ yield along the way.
These are rough estimates, but natural gas at $3/MCF coupled with average prices of $300 per ton (today is in the low $200s) provides approximately $1 billion in free cash flow ("FCF") after interest and tax expenses and the long-term average (lower than the past few years) CapEx. At $350 per metric ton, CF should generate a minimum of $1.5 billion in FCF with net income in the $1.3 to $1.4 billion range. Using a 10x EPS multiple, this latter net income figure results in a stock price of $59 per share or a ~100% gain from current levels. Do I predict this will occur in the near-term? No, it will realistically take a minimum of nine to 12 months for nitrogen and subsequently cash flows to improve to those aforementioned levels and that's assuming that we bought the exact bottom in the cycle. I'd suggest CF is an initial buy between $24 and $27 per share and a strong buy below that; not to say that a valid argument cannot be made to buy the stock today.
Disclosure: I am/we are long GST-A, VTR, HCP, HTA, OHI, DOC, MAIN, BXMT, BNS, LGCYO, CF, EPD, MMP, CF, EVEP, TD, RY, HMC, CCP, MRCC, LGCY.
I wrote this article myself, and it expresses my own opinions. I am not receiving compensation for it (other than from Seeking Alpha). I have no business relationship with any company whose stock is mentioned in this article.
Additional disclosure: WER has positions in EVEP debt only and LGCY debt and preferred only. WER does not own the common units in either. WER is short Deere & Company (DE). The author may enter into long or short positions in any part of the capital structure of any of the firms mentioned in this article. Readers should always conduct their own independent due diligence and not rely upon information or opinions provided by the author.