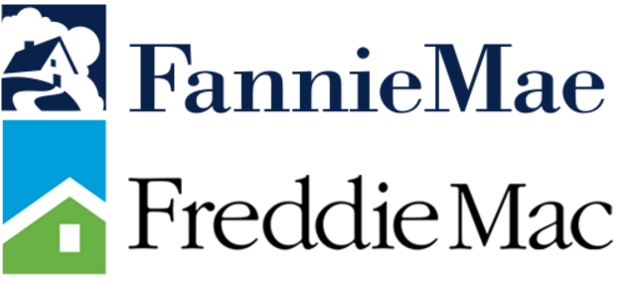 Fully privatizing government-sponsored enterprises ("GSEs") Fannie Mae (OTCQB:FNMA) and Freddie Mac (OTCQB:FMCC) is certainly not a novel idea, but is one that incoming Treasury Secretary Steve Mnuchin is looking to strongly consider. With the amount of debt that will need to be refinanced, potential resistance from current FHFA Director Melvin Watt, and sheer complexity of privatizing the entities, I believe that it is nonetheless unlikely to be done before 2020. It would be positive for shareholders (just look at the recent chart for each stock below), but negative for debtholders, as I'll explain below.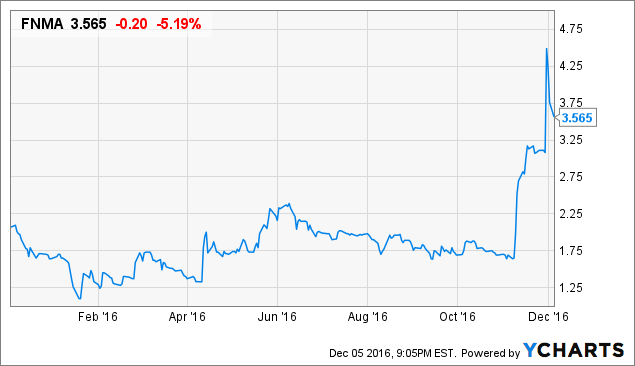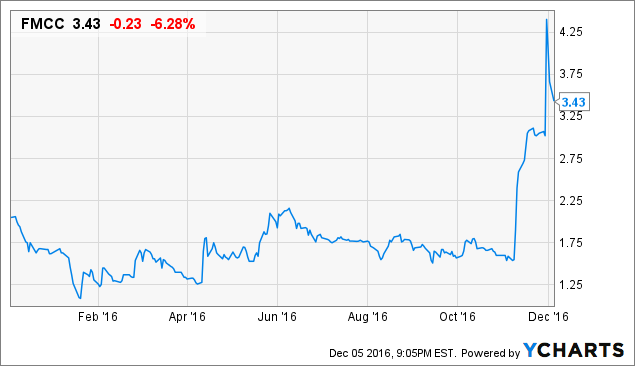 From a Broader Perspective
As for background, both Fannie and Freddie were founded (Fannie as part of the New Deal in 1938 and Freddie in 1970 during the Nixon administration) to securitize bundles of mortgage loans such that they could be formally sold in the financial markets. This allows mortgage lenders to reinvest their capital into additional lending, which reduces the reliance on thrift institutions (firms that collect savings deposits to lend out mortgage loans). Thus, Fannie and Freddie make mortgage lending a more financially attractive business model, while also rendering mortgage-backed securities ("MBS") more attractive to investors by guaranteeing federal backing on half their value.
If this federal safety net is dissolved, then the demand for MBS securities will decrease, lowering their prices and, in effect, increase mortgage yields. This, in turn, would diminish the attraction of owning a home, decreasing home prices throughout the country, and thereby causing material damage to the economy.
Needless to say, if not managed correctly, this would be a big hit to the US middle class, which has a disproportionate amount of its net worth wrapped up in houses, up to 63% of it as compared to just 9% for earners in the top 1%. Consequently, Fannie and Freddie are very systemically important institutions to the US economy.
How affordable housing mandates would be handled under a privatization scheme would also need to be fleshed out. Those who advocate for a continuing conservatorship will argue that Fannie and Freddie have brought a level of security and liquidity to the mortgage-financing industry that has helped the dispersion of credit to lower-income and otherwise underserved borrowers. A full privatization could undermine this stability by passing off any additional financing costs to borrowers, which would manifest in higher lending rates and disproportionately affect the poorer individuals unable to afford them. The question would remain whether private business channels can adequately provide the large amount of liquidity required for mortgage lending.
Plans During the Trump Administration
Any privatization intentions will create anxiety among debtholders due to the possibility of funding disruptions with the federal government out of the picture. It's also uncertain how much debt the GSEs will need to refinance. Fannie and Freddie currently have just $1.2 billion in capital supporting them, which is not necessarily a bad thing with federal backing from the US Treasury. However, for the GSEs to receive funding from the debt capital markets, the two will need to be capitalized to a far greater extent.
Both institutions were placed into federal conservatorship by the Federal Housing Financing Agency ("FHFA") when the financial crisis reached its peak intensity in September 2008. To complete the deal, Fannie and Freddie negotiated a deal with the US Treasury on a preferred stock purchase agreement that arranged for Fannie and Freddie to each have access to $200 billion in capital. With drawdowns over the past eight-plus years, Fannie now has access to just $117.6 billion, while Freddie has access to $140.5 billion. The Treasury provides capital to either Fannie or Freddie when it determines that the enterprise value of either institution runs below zero. However, any earnings above their capital base threshold must be paid to the Treasury rather than accrued like normal corporations. The $1.2 billion capital base mentioned previously will shrink to $600 million by 2017 and $0 in 2018.
While the US Treasury has a significant degree of power when it comes to making decisions with respect to the GSEs, the FHFA also has strong authority as the oversight agency. Watt has given no reason to believe that a privatization effort of the GSEs is part of the upcoming agenda. Even if Mnuchin's initial discussions with Watt over the idea fail to advance any progress toward privatization efforts, the FHFA director's term does not expire until 2019 and is not conditional on approval from the Trump administration. Therefore, if privatizing the GSEs is as a high-priority item as Mnuchin has said that it is ("right up there on the top-10 list of things we're going to get done"), the Treasury department may have to wait before appointing a FHFA director that is more ideologically amenable to the idea.
Although I do not know Watt's perspective on the issue, my best guess is that the FHFA generally believes that Fannie and Freddie in their present form provide a sufficient regulatory apparatus on which to oversee any contingent taxpayer liability in the mortgage-financing market.
For Fannie and Freddie to operate in equivalent form as they do today under a private structure, capital base requirements will likely total at least a couple hundred billion dollars. The transition process into becoming a private company would also necessitate a debt refinancing, which is inherently difficult to pull off successfully if lenders have qualms regarding the entities' financial health.
Together, Fannie and Freddie have $730 billion in debt outstanding as of the end of September (source: 2016 Q3 10-Q reports). They also collectively possess a total of $121 billion in discount notes - short-term obligations with maturities ranging from one day to one year - that will come due. Given federal backing of the agencies, the creditworthiness of GSE debt is effectively at the level of US Treasuries.
On top of that, the two have $4.6 trillion of MBS outstanding, which comes to around 25% of US GDP. A material decline in mortgage-backed securities prices, higher debt issuance costs, and reduced access to the debt markets would have tangible consequences to US residential real estate and the US economy generally.
Conclusion
A privatization scheme for GSEs will be difficult from many angles: maintaining the same levels of liquidity in the mortgage market, effect on affordable housing mandates and the transmission of mortgage credit to underserved populations and geographical areas, preserving credit quality and debt market access, preventing a material re-rating of MBS prices, and collecting a capital base to the tune of perhaps several hundred billion dollars.
None of these are easy tasks and it's likely that the FHFA will have concerns about a prospective privatization of Fannie and Freddie on the basis of these complexities. It's uncertain how willing the FHFA is willing to work with Mnuchin on these matters. Consequently, reform efforts can take many different paths and any privatization scheme is likely to take several years.
Disclosure: I/we have no positions in any stocks mentioned, and no plans to initiate any positions within the next 72 hours.
I wrote this article myself, and it expresses my own opinions. I am not receiving compensation for it (other than from Seeking Alpha). I have no business relationship with any company whose stock is mentioned in this article.
Editor's Note: This article discusses one or more securities that do not trade on a major U.S. exchange. Please be aware of the risks associated with these stocks.