China's property and housing market (NYSEARCA:GXC)(NYSEARCA:TAO) has been described as bubble-like, with home prices soaring in the country's largest cities. In 2015, home prices in Shenzen (southern manufacturing hub bordered with Hong Kong), rose nearly 50%. For Shanghai and Beijing, the growth was more modest at 16% and 10%, respectively, but still reflected sizable growth despite a slowing economy.
Chinese policymakers nonetheless have regularly communicated an obligation to keep property prices within reasonable bounds and to avoid economic over-reliance on real estate. The counter-regulatory bent stabilizes the outlook on real estate, but poses challenges to developers in the country.
Contracted sales have been strong throughout 2016, to go along with inventory destocking and improved property valuations, which should work to expand developers' margins. Although property prices are likely to increase, due to regulatory pressure, sales volumes may decline slightly in 2017. Price upticks will nonetheless likely provide a level of continued operational growth, motivated by lowering inventory-to-sales ratios and a continued population expansion as more people move into cities. At the same time, any property value increase is expected to be partially offset by higher land acquisition costs.
China has no shortage of liquidity on the mainland, with an M2 money supply of 152 trillion yuan, equal to USD$22.2 trillion, or roughly twice its GDP. (US M2, by comparison is only about 72% of its GDP.) Combined with relatively modest overnight rates for an up-and-coming economy (4.35%), conditions are favorable for both developers and homebuyers with funding and mortgage availability.
Developers as a whole also maintain low refinancing risk with just $12 billion of the roughly $140 billion in debt outstanding in the real estate development market coming due within the next 12 months (source: Bloomberg). The bulk of it, $78 billion (56% of all outstanding), comes due in 2018 and 2019.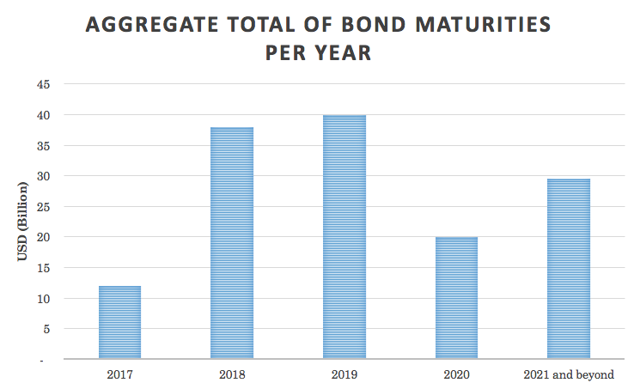 (Source: Bloomberg; modeled by author)
Lending markets are still open for creditworthy borrowers, with capital market access favoring the largest players in the market. Developers such as China Vanke Co. Ltd. (OTCPK:CVKEY)(OTCPK:CHVKF), China Resources Land Limited (OTCPK:CRBJF)(OTC:CRBJY), and China Overseas Land and Investment Limited (OTCPK:CAOVF)(OTCPK:CAOVY) are likely to remain ahead of the curve and use their operating scale to increase their market shares and consolidate the industry.
Notable Property Decline Unlikely in 2017
The primary complication of the Chinese real estate market in the eyes of its government is not so much the growth that seemingly outstrips fundamental valuation, but rather the unevenness of the growth. Much of it concentrates in major cities, leading to unbalanced economic development.
Consequently, regulators are likely to implement tightening initiatives in first-tier cities if prices continue to climb even after the measures that were enacted in the second half of 2016. These take on the design of increased minimum down payments, applying higher initial outlays on second homes, increasing the percentage of national contracted sales predisposed to home-purchase restrictions, and increasing the number of cities subject to these rules.
Even so, the latest measures still represent much milder regulatory conditions - with more accommodative monetary policies - relative to what was in place 30 months ago.
Back in the first half of 2014, the percentage of national contracted sales subject to home purchase restrictions was up to 55% of sales; today, the upper-bound is just 45%. Then, the number of cities subject to home purchase restrictions numbered close to 50; today, it is only 20. Minimum down payment requirements are approximately similar.
In terms of monetary policy, the People's Bank of China has since lowered its benchmark rate from 6.00% at the beginning of 2014 to 4.35% today. Reserve requirements have also been dropped 350 basis points from 20.0% to 16.5% (source: People's Bank of China). Naturally, supportive monetary policies help support lending demand for both developers and buyers and work to encourage greater business activity in the sector.
Although monetary conditions that are too loose can provide the foundation for bubbly conditions later down the line (consider the case of low US rates from December 2002 to June 2004 and what transpired 3-4 years after), prices look to be broadly supported on the basis of supply and demand. Inventory levels - and, by extension, inventory to contracted sales - have been falling in both major and second-tier cities, which can help facilitate additional price growth and lower the risk of a significant market drop. Moreover, as home prices climb disproportionately in higher-cost cities, eroding the value of living in a pricier market, buyers will be incentivized to seek out lower-tier cities to purchase real estate. Inventory levels could therefore be expected to grow and promote price growth more evenly.
Even if counter-regulatory measures take aim at mitigating excessive, unbalanced price increases, smaller market players are likely to take the brunt of any operational or financial constraint it provides to the industry. Large, hyper-solvent developers will be able to obtain the greatest amounts of financing and are generally better at managing their liquidity levels, while mortgage providers will further pivot their focus toward single-home buyers.
Developers can also look toward foreign lending markets to obtain better financing packages, with lower available rates and given the recent fall in the yuan. Roughly $56 billion of the $140 billion (40%) in outstanding bond maturities among real estate development companies comprises off-shore issuances (source: Bloomberg).
Although I am not involved in the Chinese real estate market in any form, as I would prefer to buy on a dip instead, I would be more inclined to buy shares in one or more of the largest developers rather than go for smaller-cap developers if and when the time comes. Once recent contracted sales growth (highest among the largest players) translates into higher levels of revenue recognition, many developers will see their credit quality improve and subsequently lower future lending costs. Revenue growth and financing cost savings will, in turn, lead to an expected degree of margin expansion and augmented cash flow prospects.
Stronger liquidity positions can then be used to penetrate into the development of additional markets, acquire smaller successful developers (or those currently performing well in markets of current or future interest), and gather greater market share. Or, at the least, a more conservative liquidity management strategy might use recent growth to provide a greater buffer against future market slowdowns.
For these reasons, industry stalwarts, such as the ones mentioned earlier in this post, are likely to outperform their smaller peers and marginalize their influence due to the advantages their operating scale provides.
Conclusion
It is more likely than not that funding conditions will remain supportive to the industry over the course of the next twelve months. To become bearish on the Chinese real estate market, one would likely have to see restrictions on developers' access to funding or observe a meaningful tightening of bank liquidity and/or mortgage availability. While China's real estate sector is hardly riskless, credit freezes in other parts of the highly leveraged corporate sector - where debt stood at 126% of GDP by year-end 2015 - or a hit to China's highly intertwined $35+ trillion financial system (NYSEARCA:CHIX), can produce domino effects throughout the remainder of the economy.
Major-city inventory to contracted sales ratios should remain robust and support property prices. However, growth in land and property prices that exceeds what might be dictated by fundamentals carries the risk of greater regulatory scrutiny from the Chinese government. This, in turn, is likely to cause slower sales should it result in a tightening of credit availability or alternative restrictions. National contracted sales growth is likely to remain steady throughout the next twelve months with little foreseeable impetus to see it trend one way or another.
In terms of expected corporate performance, large and financially robust property developers will be at an advantage, with their operating scale, ability to recognize revenue from recent sales and price growth, and access to funding. Expect these players to increase market share and become more influential in the market.
Disclosure: I/we have no positions in any stocks mentioned, and no plans to initiate any positions within the next 72 hours. I wrote this article myself, and it expresses my own opinions. I am not receiving compensation for it (other than from Seeking Alpha). I have no business relationship with any company whose stock is mentioned in this article.
Editor's Note: This article discusses one or more securities that do not trade on a major U.S. exchange. Please be aware of the risks associated with these stocks.