Sotherly Hotels (NASDAQ:SOHO) is a small but scrappy lodging REIT with a focus on boutique properties in the Southern U.S. While its operational track record to date is nothing short of exceptional, there is one group of stakeholders who haven't been feeling the hospitality: shareholders. That all changed last week.
Background
We've previously lauded Sotherly's above-average business performance and superior management team, particularly in light of its small-cap size (see Sotherly Hotels: This Undiscovered Gem Can Invest At A 16% Cap Rate In A 9% Market). Unfortunately, that track record has not yet been appreciated by the market. The company's revenue and adjusted funds from operations have compounded at rates of 19% and 23%, respectively, over the last five years, while shares are down 27% peak-to-trough from 2Q15 through Monday's close. Our original article posited that the disconnect could be partly explained by the shares' lack of liquidity, causing them to trade at a steep discount to intrinsic value.
In light of this situation, we prescribed that the company invest in the highest yielding asset currently available to it - its own stock. Our reasoning at the time was that with shares trading at a 40% discount to intrinsic value and a 16% effective cap rate, there simply weren't likely to be any hotel investments available to it with a better yield. While management and others responded that the best use of capital for a highly levered sub-scale company like Sotherly was to expand its asset base and pay down debt, we felt both of these initiatives would be hindered by the company's inability to issue equity capital anywhere near intrinsic value. As REIT investors know, while equity issuances are often frowned upon in many industries, they are a crucial arrow in the quiver of most successful REITs. Since REITs are required to distribute at least 90% of their taxable income to investors in the form of dividends, a mixture of regular debt and equity offerings, as opposed to retained earnings, is usually the primary means of financing growth opportunities.
In Sotherly's case, however, there are a few complications. The company currently carries a heavy (but manageable) debt load, making additional leverage virtually impossible. In addition, with shares trading at a significant discount to intrinsic value, it isn't able to finance growth opportunities with equity capital either. Otherwise, it would be effectively buying 60 cents for a dollar, requiring it to grow earnings substantially just to get back to even on a per-share basis. As the value-minded CEO of turnaround company, Atlantic Power (NYSE: AT), recently put it, "[we] spend a lot of time talking with investors and our employees about intrinsic value per share. The key concept is that we want to focus on growing per share value, not the absolute size of the business. If we issue shares worth $1 to buy assets worth 50 cents, we have increased our asset base but we have reduced our intrinsic value per share. If we use 50 cents to buy shares worth $1, then we have reduced our assets (by using cash) but we have increased the value per share of the remaining shares."
Figure 1: Capitalization vs. Price for SOHO and Peers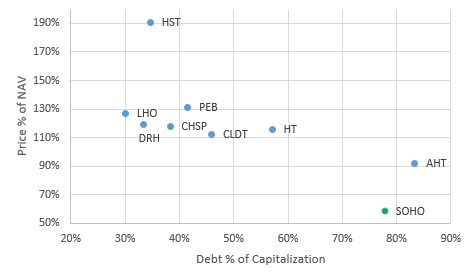 Source: Company Financials; Sell-Side Research; Camellia Capital Management; Comp Group includes Ashford Hospitality Trust (NYSE: AHT), Chesapeake Lodging Trust (NYSE: CHSP), Chatham Lodging Trust (NYSE: CLDT); DiamondRock Hospitality (NYSE: DRH), Host Hotels & Resorts (NYSE: HST), Hersha Hospitality Trust (NYSE: HT), LaSalle Hotel Properties (NYSE: LHO), Pebblebrook Hotel Trust (NYSE: PEB), and Sunstone Hotel Investors (NYSE: SHO).
Nonetheless, the former case (issuing shares at a massive discount to intrinsic value) is exactly what the company did (in 2Q15, precisely at the top of its all-time high trading price), and it has been clawing its way out of a deep hole ever since. Adjusted funds from operations on a rolling-four-quarter basis, after peaking at $0.29 in the quarter immediately prior to the equity sale, subsequently tumbled to just $0.19 in subsequent quarters, all while adjusted funds from operations in absolute numbers continued to increase. This weighty anchor took shares down with it, with price per share declining from $8.08 to $5.87 as of market close on Monday of this week.
Last Friday's Announcement
Last Friday, management announced the initiation of a $10M share repurchase program which, at current prices, would account for some 12% of common shares outstanding (see Sotherly Hotels Inc. Announces Board Authorization of Stock Repurchase Program). This was met with favor by the market and the stock posted one of its largest single-day gains in recent history (~4%). But this is only the beginning, like an invitation to a party that has not yet begun. Over the next twelve months (roughly the term of the buyback authorization), management could, if the stock remains stubborn, repurchase a significant quantity of outstanding shares, which would have a sizeable impact on intrinsic value per share. Basically, this situation would be the reverse of the situation from 2Q15 when the company sold shares at a discount to intrinsic value.
We believe shares are currently worth at least $10 per share (or $144.4M total) on an intrinsic value basis, in contrast to today's market price of $5.87 ($84.7M total). If the company repurchases 12% of its stock at today's levels, $10M will exit the business, but the company's common share count will reduce from 14.4M shares outstanding to just 12.4M shares outstanding. This would in turn result in a new intrinsic value of $10.84 per share ($134.4M divided by 12.4M), or 9% higher than the pre-repurchase intrinsic value per share and 85% higher than today's price of $5.87.
While this is good news in and of itself, it's only the initial splash. The ripple effects should extend to more liquidity (a new large buyer of shares in the open market in the form of the company itself) and, by extension, less of a liquidity discount. Furthermore, the reduction or even elimination of the gap between price and intrinsic value will put the company in a better position to issue stock, the proceeds of which could be used to pay down debt, make a strategic acquisition, or both. To those thinking this sounds like circular reasoning (buying stock now so it can issue stock later), note that it isn't what the company is doing that's important (buying or selling) but rather when it is doing it (is it buying below intrinsic value and selling at or above intrinsic value?). To the extent the stock is trading at or above intrinsic value and the company has growth opportunities available to it with returns in excess of its cost of capital, then, sure, it should issue all the stock it needs. But the flip side of that coin is that the company should also be willing to buy shares trading at a discount to intrinsic value when the effective cap rate of doing so exceeds the cap rate available to it from properties in the market. With Friday's announcement, it appears management now realizes this.
Additional Value Levers
In addition to improving the price of the company's share "currency" via strategic repurchases of its own stock, and in addition to the ripple effects this should eventually have (higher liquidity -> higher value -> ability to issue shares closer to intrinsic value -> ability to pay down debt/fund acquisitions), there are other levers the company can and should be willing to pull. For one, it is unlikely the company will be able to eliminate its full illiquidity discount simply from share repurchases alone. Another idea would be to split the stock as soon as shares get back up to a level that would justify a split. Due to fund restrictions, investment screens, and other classification factors, it is generally advisable to maintain a stock price above $5. With that in mind, if the company is successful in increasing its share price to the $10 range, it could then conduct a 1.5:1 stock split, which would increase the number of shares outstanding. This increase in supply of shares should result in increased trading, allowing the market's price discovery mechanism to do a better of job of converging with fair value.
Conclusion
We've long praised the quality of Sotherly's management team and its impressive business performance, facts that were overshadowed by a previous misstep in capital allocation in the form of an untimely equity raise. That said, to the extent selling shares at a discount to intrinsic value was a harmful policy in the past, buying share at a discount to intrinsic value is just what the doctor ordered today. We firmly believe that not only is the stock currently trading at a significant discount to intrinsic value, but that the discount between price and intrinsic value should only decrease as management's share repurchase program proceeds. Further, while shareholders previously had to sit back and hope the market eventually woke up to the company's intrinsic value, management now has a powerful tool at its disposal to "force" the market into realizing that intrinsic value sooner. We believe this process of unlocking value in the company's share price "currency" will result in both further growth in assets and a meaningful decrease in its debt load. Together, this powerful elixir should see shares converging with our $10.88 estimate of intrinsic value per share, resulting in significant gains to purchasers at current levels.
Disclosure: I am/we are long SOHO.
I wrote this article myself, and it expresses my own opinions. I am not receiving compensation for it (other than from Seeking Alpha). I have no business relationship with any company whose stock is mentioned in this article.
Editor's Note: This article covers one or more stocks trading at less than $1 per share and/or with less than a $100 million market cap. Please be aware of the risks associated with these stocks.