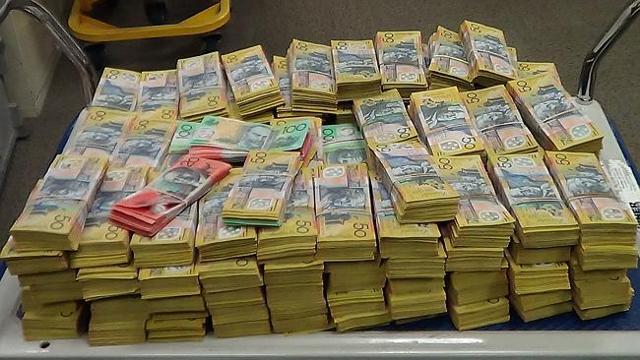 The Reserve Bank of Australia announced today that it has kept interest rates on hold at the record low rate of 1.5 percent. As there was only a 2 percent chance of rate a hike, according to Interbank cash rate futures, this decision comes as little surprise to the market. Especially with the Federal Reserve expected to raise its interest rates next week. After all, a 25-basis point cut to interest rates in Australia would do far less good for the Australian dollar (NYSEARCA:FXA) than a 25-basis point rise in the United States in our opinion. You only have to look at the New Zealand dollar (Pending:NZDS) to see that. As you can see on the chart below, the Australian dollar has actually fallen more than the New Zealand dollar since November 9 when the Reserve Bank of New Zealand cut its interest rate to a new record low of 1.75 percent.

Sourced from DailyFX
Why didn't the New Zealand dollar fall more?
It would appear as though the anticipation of president-elect Donald Trump pushing forward with reflationary policies, and consequently rate hikes, does far more to weaken a currency than a rate cut. In our opinion the New Zealand dollar would be trading at the same level if it hadn't cut rates that day. We believe this demonstrates that a good number of central banks are powerless in their quest to tame their currencies. The U.S. dollar (NYSEARCA:UUP) and the Federal Reserve are the real movers and shakers in this game.
What's next for the Australian dollar?
So when it comes to shorting the Australian dollar it really is all down to what the Fed does next. Although nothing in life is certain, especially with central bank moves, a rate hike at the next FOMC meeting next week appears as close to a certainty as possible. The current probability of a hike next week according to CME Group stands at 92.7 percent.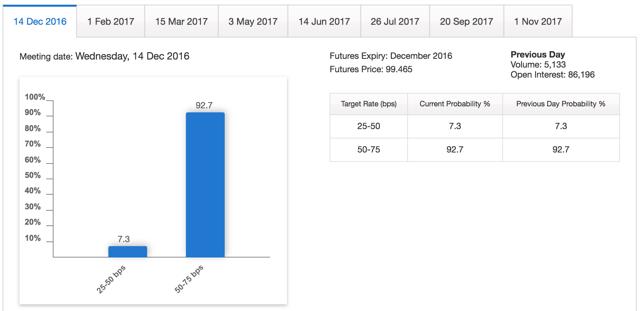 Sourced from CME Group.
What we will be looking for at next week's meeting will be any hint from the Fed about what's ahead in 2017. At present the market has priced in just a 42.7 percent chance of a rise to 75 to 100 basis points in June next year, as shown below.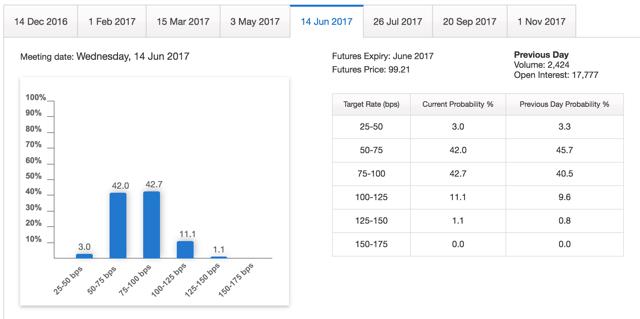 Sourced from CME Group
Further, the odds of a rise to between 100 and 125 basis points by November are only 23.6 percent. We think that is a little unambitious. If Donald Trump follows through on his plans we expect at least three rate hikes in 2017, which would mean rates between 125 and 150 basis points. This would put U.S. rates in line with Australian rates, completely wiping out any interest rate differential and severely weakening the Australian dollar.
Because of this we expect many traders will be paying close attention to the Fed's dot plot next week. If the dots are complementary to our view of three hikes in 2017, we believe we could start to see the probability of further rate hikes priced in. This should in turn strengthen the U.S. dollar and weaken the Australian and New Zealand dollars further. Ceteris paribus, we think this will put the Australian dollar firmly on a path to 65 U.S. cents, which is approximately 12.8 percent lower than the current exchange rate.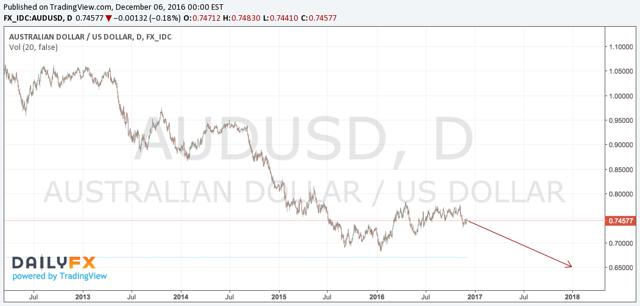 Sourced from DailyFX
In our opinion the AUD/USD short is one of the best options for traders at the moment. But it won't happen overnight. We expect the slide to be gradual and therefore traders will have to have a reasonable amount of patience with it. But with a potential return of 12.8 percent, or 25.6 percent if using the leveraged ProShares UltraShort Australian Dollar ETF (NYSEARCA:CROC), we think the AUD/USD short provides a compelling risk/reward for traders. We expect the ball to start rolling next week at the FOMC meeting, so now could be as great a time as ever to start the trade.
As always we'll keep you updated as and when information becomes available. Until then we wish you the best of luck with your trades!
Disclosure: I am/we are short FXA.
I wrote this article myself, and it expresses my own opinions. I am not receiving compensation for it (other than from Seeking Alpha). I have no business relationship with any company whose stock is mentioned in this article.
Additional disclosure: Long UUP