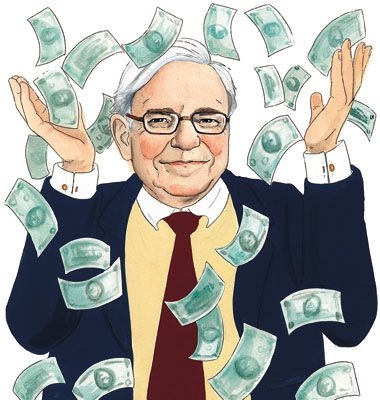 (Source)
In my previous article, we looked at psychological traps and investor behaviors (i.e. panic selling, and market timing) that can lead to suboptimal returns for the average investor relative to their benchmarks such as the S&P 500 Index (NYSEARCA:SPY). On average, equity investors have trailed the S&P 500 by 352 bps over the 20-year period 1996-2015 period - costing them $286 billion in lost earnings. Behavioral biases such as mental modeling, overconfidence, anchoring, herd mentality, and hindsight bias contribute to bad decision-making, and the underperformance shown in the table below.
Long-Term Annualized Investor Returns

Year

S&P 500

Average Equity Investor

Difference

1998*

17.90%

7.25%

-10.65%

1999*

18.01%

7.23%

-10.78%

2000*

16.29%

5.32%

-10.97%

2001*

14.51%

4.17%

-10.34%

2002*

12.22%

2.57%

-9.65%

2003

12.98%

3.51%

-9.47%

2004

13.20%

3.70%

-9.50%

2005

11.90%

3.90%

-8.00%

2006

11.80%

4.30%

-7.50%

2007

11.81%

4.48%

-7.33%

2008

8.35%

1.87%

-6.48%

2009

8.20%

3.17%

-5.03%

2010

9.14%

3.83%

-5.31%

2011

7.81%

3.49%

-4.32%

2012

8.21%

4.25%

-3.96%

2013

9.22%

5.02%

-4.20%

2014

9.85%

5.19%

-4.66%

2015

8.19%

4.67%

-3.52%

*The original analyses started in 1984, therefore between 1998 and 2002, the period covered was less than 20 years. Since 2013, the long-term analysis has covered a 20-year period.

Source: Dalbar Inc.
To add to the long list of negative investor behaviors, having a very short-term outlook can put your financial goals at risk. Many investors are irrational when dealing with market volatility and tend to deviate from their own investment strategy. When markets go down, they sell investments because of the fear of losing money (loss aversion, panic selling). When markets go up, they act out of greed (or fear of missing out) and buy today's winners (chasing performance) without doing serious homework (speculating). This behavior of reacting on emotions damages overall returns.
A study compiled by financial research firm Dalbar Inc. shows that the average investor is unlikely to buy and hold an investment for the long-term (generally 10 years or more). Investors in stocks and bonds tend to stick with their holdings for about 3 to 4 years, while diversified investors have historically higher retention rates of about 4 to 5 years (see table below). Investors are clearly becoming more short-term focused and reactive to market volatility. The downside is that high turnover rates can have a negative impact on returns through higher trading costs and market timing.
Average Investor Retention Rates (based on 20-year analysis)

Equity

Fixed Income

Asset Allocation

3.46 years

3.06 years

4.60 years

Source: Dalbar Inc.
The study goes on to highlight the importance of asset allocation. A diversified portfolio can balance risk and returns for the average investor. It tends to reduce negative behavior (i.e. psychological traps and biases) and keep investors committed to a long-term and viable investment strategy. I don't want to suggest that a diversified portfolio of stocks and bonds will promise you positive results, but I think it's effective in preserving portfolio gains. It can lead to more stable returns, during good and bad times, which is what every long-term investor values.
It's difficult to stay invested for long periods when there's a million different reasons to keep you out of the market. Now that the four major indices, the Dow Jones, S&P 500, Nasdaq, and Russell 2000 are flirting with new all-time highs, many are fearing that the U.S. stock market is overvalued. Are we back to the fear levels of August 2015, September 2011, or January 2016? The markets initial reaction to new developments are not always right (as we learned after Brexit and the U.S. election). Selling stocks out of fear of a global recession in January is proof of reacting not on information, but emotion.
How does the average investor feel about deviating from their long-term investment strategy and missing the huge rally?
You don't want to lose your position in a bull market. This increases the risk of you missing the best days in the market and that can cost you greatly over the long-term. Time in the market is a cardinal rule in buy and hold investing. Take full advantage of the stock market's gains and benefit from compounding interest on your original capital. If you miss the market's best days, you won't be able to compound those missed gains for the rest of the investment holding period. By staying fully invested over the past 25 years, you would have earned $63,630 more than someone who missed the market's 15 best days on an initial investment of $10,000 in 1991 (source: Foresters Financial).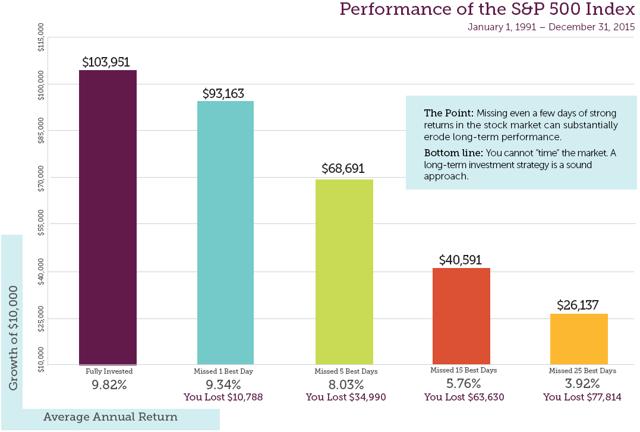 If an investor stayed fully invested in the S&P 500 from 1991 to 2015, they would earn a 9.82% annualized return or $103,951. If you missed 25 of the market's best days during the same period, you'd lose $77,814, and your annualized returns would decline to only 3.92%. This just shows how trying to predict the best time to buy and sell a stock can substantially diminish long-term performance. To maximize returns, extend your timeframe for investments. What a stock does over the next 10, 20, 30 days is irrelevant if you have a long-term investment approach.
Short-term price volatility is mostly noise mixed with emotion, while long-term price changes account for a business's profits, growth trajectory, and valuation - you know, things that truly matter to a long-term investor. Instead of constantly logging in and out of your account to check on a stock's price, focus on the company's fundamentals to further learn if you made a good investment.
Grab some coffee or tea and read 10-K and 10-Q documents. It's more productive than fretting about the stock's daily price movements. Watching the minute by minute, hour by hour, and day by day stock fluctuations is too stressful. It's not good for your mental health or happiness. So go read about your investments, read a book, play with your kids, or even start a blog and write for Seeking Alpha.
An investor can reduce volatility through asset allocation and diversification strategies. This can help an investor maintain a long-term perspective, while keeping them grounded and not getting overly sensitive to the stock market's various cycles. Now if a 5% pull back scares you, I would suggest to go back and re-evaluate your investment strategy, asset allocation, and risk tolerance, because the S&P 500 has had 5% corrections about 3 times per year.
Make smart investing decisions. Invest in what you know and understand. Don't get seduced and chase today's winners. Buy and hold high-quality businesses. Stick to your long-term investment strategy. Keep your costs low. And remember that value is created over time.
As Warren Buffett once said, "Successful investing takes time, discipline and patience. No matter how great the talent or effort, some things just take time. You can't produce a baby in one month by getting nine women pregnant."
Reading recommendations:
Disclosure: I/we have no positions in any stocks mentioned, and no plans to initiate any positions within the next 72 hours.
I wrote this article myself, and it expresses my own opinions. I am not receiving compensation for it (other than from Seeking Alpha). I have no business relationship with any company whose stock is mentioned in this article.