Opening
The equity market is just continuing to move forward letting little or anything stand in its way. What could have unnerved the market in the Italian Referendum was shrugged off as if it never even happened. Even the markets in Europe seemed not to care yesterday. Perhaps, it is the understanding that there is a long way to go.
Equity Market and Sectors
The S&P 500 looks very healthy to be truthful, despite whatever the reason the bears can find. It goes back to a couple of basic things. One the stage has been silent with not much news happening and the investors seem to be optimistic about the outlook for the economy. The second piece of the equation comes down to performance or in this case, the lack thereof. The Eurekahedge Hedge Fund Index is up a whopping 3.47% through the end of November. The S&P 500 total return index is up 9.79% during the same time. So what happens? A chase for performance. Managers have the pressure of showing performance. So what happens? They chase the stocks and sectors that have been performing the best.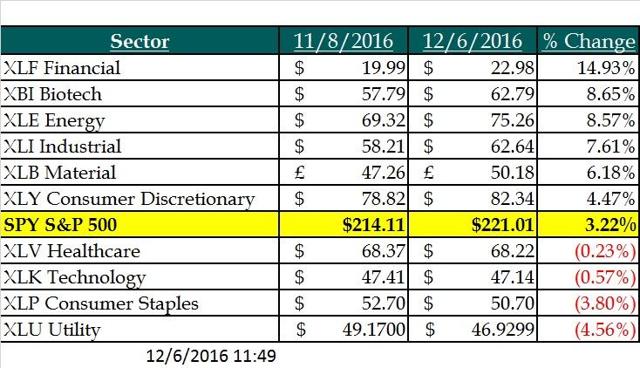 (Mott Capital Management, LLC)
What do you think? That sum things up? Look at financials (NYSEARCA:XLF) up nearly 15% in one month. Biotech (NYSEARCA:XBI) and Energy (NYSEARCA:XLE) up 8%. These are massive moves. Selling slow growing, defensive sectors into the areas that are fast growing, dynamic industries. With the exception of tech (NYSEARCA:XLK), but even that is showing signs of turning. It is all about chasing performance going into year end.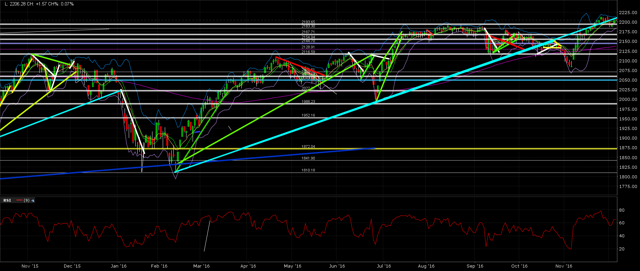 (Interactive Brokers TWS)
Just look at this daily chart of the S&P 500, consider where we were in January and February, near 1,810, and today, near 2,210. A 400-point move off the S&P 500 lows, nearly 22%. Wow. The chart above just shows it all. Just look at how the S&P 500 is retaking the February/Brexit deal trend line. The S&P 500 seems to be primed to move higher into the final weeks of the year.
Speaking of sectors, just look at the XLF. It was unleashed.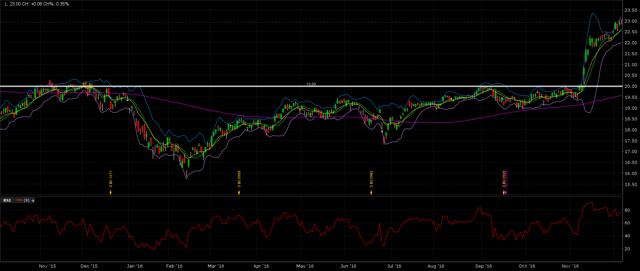 (Interactive Brokers TWS)
As though the mighty dam that was $20 resistance was broken wide open and everyone just rushed into as quickly as possible. Like when George Costanza rushed for the exits at the little boys birthday party.
Even technology is looking more and more like it is about to get into the action. The XLK has struggled all year with the $48 level. However, the supporting trend line from the February appears to be the more potent force still. A clear break above $48 will send the XLK up, in the same way as the XLF.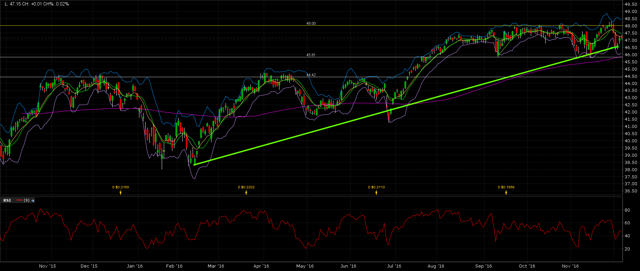 (Interactive Brokers TWS)
Materials and consumer discretionary have lagged behind a bit, but the performance is still not chump change.
Summary
Fundamentals at this point do not seem to be driving this market at all. The equity market seems entirely motivated by a chase for performance and prospect for an economy that can return to growth. Let's hope the optimism comes true, because from the looks of things, production is looking pretty sad.

Note: If you'd like to get a full listing of the different items we currently have a rating or view on, you can find a list in our research area. Remember, if you like reading these commentaries, make sure you follow us with that little "+" button at the top of the page next to our name.
Have a great day!
- Mike
Disclosure: I/we have no positions in any stocks mentioned, and no plans to initiate any positions within the next 72 hours.
I wrote this article myself, and it expresses my own opinions. I am not receiving compensation for it (other than from Seeking Alpha). I have no business relationship with any company whose stock is mentioned in this article.
Additional disclosure: Mott Capital Management, LLC is a registered investment adviser. Information presented is for educational purposes only and does not intend to make an offer or solicitation for the sale or purchase of any specific securities, investments, or investment strategies. Investments involve risk and unless otherwise stated, are not guaranteed. Be sure to first consult with a qualified financial adviser and/or tax professional before implementing any strategy discussed herein. Past performance is not indicative of future performance.