Elliott Wave is a technique I have used for many years to identify the stages of trends. It has amazing predictive powers, but there is a catch; at any moment there are many possible scenarios and counts. Which is the right one?
This is where process, experience and intuition come in. I have developed my own way of finding the right path and count, but even still I can get things wrong. Let's be honest; if I got every count 100% correct I wouldn't be sitting here writing about it for free.
I aim to update the cycles on my favorite markets each week. It will provide a framework to trade around in the sessions and weeks ahead and tie in with your own analysis, be it technical or fundamental.
This first edition will deal with the dollar (UUP). The dollar strength has been getting a lot of attention after the Trump victory, and rightly so. Get the direction right on this market and more often than not the rest will follow.
The Dollar
The first signs of a dollar pullback came yesterday, and the move back below the previous double top at 100.7 could be perceived as quite bearish. Did the dollar just top? Should we buy the dip?
Let's look at the cycles: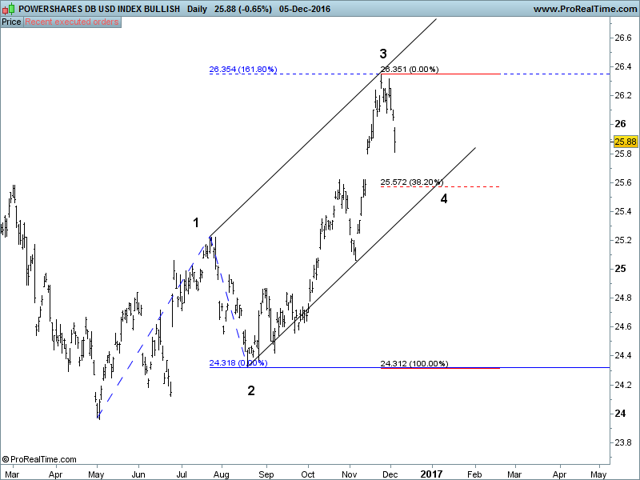 I am using the chart of the UUP as the futures spiked around after Trump's victory and muddied the waters of that particular chart. In fact, it was only after looking at UUP that I saw the cycles cleanly and identified the count above.
Wave 3 reached exactly 161.8* wave 1. This is the perfect measurement as anyone familiar with Elliott Wave will know. The expectation now is for a pullback for wave 4, which should fill the channel (representing symmetry in time and price). Wave 4 often reaches the 38.2% Fibonacci retracement, which lines up with the gap fill and previous highs at $25.57.
Once wave 4 is complete, wave 5 should complete the trend sequence with the final cycle up. Wave 5 is often equal in size to wave 1. Of course we don't know exactly where this will start from, but if $25.57 holds, it would project a 'top' of $26.8.
The 'top' we would look for on the next high is major. To give the counts above some context, you can read my August 2nd article on some of the longer term counts and fractals I am using. The chart below is taken from that article and provided a target of 103 for the futures.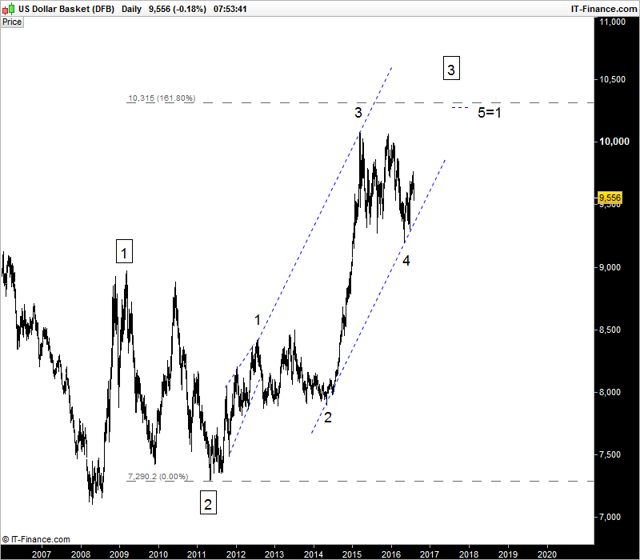 Any new highs will likely hit the target provided and the cycle starting at the 2011 lows could be considered complete. This obviously has big implications, not only for the dollar, but for many asset classes.
How the dollar may react after this major top is best expressed by this fractal: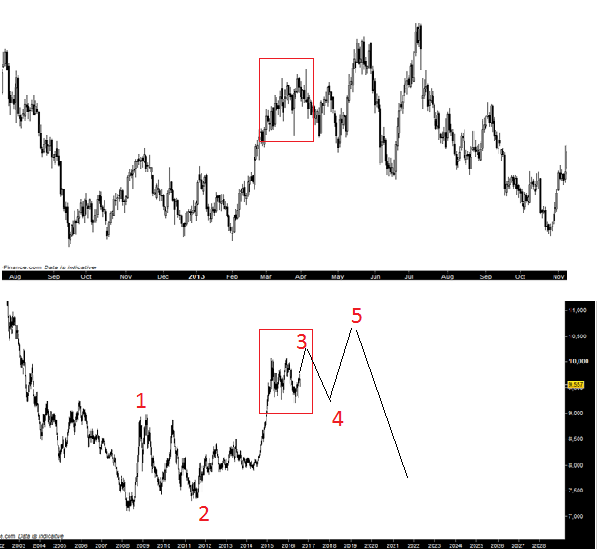 Believe it or not I have been using the same fractal for over two years and it's been a fantastic long term guide. It looks like we can expect a lot of volatility during Trump's presidency.
Alternate Views
If UUP breaks $25.5 and the channel shown in the first chart, there may be a more complex cycle in play. We can still look for new highs in the dollar, but the move up will start from a lower point. I'll deal with that if and when it happens, but for now, it's best to focus on what is most probable.
Conclusions
The dollar has not topped and longs can look for new highs from the $25.57 area on UUP.
New highs will very likely complete a long term cycle from the 2011 lows.
Disclosure: I am/we are short UUP.
I wrote this article myself, and it expresses my own opinions. I am not receiving compensation for it (other than from Seeking Alpha). I have no business relationship with any company whose stock is mentioned in this article.
Additional disclosure: I am long EURUSD