Since beginning to follow small-cap retail in the past few years, I've noticed that the sector is commonly misunderstood with some nice opportunities on both the long and the short side. Citi Trends (NASDAQ:CTRN) looks like a no-brainer short. With a high P/E multiple, lukewarm comp sales growth, flat-to-down margins, and poor cash flow, I believe shares are set to trade to $14-equal to 7x terminal free cash flow of $20 million plus net cash. If shares tag along with the positive trend in the Russell 2000 (NYSEARCA:IWM), I think shares could become an attractive short candidate.
Citi Trends: History and current state
Citi Trends is an urban-centric retailer located primarily in the South/Southeastern region of the United States. The company traces its origins back to 1946 as the Savannah Wholesale Company. Throughout the next several decades, several larger conglomerates owned the stores before finally finding its niche as a heavily discounted, African-American-centric retailer in the 1990s.
After being purchased by private equity firm Hampshire Equity Partners in 1999, the company accelerated its current plan. After changing the name of the stores to Citi Trends in 2001, the company embarked on an aggressive growth strategy that ultimately culminated in an IPO in 2005.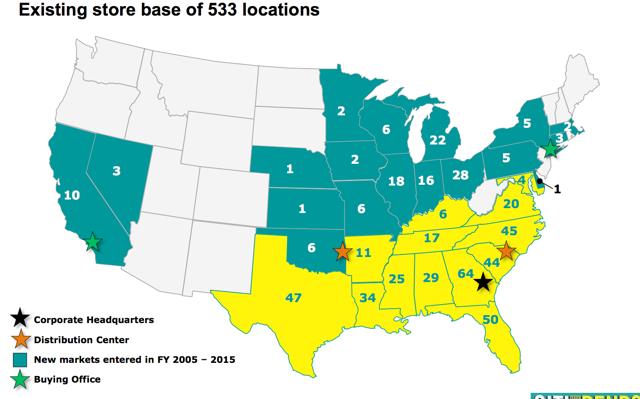 Source: CTRN IR
Citi Trends now owns over 533 stores across the United States with the business heavily concentrated in the South/Southeast. Citi Trends' customer base skews African-American (70% of customers), and the company has typically sourced urban brands like Rocawear, Jordan (NYSE:NKE), FILA, South Pole, among many others. The focus is on value, and items are often priced in the same vicinity as customers find at TJX stores (NYSE:TJX) and Ross (NASDAQ:ROST), if not lower.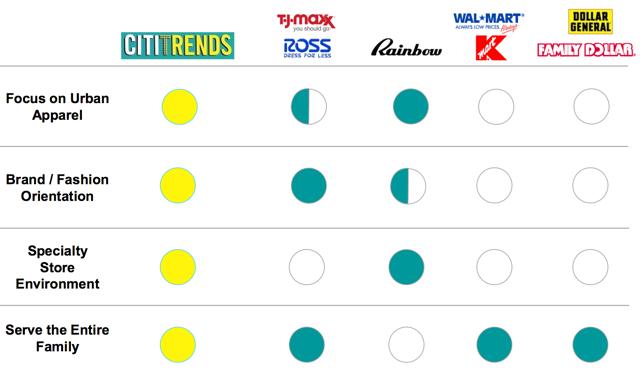 The company considers its primary competitors the likes of Wal-Mart (NYSE:WMT), TJX, Ross, and Rainbow, but I also believe it competes tangentially with Foot Locker (NYSE:FL) and Hibbett (NASDAQ:HIBB) to some extent, as well as traditional department store retailers. In the driving-centric South, I think you find a fairly competitive landscape due to the ease of visits to other companies.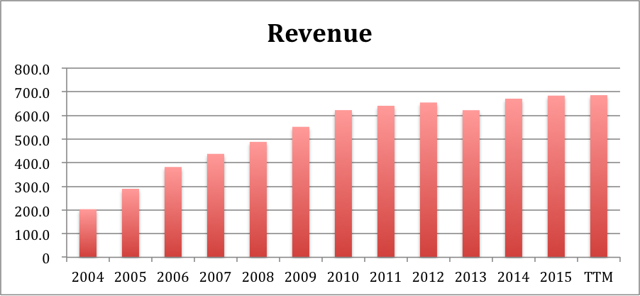 Source: SEC Filings
As we can see in the above chart, Citi Trends was growing its revenue at a rapid rate from 2004 to 2010, but growth has slowed dramatically in recent years. There are myriad excuses, including the growth of Ross and TJX, weak economic conditions, and highly promotional retail environment. In the past few years, the ultimate driver has been an inability to hit on recent fashion trends. The company prides itself on its ability to capitalize on trends and stock the right merchandise, but the company has struggled to do so in recent years.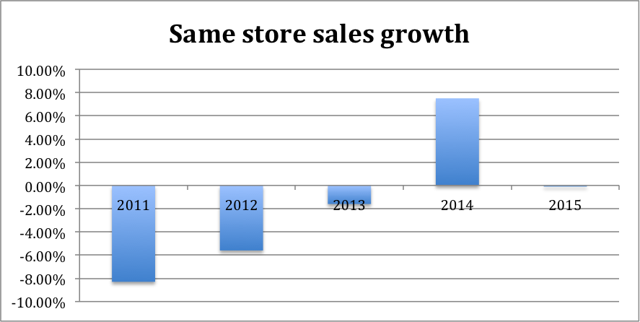 Source: SEC Filings
As we can see in the above chart, store productivity has fallen in four of the last five years. The last four quarters have also been weak, though Citi Trends admittedly faces an easy comp in Q4.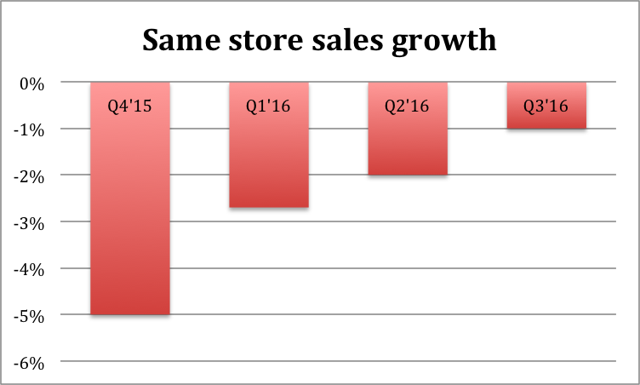 Source: SEC filings
In spite of the soft comparison period, Citi Trends is currently losing market share to several retailers including TJX, Ross, h&m, and Forever 21. Classic urban styles are a bit out of fashion, and a more fitted, dressed-up look remains top of mind. Though Q4 is only the second most important quarter of the year for Citi Trends, I think management's commentary suggested that they are not well-positioned to post same-store sales growth in Q4.
Profitability remains a real challenge
With comp store sales growth mostly muted, Citi Trends has struggled mightily to achieve robust margins. Over the past five years, net income margins have fluctuated between -1.6% to a peak of 2.3%. TTM net income margins sit at 1.6%, and I do not see any upside drivers going forward.
On the positive side for Citi Trends, its business operates primarily in low wage states where it seems unlikely that there will be a government intervention to move wages above the federal minimum wage. And while I will not pretend that I have any idea what sort of reform is around the corner, I would be very shocked to see the new leadership support a higher minimum wage. However, unemployment rates in these states continue to tick down, and I think we could actually see upward wage pressure.

Source: FRED
Ultimately, this issue could hit Citi Trends on two fronts. First, wages would obviously increase SG&A expenses. Secondly, I think Citi Trends could see some of its customers trade-up to full-priced retail or other retailers. Prices could increase as could average transaction sizes, but I am cautious. I believe wage pressure would be a net-negative for Citi Trends, though it's hard to know how that phenomenon will play out.
If we look at the P&L, most major drivers are trending in the wrong direction. COGS are up 50 basis points over the trailing twelve months, with gross margins declining to 38.5%. SG&A has followed a similar track increasing to 33.4% of sales, an increase of 60 basis points. With further comp weakness in Q4, we may even see slightly more deleveraging. Still, an EBITDA margin of 3-5% is enough to keep the business in a relatively steady state.
Poor operating margins + Poor growth = Poor cash flow
Generally speaking, companies with P/E ratios over 20 are growing quickly and thus capex is absorbing all free cash flow. Admittedly, Citi Trends accelerated its store openings in 2015 with ten net new store openings driving capex spend of $19.6 million. The company has three net new store openings in 2016 and through the first two quarters, capex spending totaled about $10 million.
Adjusting for stock-based comp, peak operating cash flow has never exceeded $36 million. Even if we were to assume peak steady state operating cash flow of $36 million and trough capex of $7.3 million, when the company opened just two net new stores, we would get free cash flow of ~$29 million. To be conservative and run at a more realistic figure, I think $20 million of free cash flow is appropriate given the higher working capital needs with the larger store footprint, which also leads to higher fixed operating expenses as well as higher maintenance capex spend.
Though the picture seems dire, the valuation is reflective of the current issues. I model a terminal free cash flow multiple of 7-10x, which equates to an equity value of $140-200 million. When we include the $71 million of cash, Citi Trends' current market cap of $275 million looks a tad rich on the low-end and essentially fairly valued on the high end. The company runs conservatively with a debt free balance sheet, insulating it from any liquidity driven crisis.
How to position for this trade
There is little doubt in my mind that Citi Trends is a struggling retailer without a real upside inflection point in sight. However, I believe true cash earnings power will be lower now that the company has increased its cost structure, and I think a bad Q4 would be a catalyst for downward share price pressure.
However, shares currently trade at about 10x terminal free cash flow - which is not a supremely rich multiple. In the case of a broken retail story like Citi Trends, I would wait until the share price exceeded $20.50/15x terminal free cash flow. At this level, the share price is fairly rich, and the risk/reward set-up is nice. If Citi Trends is able to overshoot $20.50 on the upside, I think shares will trade down to the low-double digits on a big miss in Q4.
That said, the share price currently does not provide much of an opportunity long or short. Citi Trends could muddle along for the next few years without a material change in the business fundamentals. I will continue to monitor the business for an inflection point that changes the free cash flow potential. However, at this point, the story is simple - Citi Trends is a struggling retailer muddling along at a low multiple that should be sold short if shares drift upward with the rest of the market.
Disclosure: I/we have no positions in any stocks mentioned, and no plans to initiate any positions within the next 72 hours.
I wrote this article myself, and it expresses my own opinions. I am not receiving compensation for it (other than from Seeking Alpha). I have no business relationship with any company whose stock is mentioned in this article.