The Bank of England announced the results of its 2016 stress test of the UK banking system. RBS (NYSE:RBS) was a clear outlier. The bank did not meet its CET1 or Tier 1 leverage hurdle rates before management actions/AT1 conversion into equity. RBS CET1 ratio declined from 15.5% (FY15) to 6.7% post management actions in the stress scenario which was below the 7.1% systemic reference point requirement however above the 6.6% hurdle rate.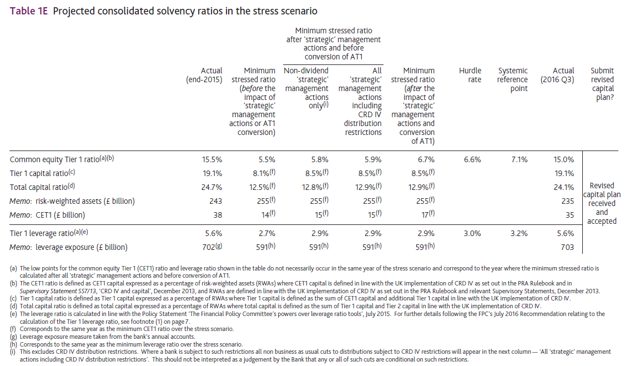 Source: Bank of England
Although some capital inadequacies were also revealed for Barclays (NYSE:BCS) and Standard Chartered (OTCPK:SCBFF), RBS was the only bank that was required to submit a new capital plan. The company's management expects its revised plan to address the capital shortfall identified in the test. We believe this plan will likely include more RWA reduction, additional asset disposals and deeper cost cuts.
Uncertainty around timing and cost of W&G disposal
As a reminder, RBS failed to launch the sale of Williams&Glyn (W&G) in the first half of the year as planned.
Since the last update provided with the 2015 Annual Results, we have undertaken further extensive analysis on the separation and divestment of Williams & Glyn. As a result of this analysis, we have concluded that there is a significant risk that the separation and divestment to which we are committed will not be achieved by 31st December 2017. Due to the complexities of Williams & Glyn's customer and product mix, the programme to create a cloned banking platform continues to be very challenging and the timetable to achieve separation is uncertain. RBS is exploring alternative means to achieve separation and divestment. The overall financial impact on RBS is now likely to be significantly greater than previously estimated.
This effectively means that the disposal of W&G is likely to cost more to achieve. The current cost per quarter is around GBP150mn, as such any further delays would result in additional restructuring charges. As a reminder, investors are keenly awaiting the disposal as W&G remains one of the key hurdles for being able to return to capital distributions.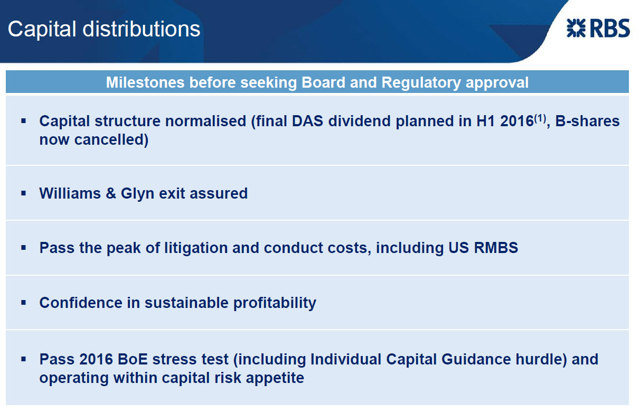 Source: Company data
Litigation: All eyes on DoJ RMBS
RBS still needs to settle the RMBS case with the U.S, Department of Justice (DoJ). As a reminder, RBS draws attention to litigation related to the issuance of around USD45bn of RMBS (of which FHFA USD32bn) in the Unites States between 2005 and 2007. Deutsche Bank's (NYSE:DB) $14bn RMBS fine came as a surprise for investors and since the announcement of Deutsche's fine, RBS has posted the second-worst performance among a basket of four European banks: Deutsche Bank, RBS, Credit Suisse (NYSE:CS) and Barclays. One of the ways to estimate the potential fine is to look at a ratio between DoJ fines and FHFA (Federal Housing Finance Agency) settlements for RMBS. As the table below shows, SocGen Research estimates that this ratio has averaged 2.8x, implying that the DoJ will likely levy a USD12bn fine on RBS.

Source: Societe Generale Research&Analytics
However, a multiple of 2.8x implies that the DoJ should have levied a USD5.4bn fine on Deutsche Bank, not a USD14bn, which corresponds to a multiple of 7.4x versus DB's FHFA settlement. If we apply a multiple of 7.4x to RBS' FHFA settlement, the DoJ fine would be USD30bn, much larger than the bank's litigation provisions. As a reminder, RBS' current market cap is around $31bn.
Valuation
RBS does not look cheap, trading close to the sector's regression line.
P/B vs RoE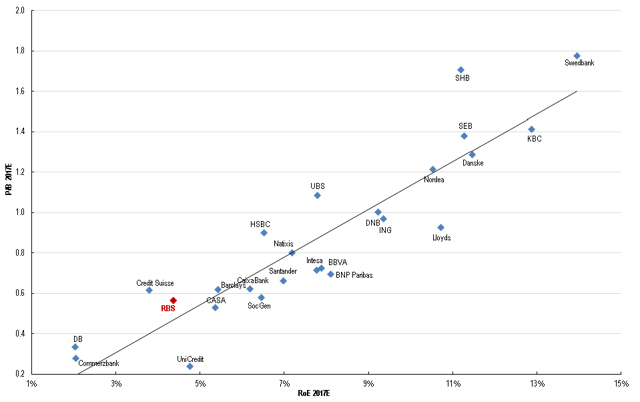 Source: Bloomberg, Renaissance Research
P/TB vs RoTE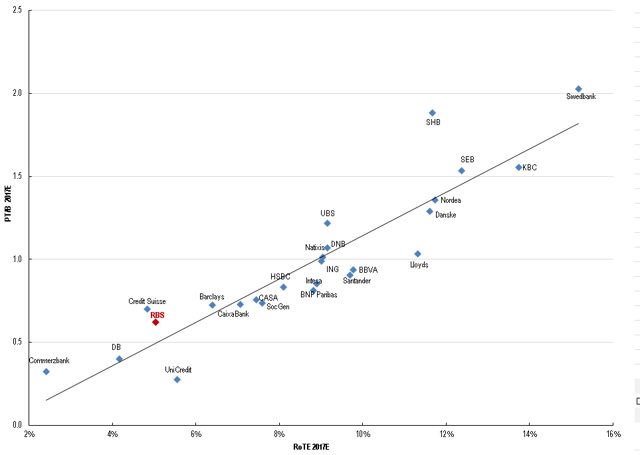 Source: Bloomberg, Renaissance Research
Bottom line
We still view RBS as an attractive long term investment story. Its restructuring program is aimed at transforming the group into a significantly smaller, but high RoE bank with sizeable capital returns. Having said that, good prospects are still outweighed by near-term uncertainty around the W&G disposal and a lack of progress on litigation settlements. We would avoid the stock. Lloyds (NYSE:LYG) is our top-pick in the UK banking space.
As a buy-side analyst and a deputy portfolio manager, I am covering global banks and financials, and largely invest in dividend-focused names. If you are interested in the topic, consider following us by clicking the "Follow" button beside our name at the top of the page. Thank you for reading.
We also invite readers to take a closer look at our recently launched subscription service. Get in-depth fundamental research, stock recommendations, trading ideas, exclusive access to professional databases, sophisticated valuation models and expert commentary on Wall Street recommendation from an award-winning hedge-fund analyst with a proven successful track-record. For more info, please click here.
Disclosure: I am/we are long LYG.
I wrote this article myself, and it expresses my own opinions. I am not receiving compensation for it (other than from Seeking Alpha). I have no business relationship with any company whose stock is mentioned in this article.
Editor's Note: This article discusses one or more securities that do not trade on a major U.S. exchange. Please be aware of the risks associated with these stocks.