I aim to give timely updates of the trends and probable moves in the main markets I follow. To do this I will use Elliott Wave and fractals.
My methods will identify what cycles are most likely and where traders and investors can join or fade trends with good risk v reward.
I won't get every prediction correct, and readers should accept the scenarios presented are only my interpretation and what I see likely at this moment in time.
In this edition I will cover bonds, specifically the iShares 20+ Year Treasury Bond ETF (TLT).
TLT
TLT has fallen hard and fast since Trump's election. Surely everyone knows the story by now.....what we want to know is where will it find support.
To cut a long story short, TLT should find support at $115.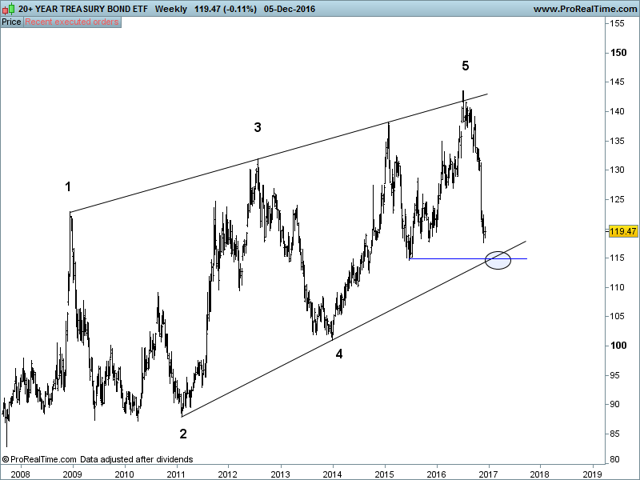 But this move could take weeks, even months.
What shape will the move take on its way down to $115? Lets look at the cycles on the daily chart: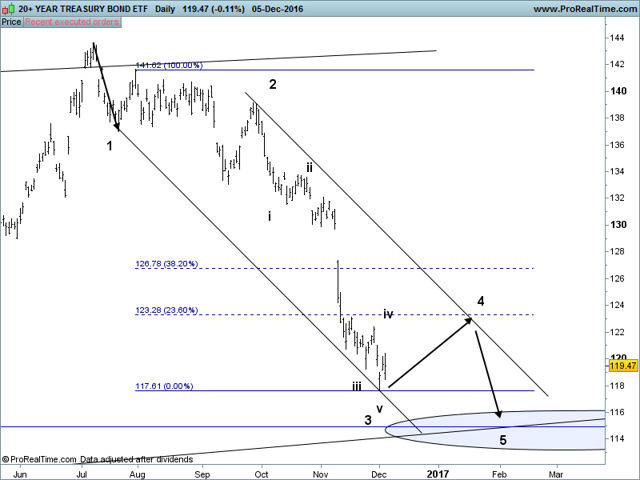 Using Elliott Wave principles, we expect 5 waves down. Wave 3 is usually the strongest and longest and this is quite clear in the chart above. When wave 3 completes, a wave 4 corrects the trend, usually filling the channel and taking price to either the 23.6% or 38.2% Fibonacci retracements. Judging by the strength and size of the move down, I think it's most likely for wave 4 to retrace 23.6%, which comes in around $123.
Wave 5 should then take TLT down to the $115 target highlighted on the first chart.
It is helpful to get to know each market you analyze and trade. How does it trade and behave? Have we seen this type of move before?
TLT hasn't experienced many declines like the current one, but the last major fall in 2013 does have similarities and it can act as a guide: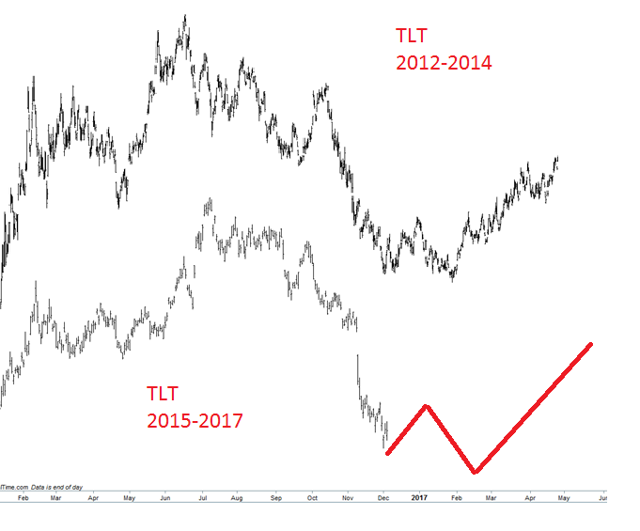 The time axes don't match day for day, but I am trying to get an idea of structure and proportionality and the two declines are fairly well matched in this aspect.
I find it very interesting that the proposed path is more or less what I have already identified as the most likely Elliott Wave cycle; a wave 4 bounce and a new low for wave 5.
Conclusions
The TLT decline has prompted many superlatives from commentators, but it is a pretty standard looking cycle down and similar to a previous fall not so long ago.
Whether the proposed bounce is worth trading depends on each individual's style and timeframe. I am still short from the $140s and will close once I see a bounce and a new low. Depending on how things line up, I may buy $115, but that is still some weeks / months away.
Disclosure: I am/we are short TLT.
I wrote this article myself, and it expresses my own opinions. I am not receiving compensation for it (other than from Seeking Alpha). I have no business relationship with any company whose stock is mentioned in this article.