In this weekly update I am going to present interesting opportunities in the commodity and precious metals sector. Today I am going to take a look at Freeport-McMoRan Inc. (NYSE:FCX).
Freeport-McMoRan Inc., a well diversified premier natural resources company based in Phoenix, Arizona, is the largest publicly traded copper and molybdenum producer in the world. FCX operates mines and asset all over the world and currently has a global workforce of approximately 75,000 members comprised of employees and contractors. Initially the company started as Texas Freeport Sulphur Company in 1912.
FCX's portfolio of metal assets includes one of the world's largest copper and gold deposit: the Grasberg minerals district in Indonesia. As well Freeport-McMoRan is running significant mining operations in the Americas, including the large-scale Morenci minerals district in North America and the Cerro Verde operation in South America. Following the completion of the Deepwater Gulf of Mexico and Onshore California sales, FCX's portfolio of oil and gas assets includes oil and natural gas production onshore in South Louisiana and on the Shelf of the GOM, oil production offshore California and natural gas production from the Madden area in Central Wyoming.
FCX claims to have a strong commitment to safety performance, environmental management and to the local communities. FCX is a founding member of the International Council on Mining and Metals (ICMM) and committed to implementation of the ICMM Sustainable Development Framework.
In 2015 nearly 67% of its revenues came from the sale of copper, 11% were from the sale of petroleum, 10% from the sale of gold, and 5% from the sale of molybdenum. Yet Freeport-McMoRan has been struggling to post profits for the past two years due to sluggish global economic growth, weak commodity prices and wrong bets on oil and gas. Since January 2015 the company's stock is still down 30% in value while the mining giant has added more debt to its balance sheet.
But the recent resurgence in copper, which has seen its largest rally in over 35 years, sent Freeport-McMoRan soaring to multiple new 52-week highs in November 2016. Year to date the stock is up 134% and is sitting close to its recent high at $16.41. The reason for the optimism in copper can be clearly linked to the promises made by president-elect Donald Trump to grow U.S. infrastructure spending.
Trump's proposed infrastructure investments are positive for metal prices. However, if we see trade wars under Trump's administration, global economic activity could be jeopardized and metal prices could come under pressure. Notably, China is the largest consumer of most commodities. China's metal demand could be impacted negatively if Trump acts on his rhetoric against Chinese imports. It remains to be seen if the expected increase in US demand could balance any fall in Chinese metal demand.
Besides the Trump optimism another effect is playing out step by step. Carl Icahn, the famous American business magnate, investor, activist shareholder and philanthropist became the third-largest shareholder in Freeport McMoRan in 2015. He certainly is behind the miner's efforts to cut debt in half by 2018 and explore strategic alternatives as well as to restore its dividend. Initially Icahn sharply criticized the company's management and board for its oil deals (in 2012, Freeport paid $9 billion to buy McMoRan Oil & Gas and Plains Exploration with the plan to build a toehold in the Deepwater Gulf of Mexico). Within just over a month, Freeport had reached a standstill with Icahn by offering the activist two board seats. Now in September 2016 the company announced that it will sell its Deepwater Gulf of Mexico oil assets to Anadarko Petroleum NYSE: APC) . It looks as though Mr. Icahn´s pressure is making Freeport a better company step by step.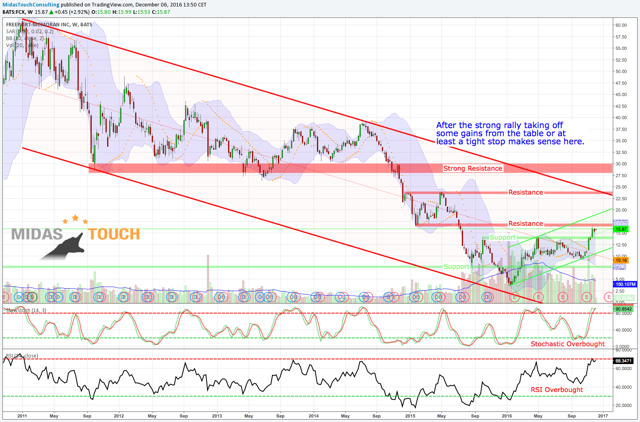 Technically the massive rally since mid of October (up nearly 72%) certainly has improved the picture. At the same time one could argue that the irrational price rally in copper might come to an end for now and could force copper into a retracement or a prolonged sideways period again. Some of the world's larger copper producers are already warning that global copper markets will be oversupplied for at least two more years!
Looking at the weekly chart Freeport-McMoRan Inc. is still caught within its five-year downtrend channel! Now the stock is close to a strong resistance zone around $16.50 - 17.00. With the slow stochastic oscillator being overbought and RSI having reached its overbought zone as well it might be prudent to take off some gains (25-50%) here and wait for a pullback towards $14.00 or even $12.50 to buy again. Should Freeport push through $17.00 the next resistance comes in around $22.50.
I´d be trimming my position here or at least making sure to have a tight stop in place as the stock could easily correct back to its rising 50-day moving average currently at $12.00.
Disclosure: I/we have no positions in any stocks mentioned, and no plans to initiate any positions within the next 72 hours.
I wrote this article myself, and it expresses my own opinions. I am not receiving compensation for it (other than from Seeking Alpha). I have no business relationship with any company whose stock is mentioned in this article.