According to a recent article from Pew Research Center, millennials, whom they define as ages 18-34 in 2015, have surpassed Baby Boomers as the nation's largest living generation.
Millennials, there is so much that makes your generation wonderful and unique. You are the first generation who, on average, haven't known a world without the internet, a medium which has truly revolutionized both life and knowledge. According to another article from Pew, compared to your grandparents' generation you are far more educated, more women than men among you have bachelor's degrees, more women are working, you are twice as likely to have never married, and are much more likely to be racial or ethnic minorities.
At the same time, from a financial standpoint, you haven't exactly had things easy. According to this article from Forbes:
Not only did this generation come of age during a crushing financial crisis, they are also weighed down by more student loan debt than any other generation has ever had.
Given all of this, according to that same Forbes article, many millennials have not expressed much interest in investing; some 80% are not invested in the stock market.
The goal of this article is to help you change that. To help you appreciate, not only that you can begin investing right now, but why you should do so.
Start By Avoiding Financial Mistakes
For the remainder of this article, I am going to speak to a hypothetical 25-year-old, roughly in the middle of the millennial age group. Certainly, your 20s is a time to have fun, explore life, and enjoy a wide variety of enjoyable experiences. It is not my goal to change that. At the same time, you can take small, meaningful steps to ensure your financial future, and you are wise to do so.
Rather than cover ground that I believe has already been wonderfully covered, let me offer you a link to an article from CNN Money that does, in my opinion, a beautiful job of outlining 5 financial mistakes often made by millennials and how you can avoid them. As you might expect, it starts off by explaining the benefits of establishing a pattern of saving while you are still young, as well as the importance of avoiding unnecessary debt.
However, it is the next 3 items on the list that bring you right into my wheelhouse, so to speak. These financial mistakes are identified as:
Buying into Wall Street's 'investing is complicated' mantra.
Overpaying for financial help.
Failing to monitor your progress.
It is in regards to these 3 items, specifically, that I am here to help. Wait! What was that you were saying...?
I'm Busy - Get To the Point
OK, got it. In this first section, I will do just that, I promise.
As you may have gathered from my pseudonym, ETF Monkey, I write about what are known as Exchange-Traded Funds, often referred to as ETFs for short. What in the world are ETFs?
Boiled down as simply as I can word it, ETFs are basically mutual funds that trade like stocks. Perhaps that's all you care to know. Want to know more? Start with this article from my personal blog.
The great thing about ETFs is that they offer you an extremely simple way to build yourself a diversified, low-cost portfolio. In essence, they address the first two 'mistakes' I listed from that CNN Money article; complexity and cost. To compete for your business, ETF providers have come up with many low-cost offerings, and brokerages go a step further by offering commission-free trading in certain ETFs.
So, right now, we are going to take advantage of this to build a great portfolio to get you started in 2017.
To trade ETFs, you have to have a brokerage account. No worries, I've got you covered. The broker I have selected is TD Ameritrade. Oh, by the way, there is no minimum amount required to open an account. So here we go, let's open your TD Ameritrade account.
Next, with whatever amount of funds you have to invest, and taking advantage of commission-free trading, we are going to purchase these seven ETFs, in the percentages specified. Don't worry, TD Ameritrade offers commission-free trading in all 7.
| Symbol | ETF Name | % of Portfolio |
| --- | --- | --- |
| IVV | iShares Core S&P 500 ETF | 20.00% |
| IJH | iShares Core S&P Mid-Cap ETF | 15.00% |
| IJR | iShares Core S&P Small-Cap ETF | 15.00% |
| VEA | Vanguard FTSE Developed Markets ETF | 27.00% |
| VWO | Vanguard FTSE Emerging Markets ETF | 8.00% |
| VNQ | Vanguard REIT ETF | 5.00% |
| AGG | iShares Core U.S. Aggregate Bond ETF | 10.00% |
| TOTAL | | 100.00% |
And that's it! Seriously. I promised I would get to the point.
If you don't read another word of this article, please understand that you have just built a portfolio that encompasses a greatly diversified basket of U.S. stocks in companies of all sizes, foreign stocks from all corners of the globe, bonds, and even a modest investment in real estate via REITS. And here's a little secret. Your annual expense ratio for all of this? Less than 8/100ths of 1 percent.
Oh yeah, one last thing. Remember mistake #3, failing to monitor your progress? Once a year, rebalance the portfolio. If you're not sure what that means, here's a quick primer to help you out.
If you decide to stop reading here, I wish you the best in both life itself and your investing journey!
OK. I Have A Little More Time. What's So Great About That Portfolio?
Glad you asked. Being the clever person I know you are, I half-suspected you might want to know a little more.
Why TD Ameritrade? - First, let's start with that TD Ameritrade account. In point of fact, you could also open an account with brokerages such as Charles Schwab, Fidelity, or Vanguard and accomplish more or less the same thing.
You likely remember what I said earlier about brokerages offering commission-free trading in certain ETFs. Some brokerages offer their own ETFs and therefore, logically, tend to favor these in their commission-free offerings. Further, they may have to negotiate agreements with the ETF providers as to which they can offer free of commissions.
Specifically, the reason I picked TD Ameritrade is that, in my opinion, they offer the most flexible group of commission-free ETFs from two of the best providers in the business; Vanguard and BlackRock's (NYSE:BLK) iShares family. Lest you think that is just my opinion, have a look at this November, 2015 Forbes article on the topic. In a spirit of full disclosure, while there is no minimum to open an account, a $2,000 deposit is required if you wish to have margin and options privileges.
But what about those percentages in the opening table? How did I decide how much to allocate to each of the 7 ETFs? Glad you asked.
Diversification and Asset Allocation - Here are a couple of key concepts to ponder. Let's start with this graphic from Vanguard.

Basically, this says that 88% of your investment returns will be determined by how you allocate your assets, and only 12% will be determined by which stocks you select or any attempts to time the market; in other words buying or selling assets specifically based on whether you think the market will go up or down.
With that in mind, this next graphic is helpful in understanding historical returns, by asset mix, over the 87-year period from 1926 - 2013.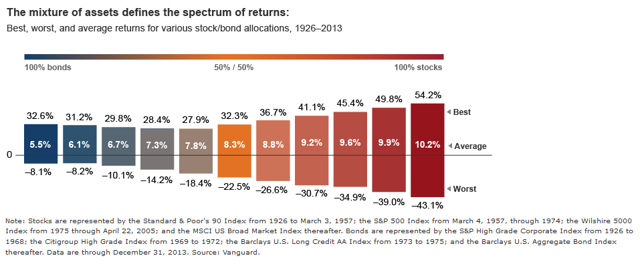 So, just to pick two random numbers, this says that a portfolio comprised of 100% stocks would have, over that 87-year period, returned an average of 10.2% per year. During the best year in that time span, you would have gained an amazing 54.2%. That part sounds pretty good. But look at the other side of the coin. During the worst year your portfolio value would have dropped by 43.1%. In comparison, a portfolio comprised of 50% stocks and 50% bonds would have returned an average of 8.3% per year, with the best year yielding a gain of 32.3% and the worst year a decline of 22.5%.
Clearly, as a relatively young person with a long investment horizon, you can afford to take on more risk than a person who is nearing retirement age (that 43.1% drop could literally devastate their retirement plan if it happened the year before they retired). What, though, is a good allocation for our hypothetical 25-year-old?
For a little professional direction, I turned to the Vanguard Target Retirement 2055 Fund (MUTF:VFFVX). This is managed for the benefit of an individual who hopes to retire at age 65 in the year 2055.
Here's a graphic of the composition of that fund: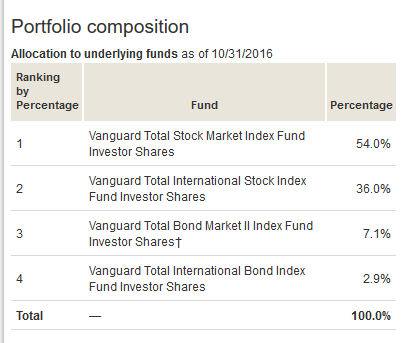 With that in mind, take another look at the table listing the ETFs I selected at the beginning of this article. Here is how it translates:
Domestic Stocks - My 3 selections, IVV, IJH, and IJR, total 50%. This is 4% below the 54% in the Vanguard model. Here is how I got there. Starting with 54%, per this Morningstar Stock Research document I allocated 40%/30%/30% to large, medium and small-cap stocks, or 21.6%/16.2%/16.2%, respectively. However, I then used 1.6%/1.2%/1.2% to create 4 of the 5% I allocate to REITS (more on that later), leaving a final value of 20%/15%/15%.
Foreign Stocks - My 2 selections, VEA and VWO, total 35%, 1% below Vanguard's model. This is the final 1% used to create my allocation to REITS.
REITS - This asset class is represented by VNQ. It is here that I introduce a slight modification of the Vanguard model. The acronym REIT stands for Real Estate Investment Trust. As noted above, I "borrowed" 4% from U.S. stocks and 1% from foreign stocks to create a 5% allocation to this asset class. If you want to know a little more about REITs, and why I believe they deserve a place in your portfolio, I discuss it all in detail in this article. For now, suffice it to say that it introduces some exposure to real estate in your portfolio. This asset class also tends to pay generous dividends, which will generate some cash you can later use to add to any asset class you desire.
Bonds - This asset class is represented by AGG. Bonds are not the most exciting asset class, especially for a younger person. But you may note that Vanguard still includes a modest 10% allocation to these in their asset allocation model. This is because bonds can both help to reduce the overall volatility of your portfolio (remember the stats on a portfolio containing 100% stocks vs. 50% stocks / 50% bonds?) as well as generate a little consistent income for you to reinvest.
Summary and Conclusion
I wanted to get this article out in plenty of time such that, if you wanted to make this one of your New Year's Resolutions for 2017, you would have time to do so.
I also have some further exciting news to share. Rather than leaving this purely as a conceptual article, similar to what I have done previously with The ETF Monkey Vanguard Core Portfolio and the three implementations of The ETF Monkey 2016 Model Portfolio, I am actually going to build a hypothetical version of this portfolio using Google Finance to track the results moving forward. I will do this with an opening balance of $100,000, and based on closing prices for the 7 ETFs on Friday December 30, 2015. I will report on this in a follow-up article.
In that article, I will also offer a little further detail regarding the 7 ETFs themselves, and why I chose these specific ETFs for the portfolio. I look forward to having that ready for you not too long after the beginning of the year.
Until next time, I wish you...
Happy investing!
Author's note: At the top of this article, next to my name, you will see a "Follow" button. If you like my work, I would be profoundly grateful if you would take a minute to do this, as well as feature my work to friends, colleagues and/or relatives who may be interested in the subject matter. Growing one's readership base is critical to any author and I am no exception. Your support will enable me to continue my efforts.
Disclosure: I am/we are long AGG, VNQ, VWO.
I wrote this article myself, and it expresses my own opinions. I am not receiving compensation for it (other than from Seeking Alpha). I have no business relationship with any company whose stock is mentioned in this article.
Additional disclosure: I am not a registered investment advisor or broker/dealer. Readers are advised that the material contained herein should be used solely for informational purposes, and to consult with their personal tax or financial advisors as to its applicability to their circumstances. Investing involves risk, including the loss of principal.