I've been researching water stocks all over the world for a long time. In this article, I will discuss the impact of changes in the political landscape for all the water equity stocks and ETFs I've covered over the last 1.5 years on Seeking Alpha. Much has changed with Brexit in the UK as well as Trump in the US.
The beginning: Why Is Water Interesting?
I believe water is an incredibly interesting investment theme based on reasons such as water scarcity, large population, droughts, wasting water and more. This could be achieved through physical investment (through land or rights), as well as through stocks or even through an intermediary.
The actual use of water has grown at a nearly double rate in contrast to population growth. And many believe that this sort of growth is not sustainable. This problem goes hand in hand with wasting water. Due to these particular characteristics, I'm expecting water utility firms to yield very interesting risk/reward perspective for all sorts of investors.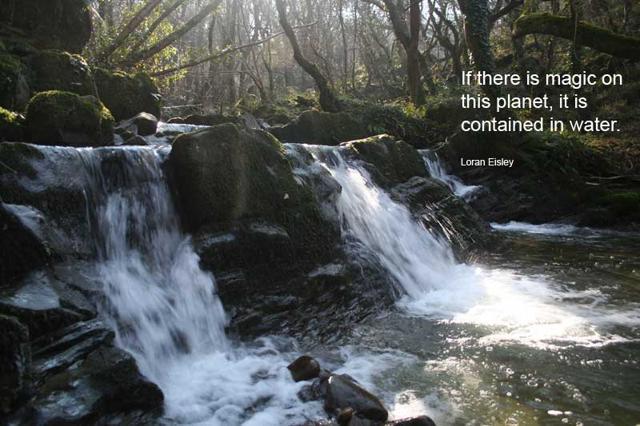 Either way, water is the circle of life and apparently, a lot of people on this planet are lacking it. And it's very unlikely that the water issues are being solved any time soon. We can live without an iPhone, but we can't without water.
Many well-known investors have a similar interest in this theme, for example, Michael Burry, from the financial movie 'The Big Short':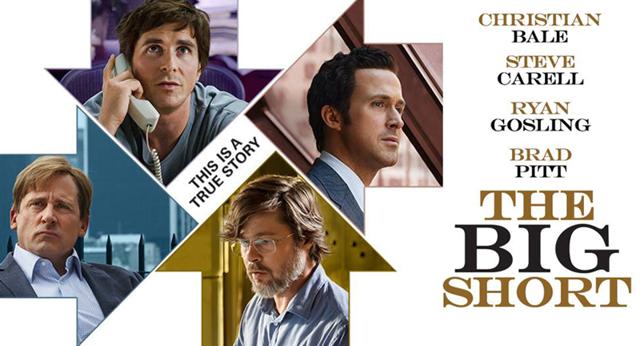 So far, I've written 13 specific water-related investment articles on Seeking Alpha. The idea is to cover water utilities all over the world. This as politics, population, location and environment are all important factors when it comes to the potential of a water utility firm. So far, I've mostly covered the large-cap water utilities as well as ETFs.
The previous parts are the following:
| | | | |
| --- | --- | --- | --- |
| Article Nr. | Country of Coverage | Firm | Links |
| 13 | England | Pennon Group OTCPK:PEGRY | |
| 12 | Brazil | SABESP SBS | |
| 11 | USA | American Water Works AWK | |
| 10 | United Kingdom | Severn Trent OTCPK:STRNY, United Utilities OTCPK:UUGRY | |
| 9 | (Article about hedging a water portfolio) | N/A | |
| 8 | Japan | Kurita Water Industries OTCPK:KTWIF | |
| 7 | France | Suez OTCPK:SZEVY | |
| 6 | France | Veolia OTCPK:VEOEY | |
| 5 | USA | American Water Works | |
| 4 | (ETF comparison article) | | |
| 3 | (ETF article) | PIO | |
| 2 | (ETF article) | FIW | |
| 1 | (ETF article) | PHO | |
It has been more than a year since I've done my first article in this particular topic and it's time to do a proper yearly review of all the water stocks I've covered. This is needed as the political landscape in the Western World is about to change significantly. I believe this will impact the water industry.
In this article, I will cover the performance year to date as well as all the uncertainties regarding the water industry investors should be aware of going into 2017.
The performance of water utilities in 2016
I first look at the investable water listed equities I've covered on Seeking Alpha in comparison to the S&P 500. These are United Utilities, Severn Trent, Pennon Group, American Water Works, Kurita Water Industries, Suez and Veolia Environment: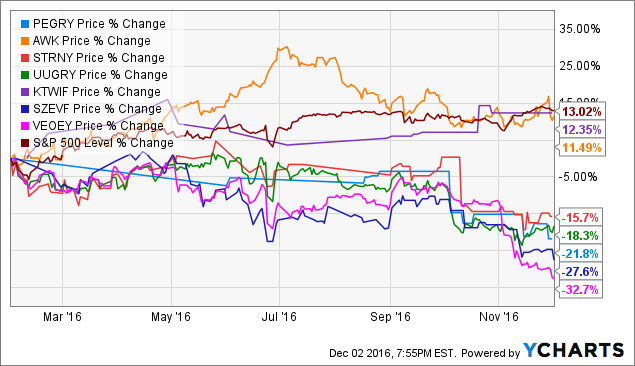 The overall performance has been poor. The S&P 500 was actually able to outperform all these listed water utility stocks. One firm which is still pending on my list is California Water Service (NYSE:CWT). This firm has actually outperformed the S&P 500 year to date: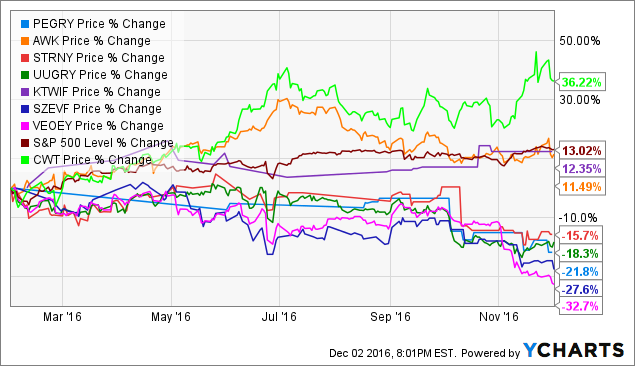 My next article in this series will focus on CWT, especially as it hasn't seen much attention from other authors in 2016 on Seeking Alpha.
The another comparison I look at is performance of ETFs in contrast to the market. Specifically FIW, PIO, PHO and CGW: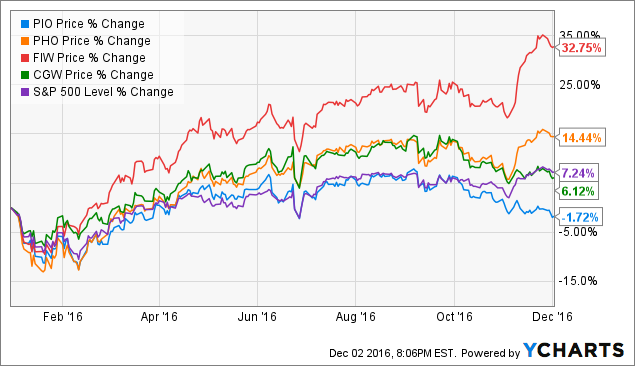 It is clear that the difference is significant and it clarifies an important point when it comes to investment in a utility sector which is heavily steered by politicians, policies and external variables such as drought, for example. This makes a single investment in a water utility a high risk/reward profile, while ETFs offer a much less volatile picture. ETFs are less volatile as they are driven by a basket of stocks, if a single equity loses a lot of value, the firm which holds this stock lost everything while the ETF holder only sees a partial loss. Furthermore, the ETF also holds stocks, which are not direct water utilities, but holds firms who produce toilets, for example. The water aspect here is that these firms focus on more water efficient toilets, or more water efficient showers (like Geberit (OTCPK:GBERY)).
The cannon balls which will impact the Water Industry in 2017
As I've covered in many of my earlier articles, water utilities often suffer from regulation by the government. In some cases, this can cap potential, for example, with SABESP, or if regulated properly open opportunities, such as in England.
The advantage of most of the firms I've covered is that they only cover a particular part of a country, like a county or a province.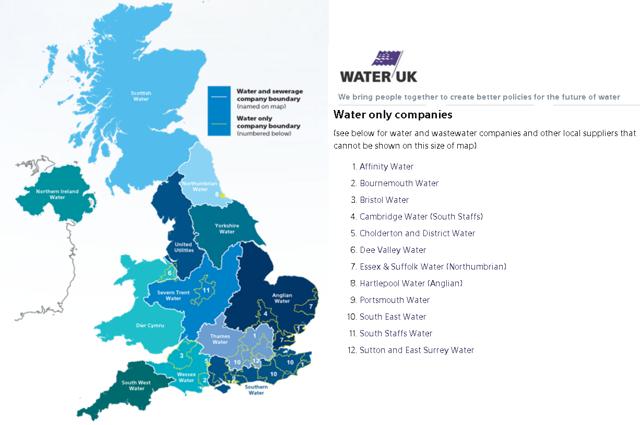 (Source: Water UK)
Unfortunately, if the political majority in a country shifts, the overall outlook can literally change overnight. Two of these shifts have happened, Brexit and Trump. Let's investigate the impact of both on water utilities. I haven't seen any article yet which covers both.
Brexit & The Water Industry
As the United Kingdom is leaving the European Union, there is a potential chance of EU directives not having an impact of UK water policies. One of these directives is the Water Framework Directive, for example, an EU directive committing EU states on preserving and maintaining high levels of water quality:

(Source: The Water Report)
The main issue, and this is a big one, is that particular useful knowledge in the water industry is very hard to come by and definitely not abundantly available. From importing certain water purifying products from France for example, as well as bringing in services from The Netherlands (a country known for its expertise in water), as well as bringing in skilled employees from both countries. All three, goods, products and services, will suffer a setback when Brexit starts to unfold. Goods will see a tariff; services from foreign companies could be more costly as the government can favor internal firms as well as the freedom of employment where British firms will have to pay for a work visa. So much for capitalism…
The other issue would be, now it's not centralized anymore, that the British government can derail previously driven water quality programmes in favour of economic growth. This is not very likely, but Trump in the US already is willing to drop the environmental strain and focus more on economic growth (with the help of fossil fuels for example).
Many water firms in the UK urged the government not to weaken environmental regulations relating to water and wastewater and to ensure that the UK does not fall behind European standards of water quality and sanitation.
And let's not forget funding, as EU funding will stop flowing in the UK. It is very questionable whether or not the UK will provide similar, less or more funding for water-related infrastructure investments. The other side is also true, funding for water utility firms in the UK will be more difficult as they can't freely tap in the same pool of financiers anymore. Only the UK banks will be directly available.
Trump and the water industry in the US
This is far easier in contrast to the impact of Brexit on British firms, as Trump is incredibly vocal about his thoughts and future plans. I mentioned before, water issues are incredibly difficult to understand and definitely not a topic which has an abundant coverage of skilled employed people as well as politicians who have an excellent understanding of these issues. In America, it specifically seems a lacking of the latter, qualified politicians who make important votes on water policies.
When Trump visited California (ridded with droughts for a long time now) he had the following to say:
And technically, he could be right as water in California is all about allocation issues which are mostly related to water policies. Policies bluntly relate to politicians who lack oversight on how to apply water policies correctly. In a broader context, EPA, the US federal agency responsible for protecting and improving water quality (for example) is most likely going to get hit by Trump as his force will be most likely a storm of de-regulation when he gets in the office.
I believe deregulation in the US will get hit quite hard and is going to get abused, but I don't necessarily believe this to be of good impact for consumers or customers from a water quality perspective (a good example would be Chris Christie vetoing a bill in Flint, USA in the midst of a lead water poisoning crisis). Critics say he did this to keep maintaining his budget. I feel that in a deregulated world, money is more important over health. That is not a good development.
The other issues I've mentioned regarding the impact of Brexit on UK utilities are very similar to the ones from the US. The main difference is that in the US, deregulation will happen more quickly and less strict than in the UK. This is likely going to impact water businesses (not consumers) positively in the US while in the UK, uncertainty might remain.
Unfortunately, the progress earlier made on improving quality might diminish in speed due to this political thunderstorm across the Western world. This is a loss for everyone, as good quality of water should be a life standard for all people.
Conclusion
It's easy to see why certain individual cherry picks in the water industry have suffered as they are very prone to external shocks. A change in the political landscape is such a shock. I believe with this political uncertainty, it's likely that EU-related water utilities are most likely going to suffer from this uncertainty in 2017. For example, water firms have to do proper budget planning, this uncertainty caps that potential of looking ahead. On the other hand, the US is becoming very interesting with Trump in the office as his deregulation is going to open doors for business. Where Brexit is vague, Trump is like a wrecking ball. You know which direction he will aim eventually. Hence I favor US water firms over European water firms.
For anyone having a particular interest in the water industry, have a look at the World Water Tech Innovation Summit in 2017, February hosted in London. Water is all about knowledge.
Disclaimer: This article provides opinions and information, but does not contain recommendations or personal investment advice to any specific person for any particular purpose. To the best of my knowledge, all information in this article is accurate, reliable, and has been obtained from public sources. Do your own research or obtain suitable personal advice. You are responsible for your own investment decisions. This information is not a recommendation or solicitation to buy or sell securities, nor am I a registered investment advisor.
Disclosure: I/we have no positions in any stocks mentioned, and no plans to initiate any positions within the next 72 hours.
I wrote this article myself, and it expresses my own opinions. I am not receiving compensation for it (other than from Seeking Alpha). I have no business relationship with any company whose stock is mentioned in this article.
Editor's Note: This article discusses one or more securities that do not trade on a major U.S. exchange. Please be aware of the risks associated with these stocks.