Ebix, Inc. (NASDAQ: EBIX) has been able to consistently beat revenue and EPS estimates. The company has achieved a 3-year average growth rate of 8.20% per year compared to the industry median of 6.80%. No doubt that earnings drive share prices up and Ebix share price rise from $16 per share in 2014 to the current share price of $59 per share. On top of that, Ebix has an impressive consistent operating margin of 32% to 34%, which has shown the management ability to effectively control operating expenses. Although the stock is currently trading at P/E of 21.3 which may seem fairly high, it is actually considered reasonably low if you compare to the industry average P/E of 67.8. Also, I will be sharing my analysis of the company's future growth initiatives and acquisition plans which are likely to justify a higher P/E ratio for Ebix.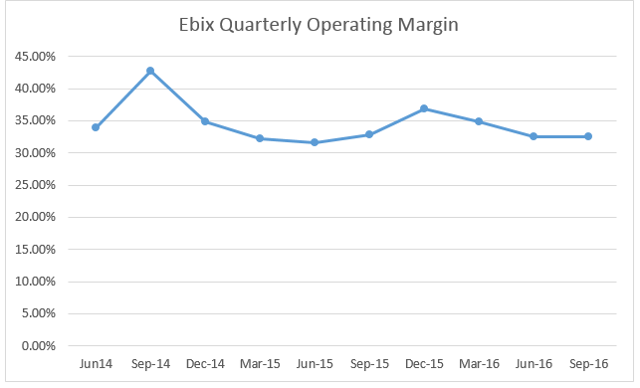 Source: Gurufocus
Growth Initiatives
There are tremendous growth opportunities for Ebix in 2017. Ebix has managed to find new contracts in every facet of their business, although no formal announcement has been released. According to the Q3 earnings transcript, Ebix has decided to exercise 51% controlling interest of Ebix Health Administration Exchange (EHAE), a joint venture with Independence Holding Company (NYSE: IHC). EHAE is an exchange to process insurance claims on behalf of various carriers, which has generated revenue growth of 12% and is likely to continue generating profitability in 2017 due to the increased in controlling interest. The European division has shown an impressive 156% year-over-year revenue growth due to the PPL insurance underwriting exchange platform. On top of that, according to the Q2 earnings transcript, Ebix mentioned a potential new exchange initiative in the area of automated accounting reconciliation where the company has successfully deployed the solution across one of the largest brokers in London. Ebix plans to pursue this initiative upon the successful launch of the BPL initiative in London. I hope that there will be news on this initiative relatively soon because it definitely has a positive impact on revenue.
The India division has shown 295% year-over-year revenue growth in the area of e-governance. Ebix is an established key player in the area of e-governance and they are currently in the midst of many large-sized deals in this area. Other initiatives include cost rationalization exercise to reduce expenses of approximately $1.5 million per quarter beginning in Q1 2017. With the reduced expenses, operating margin and net income will increase resulting in more cash available to further grow their company or increase shareholder value via dividend payment and share buybacks.
Acquisition
Other than growth opportunities, Ebix has also made acquisition part of their business strategy. In this industry, company size does affect the company's branding. Acquisitions allow the company to boost their revenue per customer by expanding the range of services offered. By increasing the number of customers, the company can leverage on fixed cost infrastructure to lower unit costs and thus achieve higher profitability. Investors are usually more cautious when analyzing a company that has an acquisition strategy in place. This is because acquisition often leads to 'diworsification' (a term coined by Peter Lynch, referring to the practice of managers buying up bad companies) and according to Harvard Business Review, more than 60% of acquisition deals destroy shareholder value.
Ebix has been highly disciplined and selective in how they approach an acquisition target. Looking at an acquisition target for a worst case scenario first and ensure that there is no big risk clearly shows that the management's is very conservative towards acquisition. Moreover, the company also prefers to use cash for acquisition instead of debt unless there is insufficient cash. They do not intend to use the company's stock for acquisition unless it is very strategically and important for them to do so. The company understands that it only takes just one bad acquisition to derail the success of the company. Looking forward, Ebix has short and long-term plans for acquisition, but no announcement has been released yet.
Conclusion
Ebix is a well-managed company with solid fundamentals and tremendous growth opportunities. The management gives shareholders a clear outlook of the company such as the potential growth initiatives that the company is looking at. The short interest of this company has also been declining due to the impressive performance of the company which gives investors more confidence to invest in this stock. Lastly, I would expect to see continued revenue growth in Ebix and announcement of potential new deals.
Disclosure: I/we have no positions in any stocks mentioned, and no plans to initiate any positions within the next 72 hours.
I wrote this article myself, and it expresses my own opinions. I am not receiving compensation for it (other than from Seeking Alpha). I have no business relationship with any company whose stock is mentioned in this article.