Nektar Therapeutics (NASDAQ:NKTR) has two commercial products, movantik and adynovate, partnered with AstraZeneca (NYSE:AZN) and Baxter (NYSE:BAX) respectively, 5 partnered drug candidates in advanced stages of clinical trial, and these two groups together could potentially generate $750mn in royalty income. Moreover, it has three drug candidates in various clinical stages whose US rights are held by the company. Multiple catalysts are upcoming in the next 6 months. Nektar's PEGylation and polymer conjugate drug platforms are leading technologies in the field, with multiple licensing deals. In the last fifteen years, mot PEGylated drugs that were approved used Nektar's technology. The company just did a secondary offering, raising $190mn, which takes further dilution off the table. All these put together make investing in NKTR a solid opportunity right now.
Technology platform
Nektar's technology platforms are PEGylation and advanced polymer conjugate technology. The aim is to develop new molecules out of existing small molecule drugs, peptides and protein biologics, through these two technologies, targeting known mechanisms of action in diverse areas including oncology, pain, anti-infectives, and immunology. The aim of adding polymer architecture to existing drug molecules is to improve "metabolism, distribution, pharmacokinetics, pharmacodynamics, half-life and/or bioavailability of drugs."
Nektar is a leader in the PEGylation field, and nearly all PEGylated drugs approved in the last 15 years were developed (by various large pharma) through licensing Nektar's technology. For example, Amgen's Neulasta ® (pegfilgrastim) and Roche's PEGASYS ® (PEG-interferon alfa-2a) were both developed in this manner. The key USP of Nektar is its development of a second generation PEGylation technology which takes away some of the limitations of the first generation. These limitations are its inability to work well with small molecules, poor bioavailability and bioactivity, no oral drugs, and a general inability to fine tune drug properties.
One of Nektar's key achievements is in controlling transport of small molecules across the blood-brain and other membrane barriers in the body. For example, movantik is an oral, peripherally acting opioid that does not cross the blood-brain barrier and affect the brain, thereby reducing opioid-dependency. Movantik is approved in the US and EU. NKTR-181, in phase 3 trial, is another analgesic that has limited transduction across the blood-brain barrier.
Using its releasable polymer conjugate technology platform, Nektar is developing pro-drug versions of small molecules to optimize pharmacokinetics and pharmacodynamics, increasing efficacy, but mainly reducing unacceptable side effects. This approach is being used with NKTR-102, a next-generation topoisomerase I-inhibitor in Phase 3 trial for metastatic breast cancer.
Nektar also has expertise in large molecule polymer conjugates, in proteins and peptides, and as pro-drugs in cytokines. Baxalta's adynovate is an example of the former, while NKTR-214, a CD122 targeting cytokine in phase 3 trial, is an example of the latter. Nektar also has expertise in antibody fragmented polymer conjugates, where its technology has developed Cimzia in partnership with UCB Pharma, approved for the treatment of Crohn's Disease, psoriatic arthritis and ankylosing spondylitis in the U.S. and rheumatoid arthritis in the U.S. and EU. Below is a list of its various programs.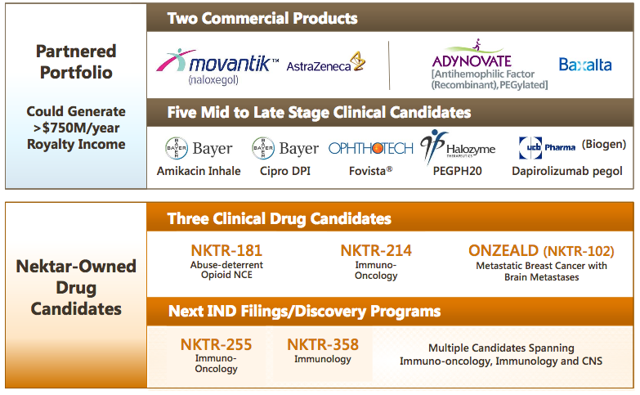 Source - Jefferies Presentation
Partnered programs
Movantik was Nektar's first approval for a proprietary drug candidate, although its licensed technology has been successfully used earlier. Co-partnered with AstraZeneca, movantik is an oral peripherally-acting mu-opioid antagonist (PAMORA), approved in both the U.S. and Europe for the treatment of opioid-induced constipation, or OIC, a common side effect caused by chronic administration of prescription opioid pain medicines. The drug was developed using Nektar's proprietary small molecule polymer conjugate technology, advanced to proof-of-concept phase 2 trial, and then handed over to AZN. Its 2014 launch resulted in a $100 million milestone payment, and next year, an additional $40 million payment for commercialization in Germany. Movantik is covered by a number of patents extending to 2032.
Nektar's next approved drug was adynovate, co-developed with Baxalta, with which it has a partnership agreement to develop PEGylated small molecules in hemophilia. Adynovate is an extended half-life recombinant factor VIII (rFVIII) treatment for Hemophilia A based on ADVATE ® [Antihemophilic Factor (Recombinant)]. It is approved for patients of all age groups, in the US, EU, Japan, Canada and Switzerland (under regulatory review in some countries). Patent coverage is to 2024. Nektar claims additional coverage extension is possible.
Besides these two approved drugs, Nektar has a number of advanced clinical stage collaborations.
Nektar collaborates with Bayer to develop BAY41-6551 (Amikacin Inhale, an inhaled antibiotic). Bayer has an SPA for amikacin in a phase 3 trial targeting Gram-negative pneumonia. It has a collaboration with Ophthotech for Fovista®, an anti-platelet-derived growth factor (anti-PDGF) agent , currently in Phase 3 development for the treatment of wet age-related macular degeneration, or wet AMD. It has a broad collaboration for PEG-PH20 with Halozyme (NASDAQ:HALO) for pancreatic cancer; the drug is in phase 3.
Nektar has a license, manufacturing and supply agreement with UCB Pharma for dapirolizumab pegol, targeting a number of autoimmune diseases such as systemic lupus erythematosus. Besides this, Nektar has licensing and other collaborations with Amgen, Allergan, Merck, Pfizer, and Roche. So far, 10 PEGylation products using Nektar's technology has been approved in the US or EU, and many more are in developmental collaborations. One of these is Cipro DPI targeting non-cystic fibrosis bronchiectasis, which is in two phase 3 trials under Bayer.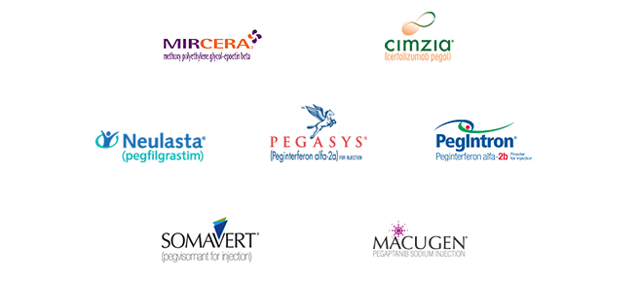 Owned drug candidates
Nektar has three completely owned clinical stage drug candidates.
Of these, NKTR-181 is in phase 3 targeting chronic pain. It is a novel mu-opioid analgesic small molecule. A midstage analysis shows that the study is progressing satisfactorily. The chronic pain market is over $20bn globally, while the opioid segment is roughly $12bn. The main problems are abuse and addiction, because the opioid gives a so-called euphoric "high" to users. NKTR-181 reduces this high by slowing down the rate of CNS adsorption. In studies comparing it to oxycodone, a widely used opioid, the drug was shown to have significantly lower "drug high" ratings than oxycodone, by a factor of 4.
NKTR-102 or ONZEALD is in a phase 3 trial targeting Metastatic Breast Cancer with Brain Metastases. It is a topo-I inhibitor that targets the DNA replication process causing tumor cell death. Last year, topline data from a phase 3 study showed a 2.1 month improvement in median OS over a control arm of a single chemo agent in 852 patients. In some sub groups, it doubled overall survival. ONZEALD has a recent rights agreement for EU with Daiichi Sankyo. Under the terms of the deal, Nektar will receive an upfront payment of $20M, up to $60M in milestones and double-digit (20%) royalties on net sales in Europe. MAA is to be filed, and its confirmatory trial data is to be used to file an NDA.
NKTR-214, an immuno-oncology drug candidate, is in phase 1/2 targeting forms of solid tumor. Recently, the company announced a collaboration with Bristol-Myers Squibb (NYSE:BMY) to explore a combo of NKTR-214 and Opdivo in five tumor types (melanoma, kidney, colorectal, bladder and non-small cell lung cancer) and seven potential indications. An initial dose-escalation trial is underway.
Catalysts
Here's a list of upcoming catalysts, sourced from the Jefferies presentation.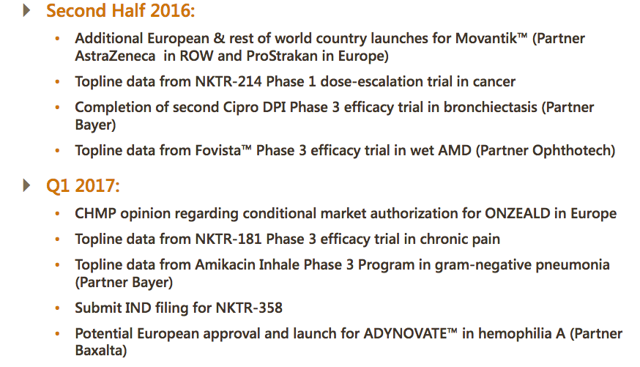 Financials
From the company's latest 10-Q:
As of June 30, 2016, we estimated that we had at least twelve months of working capital to fund our current business plans. At June 30, 2016, we had approximately $274.9 million in cash and investments in marketable securities. Also, as of June 30, 2016, we had $256.4 million in debt, including $250.0 million in principal of senior secured notes and $6.4 million of capital lease obligations.
Following this, the company raised $190 million through a secondary offering, which will be adequate to fund operations in the near to mid term. Meanwhile, a number of milestone payments will be due to the company, which effectively takes dilution off the table. The company also had $32 million in revenues for the three months ending in June 2016, a 45% increase from the same period previous quarter.
Bottomline
Nektar is a research-heavy company with an exciting, cutting edge drug platform that has been widely licensed by leading drug companies to develop and market important drugs. The company has a strong balance sheet, numerous collaborations in the offing with potential for royalty generation, and a number of upcoming catalysts. This is a strong buying opportunity given the sharp decline in the overall sector which has tremendously undervalued a lot of great stocks.
Disclosure: I am/we are long NKTR.
I wrote this article myself, and it expresses my own opinions. I am not receiving compensation for it (other than from Seeking Alpha). I have no business relationship with any company whose stock is mentioned in this article.