REIT Rankings Overview
In our "REIT Rankings" series, we introduce readers to one of the thirteen REIT sectors. We rank REITs within the sectors based on both common and unique valuation metrics, presenting investors with numerous options that fit their own investing style and risk/return objectives. We update these rankings every quarter with new developments for existing readers.
We encourage readers to follow our Seeking Alpha page (click "Follow" at the top) to continue to stay up to date on our REIT rankings, weekly recaps, and analysis on the REIT and broader real estate sector.
Apartment Sector Overview
One of the four "major" REIT sectors, apartment REITs comprise roughly 15% of the REIT Indexes (NYSEARCA:IYR) and (NYSEARCA:VNQ). Within our market value-weighted apartment index, we track the seven largest REITs within the sector, which account for nearly $100 billion in market value and 500,000 total housing units: Apartment Investment (NYSE:AIV), AvalonBay (NYSE:AVB), Camden (NYSE:CPT), Equity Residential (NYSE:EQR), Essex (NYSE:ESS), Mid-America (NYSE:MAA), and UDR, Inc (NYSE:UDR).

Since our last update, MAA acquired fellow sunbelt apartment REIT owner Post Properties in an all-stock deal for roughly $4 billion to form the largest apartment REIT by number of units. The "quality focus" of MAA was significantly improved by the transaction. We believe the deal was a win-win for PPS and MAA for reasons we will detail throughout this piece.
Before we analyze recent developments in the apartment sector, we think it's important to provide a brief overview. Out of the 120 million housing units in the United States, about one-fourth (26 million) are multifamily apartment units. Apartment ownership is highly fragmented and REITs own just a tiny 2% sliver of this massive asset class.
The story of apartment REITs over the past decade can be summarized in the four charts below. The post-recession period between 2010 and 2014 saw very little new supply of multifamily units (or single family housing units) at a time when rental demand was growing quickly. A number of factors have changed over the last decade to significantly increase the propensity to rent. A large mini-generation born between 1985-1995 entered peak-renting-age, social and economic forces pulled people towards major metropolitan cities, while stagnant income growth and increasing student debt levels have made saving for the purchase of a home out of reach for many would-be buyers.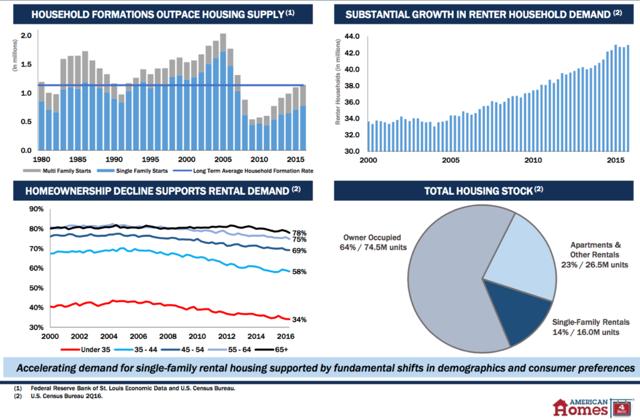 A central focus of our research is on the supply and demand dynamics of each particular real estate sector as we believe that investors and analyst tend to overlook the commodity-like nature of the usable space market, of which REITs are a primary supplier. Perhaps more than any other REIT sector, the underlying health of the apartment market is an immediate reflection of the balance of supply and demand, which drives occupancy and effective rent growth.

Since 2014, multifamily construction has surged off these low levels and has returned to pre-recession levels. Permitting data suggests that construction will remain elevated through mid to late 2017, but there are signs that new supply growth should moderate. Data published by Axiometrics highlights the immediate effect of the new supply coming online.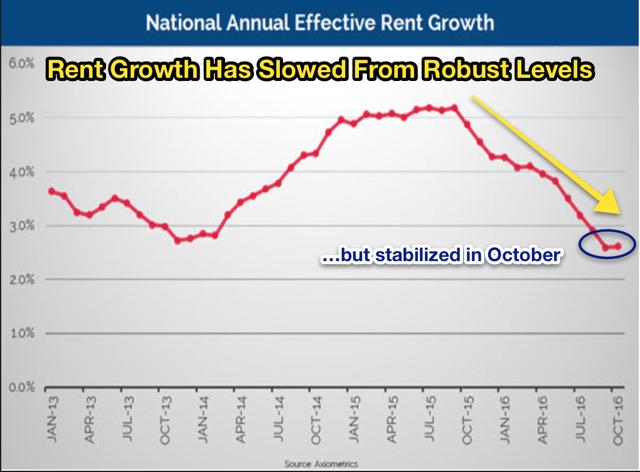 Based on a quarterly survey by the National Multifamily Housing Council, apartment owners are seeing rental conditions as more "loose" than any time since the end of the recession. Loose conditions lead to lower rents, more concessions (like free months of rent), and higher vacancy. On the positive, though, financing conditions are quickly tightening for new projects. Interest rates have risen considerably since this survey, which should further tighten debt financing availability.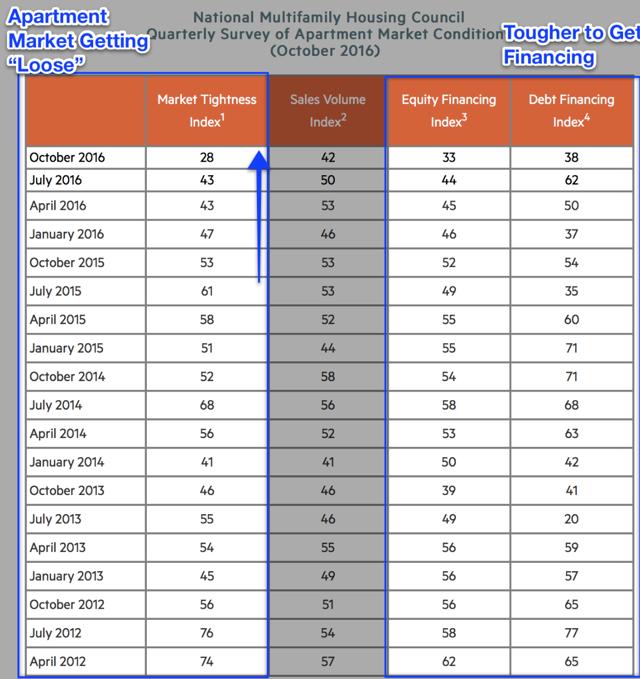 It's important to keep this "surge" in context. Housing supply growth is still at very low levels based on historical averages. During the single family construction boom, total housing supply growth reached 2% of existing housing stock per year.
The US population grew at 0.77% in 2015. Currently, gross supply growth is roughly 1% of existing stock per year, and the net supply growth is closer to 0.7%. (Roughly 300,000 housing units become obsolete or are destroyed each year).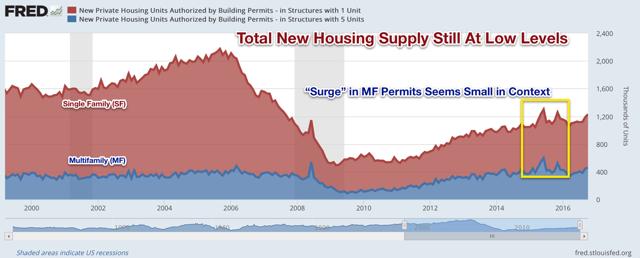 Recent Developments and Performance
Apartment REITs have declined 4% over the past 13-week quarter and are down 10% from their recent highs as concerns of oversupply in key markets (NYC, SF, and LA) have intensified.

This year's performance has been a stark reversal from the 50%+ combined rise in 2014 and 2015. Rising interest rates account for some of the underperformance, as apartment REITs are the sixth most interest-rate-sensitive REIT sector. Unfortunately, apartments did not really participate on the upside as interest rates fell through the first half of 2016, but did participate on the downside as rates have risen considerably since August.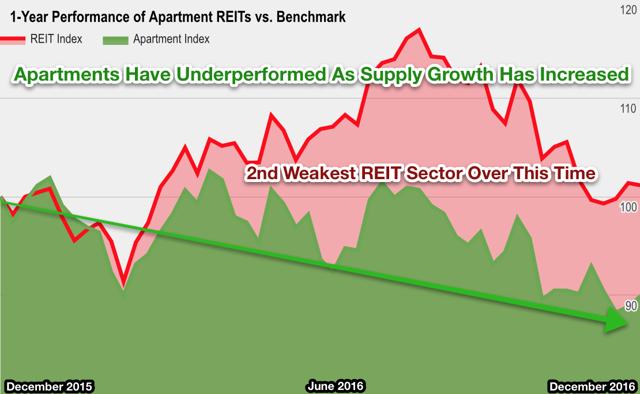 Q3 earnings were generally quite good. Of the seven apartment REITs, 3 beat expectations (ESS, PPS, CPT), 3 met expectations (EQR, AVB, UDR), and 1 missed expectations . 2016 and 2017 guidance was generally positive as well. Four raised guidance (AIV, CPT, ESS, UDR), one maintained , and one cut .
Supply continued to be the primary focus on conference calls, particularly for costal and west-coast REITs: AVB, EQR, and ESS. Rent growth, especially in the luxury segment, continues to slow as supply has increased significantly in costal markets. REITs own a disproportionate amount of high-end units relative to the national average. The average monthly rent per unit across all seven REITs exceeds $2,000, up from $1,250 in Q3 2011.
As a whole, the apartment REIT sector is trading at a 10% discount to Net Asset Value with higher discounts being applied to the costal REITs, which are struggling to maintain rent at peak levels. The general sentiment is that rent growth in the lower end may finally begin to outperform the higher end. This would benefit the REITs with an "average" quality focus: AIV, CPT, MAA, and UDR. These non-costal REITs have outperformed this year as a result, and we expect this trend to continue.
The stunning US election results may have changed the dynamics a bit, particularly for New York City, which is expected to see increased business activity as a result of regulatory reform in the financial sector. Tax cuts, particularly for higher-income earners, could blunt the near-term impact of oversupply. There is some concern over the immigration policies of the Trump administration and how that may affect net population growth in the United States. Tougher immigration policies would be expected to slow down net migration, all else equal. Of course, a stronger economy relative to neighboring countries would also encourage increased legal immigration, so the net effect is difficult to predict.
It is too early to speculate on the long-term implications of modifications to the tax code, but we will say that if there are significant changes to housing-related policies such as the home mortgage deduction, this could incrementally benefit apartment owners. We think this would be quite unpopular and politically unappealing, and don't expect to see changes that significantly alter the economics of renting versus owning.
Below is our REIT Heat Map, showing the quarterly performance in relation to other sectors. Apartment REITs have outperformed the broader REIT index over the prior quarter, but have still declined 4%. We also highlight the strength in the commercial construction ETF (NYSEARCA:PKB) and the fact that apartment REITs have outperformed the Residential REIT ETF (NYSEARCA:REZ) which also holds self-storage, student housing, and single family rental REITs.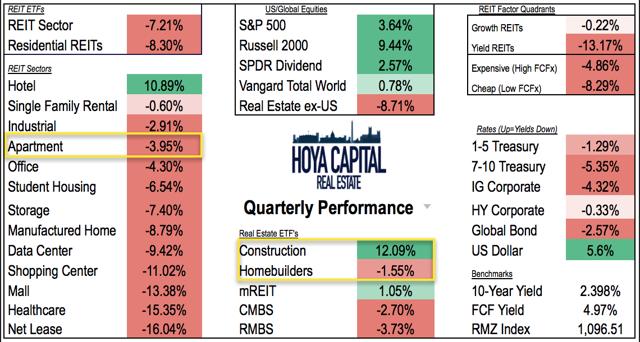 Valuation of Apartment REITs
Compared to the twelve other REIT sectors, apartment REITs appear either fairly valued or expensive depending on one's preferred valuation metric.
Apartment REITs are the seventh cheapest sector based on current Free Cash Flows and the fifth cheapest sector based on forward 2017 FCF. The apartment sector has gotten cheaper since our last update when the sector traded at 23x current and 22x forward FCF.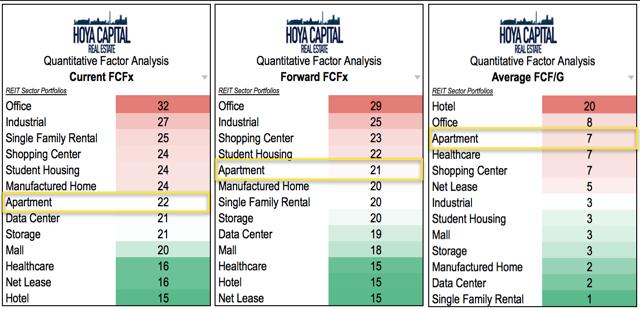 (Hoya Capital Real Estate estimates, Company Filings)
When we factor in two-year growth expectations, the sector appears slightly less attractive. We use a modified PEG ratio, using the forward FCF multiple divided by the expected 2-year growth rate which we call FCFG. Based on FCFG, apartment REITs are the third most expensive REIT sector. Expected to grow FCF at roughly 5% over the next two years, apartment REITs are among the slowest growing REIT sectors, below the REIT average of 7%.
Within the sector, MAA appears to be the most attractive across the three metrics, followed by AVB. For investors seeking growth, ESS and AIV are the other names with high single-digit growth expectations, giving them best-in-class FCFG multiples.

Dividend Yield and Payout Ratio
Based on dividend yield, apartment REITs rank towards the bottom, paying an average yield of 3.3%. Apartment REITs payout just 72% of their available cash flow, the second lowest payout ratio sector, giving these companies quite a bit of flexibility to take advantage of development opportunities or to increase distributions through higher dividends or share buybacks.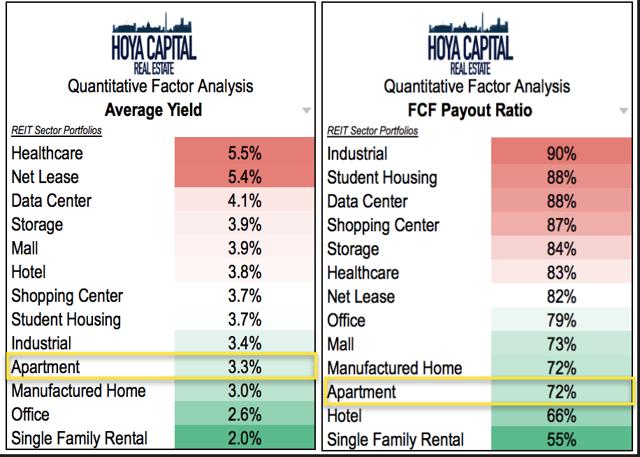 More so than other sectors, the dividend and payout strategies of the seven apartment REITs are quite similar. CPT and MAA are the highest yielders at 3.8% and 3.7%, respectively. ESS is the lowest yielder at 3.0%, but pays out just 67% of available cash flow.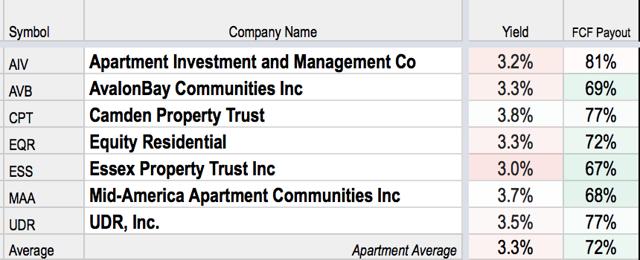 Sensitivities to Equities and Interest Rates
Followers of our research know that we put a lot of emphasis on factor analysis, specifically looking at how REITs have historically responded to changes in the broader equities market, interest rates, and to movements in the REIT index itself. We believe it is critical that investors understand how their investments will respond in different economic environments.
Using our Beta calculations, we show that apartment REITs are the sixth most interest-rate-sensitive sector, which is aligned with the average across all REIT sectors. This may be surprising considering the short lease terms of apartment rentals, which would normally lend itself to lower interest rate sensitivities. This high level of sensitivity is likely due to the particularly low capitalization rates in the private markets for apartment assets. With spreads so compressed, there is less of a cushion if the risk-free interest rate rises.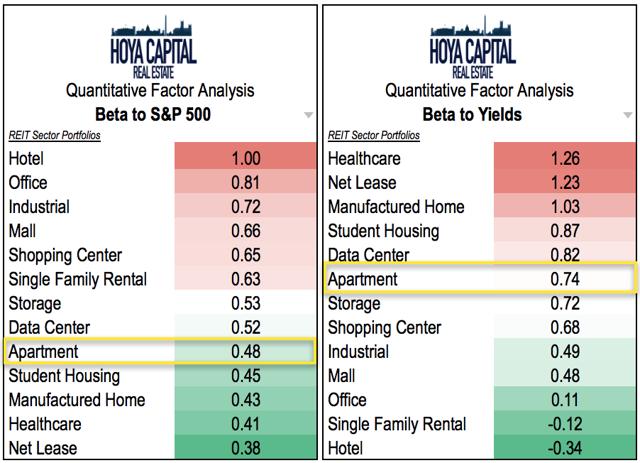 That said, we would have expected apartment REITs to outperform in the immediate aftermath of the Trump election as inflation exceptions rose considerably. The short lease terms of apartment REITs provide investors protection against inflation as rents are able to re-price more often than other REIT sectors with longer average lease maturities. We have not seen this outperformance, but this is something to monitor: if inflation continues to rise, expect the REIT sectors with shorter leases to outperform.
Interestingly, apartment REITs show little sensitivity to movements in the broader equity markets (NYSEARCA:SPY). Rental apartments have some counter-cyclical properties: when incomes fall, it encourages potential home buyers to hold-off on the home purchase, putting a floor on the demand for apartment units.
For more detail on these calculations, we highlighted the dynamics of bond-like and equity-like REITs in our previous articles,"Are REITs Bond Substitutes" and"REITs Without Interest Rate Risk."

Within the sector, ESS has been the least interest-rate-sensitive name, while MAA has been the most. Since our last update, the yield sensitivity of the sector has increased significantly from .57 to .74 due to the removal of PPS, which was one of the least interest-rate-sensitive apartment REITs. The combined MAA and PPS should be closer to the sector average.
Bottom Line
Apartment REITs, the perennial outperformers since the end of the financial crisis, have fallen on harder times in 2016. The combination of oversupply in key markets and rising interest rates have weighted on the sector despite the theoretical benefits that should accrue from rising household incomes. The surge in multifamily construction in NYC, SF, and LA have lowered effective rent growth, and permitting activity suggests that construction levels may remain elevated through most of 2017.
It's important to keep this surge in context, though. The supply and demand dynamics of the apartment sector must be analyzed alongside that of the other housing alternative: single family housing. Combined, gross new supply growth of housing units will be 1% of existing stock and about 0.7% after accounting for obsolescence and natural disasters, which is roughly in-line or below the current path of population growth.
Q3 earnings were generally strong and these seven REITs we cover have balance sheets that are quite robust. We believe that if supply growth continues to show signs of moderation, especially the November and December permitting data following the post-election surge in interest rates, that these REITs may catch a bid. In theory, the sector should be well-aligned for an inflationary environment with stronger income growth.
Apartment REITs are the link between commercial and residential real estate and show that the line between the two sides of the real estate universe is not absolute. The wealth of publicly available housing data makes apartment REITs the easiest sector for the average investor to analyze without access to Wall Street research. The supply-related data such as building permits and residential construction spending are good indicators of the supply and financing conditions of the broader real estate market. We continue to closely monitor and update readers on these developments in our various weekly and monthly articles.
Please add your comments if you have additional insight or opinions. Again, we encourage readers to follow our Seeking Alpha page (click "Follow" at the top) and check out our other recent REIT Rankings: Healthcare, Net Lease, and Data Centers.
Disclosure: I am/we are long AVB, EQR, CPT, MAA.
I wrote this article myself, and it expresses my own opinions. I am not receiving compensation for it (other than from Seeking Alpha). I have no business relationship with any company whose stock is mentioned in this article.
Additional disclosure: All of our research is for educational purpose only, always provided free of charge exclusively on Seeking Alpha. Recommendations and commentary are purely theoretical and not intended as investment advice. Information presented is believed to be factual and up-to-date, but we do not guarantee its accuracy and it should not be regarded as a complete analysis of the subjects discussed. For investment advice, consult your financial advisor.