When I am looking for trading opportunities, I sometimes think of securities issued by the same company as siblings. They have the same mother and they usually like to play with each other. But sometimes they get into a fight and drift apart. They cannot stay mad at each other forever, however. They are siblings after all. So sooner or later they come back together and start playing again. In this whole picture, I like to think of myself as the peacekeeper. When I see a spat, I try to reconcile the parties. But it certainly helps when more people join in and try to talk some sense into the siblings' heads.
Today I am going to talk to you about two brothers that have gotten into a fight. There name of their mother is Qwest Corporation (NYSE: CTL). And the two siblings are CTY and CTBB. CTY are 6.125% Notes due in 2053 and CTBB are 6.50% Notes due in 2056.
The trade
Some background information about the two securities: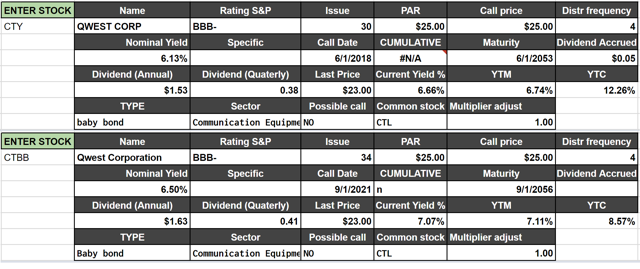 Source: Author's spreadsheet
Both CTY and CTBB are trading below par which makes them unlikely to be called at their respective call dates and thus the yield to call is not the right metric to compare the two. At their current levels the two securities should be treated as conventional very long-term bonds and so the relevant basis to compare them is their current yield or the yield to maturity depending on your holding period. If you are using that simplistic approach to decide which bond to buy, however, you might miss the fact that the two securities actually have differing maturity dates. Nevertheless, I could argue that differing maturities are less important here. After all, how important could the fact that you are buying a 40-year bond against a 37-year bond actually be. The difference in cash flows would be so insignificant due to the heavy discounting at the end of the bond lives, that it would make almost no difference in the present values. So the bottom line is, would you buy a bond at $23.00 that yields 7.07% or another, again at $23.00 that yields 6.66%. I think this decision is a no-brainer.
All that I said in the paragraph above was intended to give you some intuition behind the numbers that are about to follow. One way you can compare the two issues is from a statistical standpoint. Take a look at the chart below:

Source: Author's spreadsheet
The correlation between the two securities is extremely high, very close to 1, in fact. The average difference in the spread between the CTY and CTBB has been $0.25 historically and this is how the potential of the pair trade looks like from a statistical standpoint. You can see the price spread logic mirrored in the current yield spread in the right part of the chart above. That spread has moved 2 standard deviations away from its mean.
Just to make sure that I have taken maturity completely out of the picture, I also wanted to look at the pair trade by calculating the z-spreads for each of the securities. Then the story is the same - CTY has a z-spread of 4.11% and CTBB has a z-spread of 4.52%. Clearly, for bonds with the same credit rating and issued by the same company, the one with the higher z-spread is the better buy.
How to trade it?
In a pair trade, what I usually do is buy the undervalued security and sell the overvalued with the intention to close the spread. I use any further widening of the spread to build my position. The problem with siblings, however, is that they can stay mad at each other for quite a while and it could be quite costly to hold a short position for an extended period of time. The most difficult thing is timing - when to enter the position. I usually look at technicals to guide me in making that decision. I will give you an example. In a significant number of mispricing occasions the deviation is a result of a lack of liquidity. In those occasions I look for any signs of buying or selling pressure and try to jump in when I see an indication that the latter has eased. If you are not a fan of pair trades and you by any chance have CTY in your portfolio, just think of switching it.
Conclusion
Siblings will always be siblings and it is actually good for people like me when they get mad at each other. It creates the opportunity for me to jump in to appease both sides and try to bring them back together. It certainly helps when others also join in and offer their support. So, take a look at CTY and CTBB for yourselves and see how you feel about these brothers. If you agree with my analysis, join in and let's bring those bros back together and make some money while we do it.
Disclosure: I am/we are long CTBB.
I wrote this article myself, and it expresses my own opinions. I am not receiving compensation for it (other than from Seeking Alpha). I have no business relationship with any company whose stock is mentioned in this article.
Additional disclosure: I am short CTY