Hit games are a weird thing. They can sometimes come out of nowhere, and sometimes can be considered an inevitability. Many thought games such as Grand Theft Auto V by Take-Two Interactive (NASDAQ:TTWO) or any version of Call of Duty by Activision (NASDAQ:ATVI) would undoubtedly do very well and would likely be hits. Others took the market by surprise, Pokémon Go by Niantic/Nintendo (OTCPK:NTDOY) and Kim Kardashian Hollywood by Glu Mobile (NASDAQ:GLUU) come to mind. In general, it seems, mobile games have a greater propensity to come from the flank, becoming hit games to the surprise of even the most learned gaming experts. Maybe it has something to do with the mobile form factor, or maybe it's the sheer amount of capital thrown at hit console games nearly guaranteeing they will be successful.
The mobile battlefield is full of games that came out of nowhere, Candy Crush, Clash of Clans, Summoners War, Episode - Choose Your Story and more recently, Archery King. The hits of tomorrow on this field are potentially not even out yet, at the very least, not a "hit" game yet. Mobile gaming executives have tried their hardest; they don't want their industry to be viewed as hit-driven. No, they try to sell the portfolio of games narrative as much as investors have the patience to hear about it. Investors don't seem to care. A nice solid portfolio is great but when the portfolio often produces ever-diminishing revenue quarter after quarter investors become tired of hearing how great a company's "portfolio" might be. What we have seen in the industry are names that investors have become tired with, picked off by larger, more established gaming companies that see the value.
Take for example King Digital, its acquisition by Activision was for investors at the time, and Activision's going forward a great deal. Activision bought a cash flow and EBITA-positive company and injected it into its core. What made it genius was investors were paying more for Activision on a cash flow and EBITA multiple basis than what multiples they bought King. It was immediately accretive. Enough about the past, where does this leave Zynga (NASDAQ:ZNGA)? There have been some rumors of different players wanting to take it out, none as solid as Activision though. Its massive cash balance buys it both time and at the same time builds a moat of sorts around the company. Yes, several companies would love to get at that cash on Zynga's books, selling off the corpse in chunks to whoever wanted the pieces. But Zynga has enough cash to battle those who might low ball it. It wants to keep trying, I can't blame it. So what is the best thing it has drummed up in a while? A game set to release, finally, sometime in December called Dawn of Titans or DOT by many in the industry. So, does this one game have the ability to turn a 2.5-billion-dollar company around?
Dawn of Titans:
Make no mistake, Dawn of Titans looks cool, really cool actually. The graphics alone are better than nearly anything on the market, at least on mobile currently. Dawn of Titans is an action strategy game made by NaturalMotion, a studio acquired by Zynga. NaturalMotion made its mark in the gaming world by bringing graphics that were usually reserved to console and PC to the mobile arena. As its name would suggest, the company takes great care in ensuring the motions within the game are natural and the games it produces are made as real as possible. The company also has middleware solutions other gaming companies can license to make their games appear ever more real. So what does DOT even look like: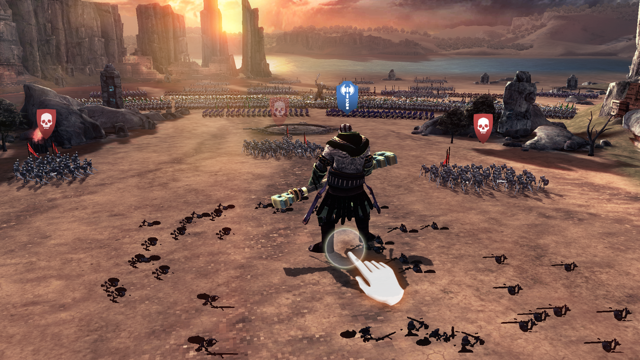 (Source: mygamemart)
The game is a bit different than other strategy games in that in addition to controlling hordes of troops, you control "Titans" which are basically giants. You try to figure out the best strategy in which your troops and Titans can take out the enemy while trying to minimize your losses. While the game is a bit different than the other strategy games out there, I would imagine this is the market Zynga is targeting with DOT. Making DOT a strategy game almost certainly by design; strategy games are the highest grossing games in the App store. Look at the players, Clash of Clans, Game of War, Mobile Strike, and Boom Beach, these games nearly always sit up at the top of the app store on gross rankings. Why is this? Whales, the biggest spenders in these games can spend, to most people, ridiculous amounts of currency in these games. Wired went into the phenomenon way back in 2012; you can read the article here, but this behavior has remained, and it's grown.
I have a couple of theories as to why strategy games gross higher than others. I think one reason is that these games cater to a slightly more intelligent gamer and these players likely also have higher incomes. Think who strategy games appeal to? Engineers, programmers, problem solvers and computer and math wizards, all these fields quite frankly pay well. I'm sure people play strategy games that aren't in these fields, and players from these fields likely play other games as well. I just think on average, these games cater to people in higher income brackets than games like Candy Crush and Slots, for example.
Another reason why some of these games can garner so much revenue could be because there is an actual market for established accounts in some of these games. See some of the prices for Clash of Clans (CoC) accounts here. It's nice to know all that money spent can actually be for something, and you're not just throwing it away. This market used to be more active in days past. I've seen some CoC accounts go for nearly six figures before. Enough with my theories on why these games are so big, let's look at how DOT has done in its test markets: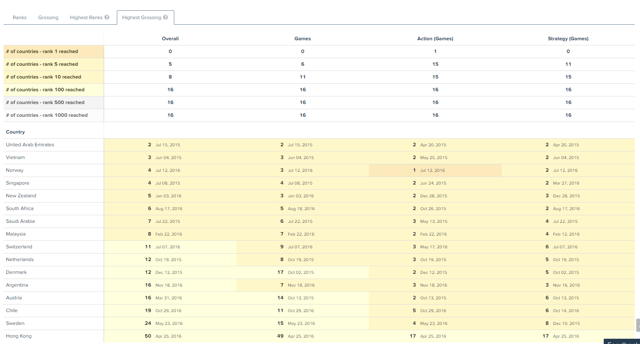 (Source: appannie.com)
These are pretty good grossing figures (these are the highest the game has ever grossed). Getting into the top 10 in any market can be considered a win. My only reservation was when DOT peaked in a lot of these markets and why it hasn't continued to do well. Let's use the UAE as our data source as it's been out there the longest: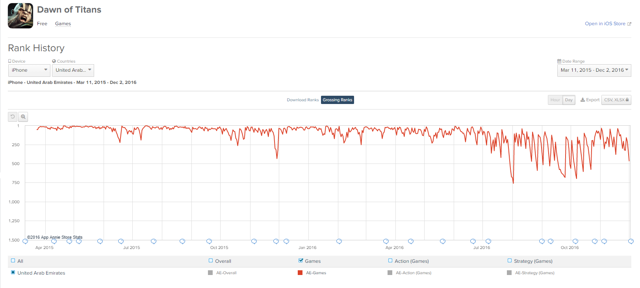 (Source: appannie.com)
Grossing figures over time is not what ZNGA investors want to see, after peaking at #2 in the UAE, it now stands at nearly #500. Strategy games tend to gross so long because, well, they never really end. As you build your army and city, there are always other players who have other armies and cities to attach. The game can go on forever. One of the reasons this might have happened is there just aren't enough players as Zynga has waited more or less longer than any other game to release it out of beta testing.
Why has Zynga kept this game so long in beta? Probably because DOT is so important to the company; Michael Pachter at Wedbush currently thinks ZNGA shares are "worth a shot" but if 'Dawn of Titans' might not work. If it doesn't, I'm wrong" the analyst said. That's quite a predicament for a 2.5-Billion-dollar company to be. Usually, a company that size wouldn't need one game to work out or all might be lost. Typically, companies that size have lots of shots on goal. I think that narrative is just based on how sick and tired investors have become of ZNGA and its ever-changing management. I can't even remember how many CEOs the company has had in the last five years. I think it's four? Maybe five? Hard to keep up with the revolving door over there. If DOT is a failure what will happen to ZNGA shares? They will likely go down, but then investors will undoubtedly find some glimmer of hope coming down the pipeline to focus on next likely arresting declines past some level. Such is the life of a mobile gaming company.
Where does that leave us? Betting on one game? I think that is a rather silly proposition but if DOT does work out, the company is geared to return to both revenue growth and positive EBITA, something not seen from the company for a long time. If I wanted to play DOT release, I would play it with options, and some seem to have been doing just that. At the current time, over 25 January 2017, three Calls are open. At current prices, these contracts would break even at 3.15, 6.7% higher than current levels. If DOT is successful, ZNGA shares will move more than 6.7%. They will likely move 20-25% which has been the case in past successful launches in the mobile space. If you like ZNGA shares for the long haul that's great, and I wish you luck, but if I were playing DOT only, I would play it with options. This title is just built up too much and if it disappoints, it's going to be a disaster for ZNGA shares, at least in the short term.
Conclusion:
Mobile gaming companies move with the whims of the success of their new games. This has become a fact of life for the industry. Executives have tried to sell us all on their portfolio company narrative. In the long term, I guess you can believe them. In the short term, all that matters is game performance. Will DOT perform? I think it has a good shot. It appears Clash of Clans is ripe for disruption. It's been dominant for nearly five years now. A changing of the guard would make headlines for sure. The initial gross rankings for DOT looked good, now, not so good. But beta games can't last and gross forever. They weren't ever meant to. Beta was and remains just for testing (companies don't ever break out revenue for beta games even though they are generating revenue). What are the chances DOT becomes a top #10 game in the app store games category? Hard to know but if I had to, I'd say it's got a 10-15% chance of being a blockbuster and a 50-70% chance of being a top #50 game. If it bombs, the market will likely bomb ZNGA shares, because of this, I think options are the best way to play the game release. So now the ball is in Zynga's court. This longest in history beta test better work out. If it doesn't, Dawn of Titans will look more like a sunset. Zynga investors are done with sunsets; they are ready for dawn.
If you found this article useful and look forward to my next articles regarding Zynga or other Gaming Companies, scroll to the top of the page and hit the follow button. You'll be the first to know when my next article comes out, and it helps me to determine if people are finding my work of value. Thanks again.
Disclosure: I am/we are long GLUU.
I wrote this article myself, and it expresses my own opinions. I am not receiving compensation for it (other than from Seeking Alpha). I have no business relationship with any company whose stock is mentioned in this article.
Additional disclosure: I'm long ZNGA JAN 2017 3 call options albeit at lower levels than trading today
Editor's Note: This article discusses one or more securities that do not trade on a major U.S. exchange. Please be aware of the risks associated with these stocks.