The past few weeks have been extremely frustrating for gold (NYSEARCA:GLD) investors. The metal gives the illusion that it's found support, but follows this up by making a new low. This is causing the majority of investors to throw in the towel on gold, while serving to build a slew of bears wanting to get on the short side. I have no interest in being long a market making new lows, so have been on the sidelines since $1,229/oz. Having said that, I have been acquiring mining positions and have bumped my gold exposure from 33% in late November to 39% as of this week. Bullish sentiment on gold currently sits at 10%, and the 21-day moving average for sentiment is at 12.9%. This is the lowest reading for the 21-day moving average in the past 3 years, and it is taking a serious toll on the morale of the gold bulls. While we have had deep corrections like this before, it is very rare that we have not seen a bounce yet. There is no guarantee that this extreme pessimism leads to higher prices, but I have begun to nibble and add exposure in my value accounts.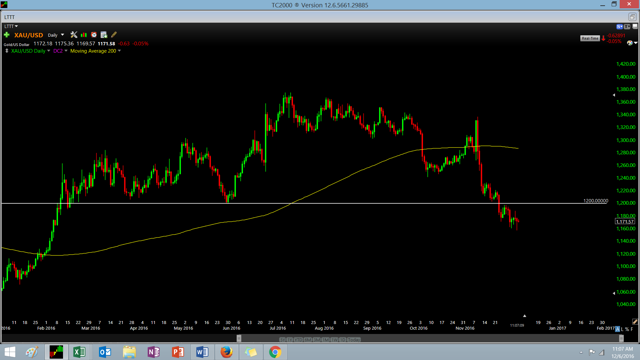 (Source: TC2000.com)
While investors in gold itself have had a brutal 3 weeks, those in the mining stocks have fared a little better. The Gold Miners Index (NYSEARCA:GDX) has been trading in a sideways range the past 3 weeks, and has managed to hold support despite gold's new lows. This is a significant positive divergence for the mining shares, and I believe it's worth paying attention to. In addition to holding support, something very rare has happened for the GDX. In the history of trading for the GDX, there were no double inside weeks until this year. An inside week is characterized by a week that sees its high and low price trade within the high and low of the previous week. This means that a double inside week is a pattern which sees its high and low price trade within the high and low of the previous week for two weeks in a row.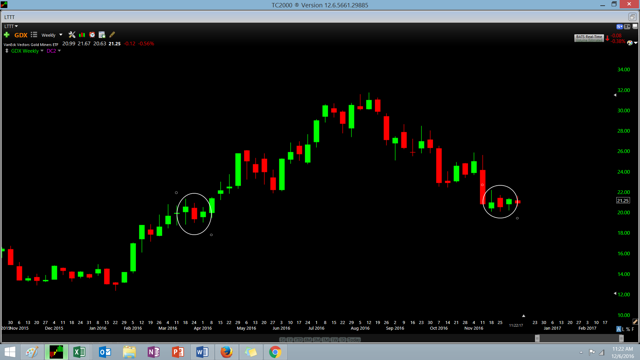 (Source: TC2000.com)
The first pattern ever recorded since GDX's inception occurred on the week of March 24th and April 1st of this year. The resumption higher out of this pattern fueled a massive rally of 55% over the next 4 months. Double inside weeks are typically signs of indecision between the bears and the bulls. Price is having a tug of war within a tight range, as the bears and bulls fight to win the battle to the outside of the range. As we can see from the above chart, we currently have the exact same setup showing up. The setup is neither bearish nor bullish in nature, but the direction in which it breaks can have serious ramifications. A weekly close above $21.50 would be very bullish for the GDX, and a weekly close below $20.27 could open the door for lower prices.
My goal when looking for gold stocks is to find those that have the highest margins and that do not need a $1,200/oz gold price to be profitable. Some people prefer to look at the stocks with high cash costs as they believe they will benefit most from a gold rally. I prefer to do the opposite, as I operate by assuming the worst case scenario. While I can agree that the gold stocks with the highest cash costs often benefit most from a bounce in gold, this also results in significantly more risk. If gold's bounce is short-lived, these stocks will have the most downside as they will become cash-flow negative.
#2 - Torex Gold
Torex Gold (OTCPK:TORXF) has had a tough couple months seeing over a 50% decline from its September highs. This was very surprising to me as the company is sitting on a world-class gold deposit in Guerrero, Mexico. I mentioned the stock on November 15th in my article, "Torex Gold: A Junior Miner Trading For Fire-Sale Prices", and the share price is now over 10% higher. I stated in my article that I had built a position at an average cost of $13.85 (US).
Torex Gold has 80 million shares outstanding, with a cash position of $120 million. Given its $16.00 share price, this results in a market capitalization of $1.28 billion. After subtracting for cash, the company's enterprise value is $1.16 billion. While $1.16 billion may seem expensive for a Mexican gold producer, Torex is enjoying some of the highest margins on gold sales in the industry. The company's all-in sustaining cash costs came in at $699/oz for Q3 and are expected to get as low as $616/oz for the life of the mine. This gives the company significant wiggle room with the price of gold and is one of the main reasons it secured my #2 spot.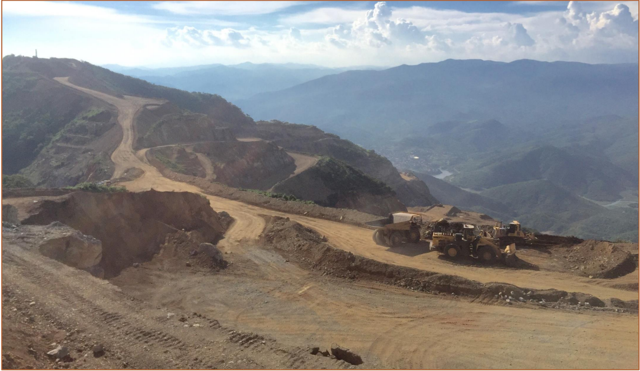 (Source: Company Presentation)
In addition to industry leading all-in sustaining cash costs, the company has delineated two massive gold deposits. The company has over 3.5 million ounces of gold at its El Limon-Guajes Mine, and 7.4 million gold equivalent ounces at Media Luna. The company's total resource base is over 11 million ounces at an average grade of over 2.5 grams per tonne gold.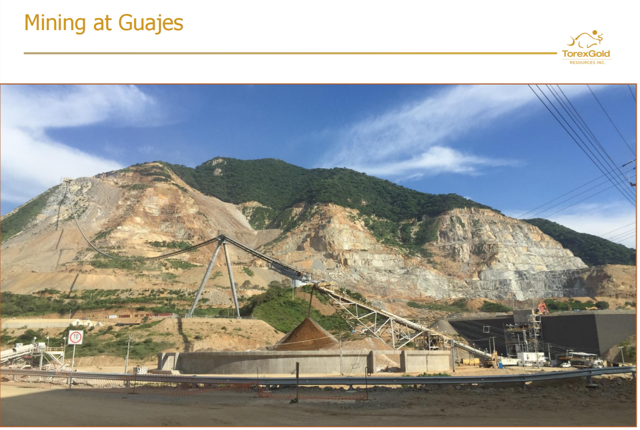 The most compelling part about the Torex Gold investment for me, is its ability to potentially build a second mine on the same property. Media Luna is a mammoth deposit, and the PEA has outlined the potential for a 350,000 ounces of gold production annually at all-in sustaining cash costs of $636/oz. Due to Torex's ability to stay cash flow positive through this recent downturn in gold, the company has the potential to internally fund the project. This would allow the company to transform itself into a 600,000 plus ounce producer as early as 2020.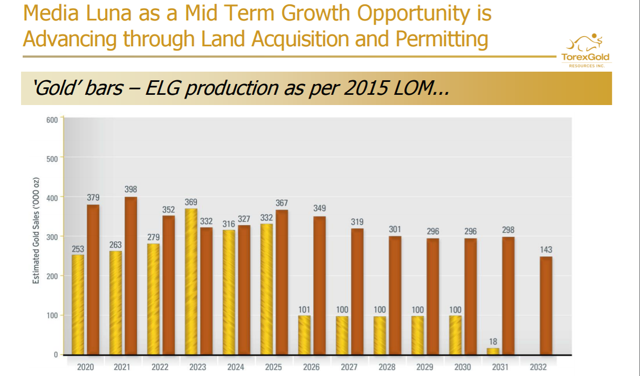 (Source: Company Presentation)
Torex earned $0.30 per share in earnings last quarter, and I believe it should see $1.00 in earnings next year. The company has hedged 100,000 of its 370,000 ounces next year at $1,241/oz. This means that no matter what happens to the price of gold, over 25% of its production will be able to be sold at nearly 10% above current spot levels. In addition to hedging for 2017, the company has hedged 28,000 ounces of gold this quarter at $1,241/oz. I believe this to be a wise move for the company and should benefit its Q4 earnings, as most gold producers are not hedged currently.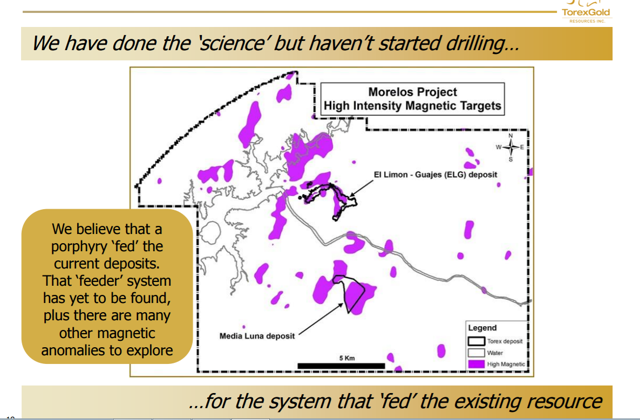 (Source: Company Presentation)
Torex Gold is not only one of my top 2 gold producers for next year, but also a top takeover target. Gold majors are in need of replenishing reserves, and Torex Gold offers a way to increase earnings and reserves for a price tag just north of $1 billion. The only reason Torex Gold is in my #2 spot instead of #1 is because I would prefer to see more growth over the next 2 years. While Media Luna could potentially add 60% growth to Torex's production profile, I would prefer if we had a more concrete timeline in place. I believe the market is currently valuing Torex based purely on its El-Limon Guajes asset, and a re-rating should occur once we hear more on Media Luna development.
#1 - B2Gold
B2Gold (NYSEMKT:BTG) has secured the top spot on my list, and this should not be a surprise to my readers. I initially highlighted the stock in March of this year in my article, "B2Gold: Why This Sector Laggard Could Be Providing A Buying Opportunity". I currently remain in a half position on the stock, and am waiting for a close above $2.58 to add to this position. Having said that, I have done considerable buying in my other accounts the past couple weeks. The following excerpt is from my March article:
"B2Gold is transforming itself into an 800,000+ ounce producer by 2018 with all-in sustaining cash costs under $900/oz and planning for further reductions in cash costs once Fekola comes online. These massive changes for the company should aid in providing them with a re-rating as an industry leader rather than a laggard. I believe the best decision B2Gold has made to date was acquiring Papillon Resources' Fekola project as it was the only way to give the company the respect they deserve and move them out of the category of a low grade, high tonnage producer in less favourable jurisdictions.

While there are risks to this thesis, I see B2Gold as undervalued at current prices and exhibiting technicals that display a turnaround is near. In my opinion, starting a position at $1.30 a share in BTG is a low risk entry and allows you to average around this price closer to Fekola commercial production when a re-rating should be given. B2Gold now holds a world-class open pit mine and is not being given the recognition it deserves being valued as simply a low-grade intermediate producer."
B2Gold reported a blow-out quarter for Q3, and has under-promised and over-delivered all year for shareholders. In January, B2Gold guided for consolidated gold production of 510,000-550,000 ounces with all-in sustaining cash costs of $895-$925/oz. Based on the first nine months of the year, the company's consolidated gold production is well on track to beat its 510,000-550,000 guidance. The company has produced over 409,000 ounces of gold, and has now moved its guidance to 535,000 to 575,000 ounces for the year. This is a huge beat on guidance and shows a nearly 5% increase from the midpoint of its initial 2016 production outlook.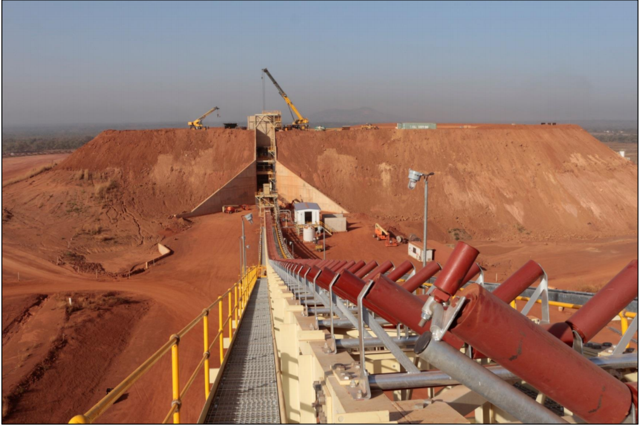 (Source: Company Presentation)
Moving to operating costs, the company has completely blown away its guidance. B2Gold's all-in sustaining cash costs for the first nine months was $765/oz, more than 15% below its guided costs. While I would not have been surprised by a 5% decrease from the company's guidance, a 15% decrease could not have been anticipated. This massive beat on costs transforms B2Gold from a 'run of the mill' producer to an industry leader in this metric.
There are two main reasons B2Gold has earned my top spot:
The company has transformed itself into an industry leader based on all-in sustaining cash costs of sub $800/oz.
The company has the largest growth profile of any other intermediate gold producer looking out to 2019.
The big game changer for B2Gold is the Fekola Project. The mine will move its current production profile of 560,000 ounces to 925,000 ounces. Not only will Fekola give B2Gold a 70% boost to its production profile, it will also decrease its consolidated all-in sustaining cash costs. The company is currently guiding for all-in sustaining cash costs of $790/oz, but Fekola is set to produce its gold at all-in sustaining cash costs of $725/oz. Using a weighted average to determine the new production profile post-Fekola, B2Gold should see all-in sustaining cash costs of $764/oz. I have built an approximate table below to show what B2Gold's 2018 earnings should look like.

(Source: Author's Table, Microsoft Excel)
Using a conservative gold price of $1,100/oz, B2Gold will be earning over $262 million each year as of 2018. Based on the company's current market capitalization of $2.31 billion, these earnings are more than 10% of its market cap. Taking a look at 4 miners within B2Gold's peer group, the average P/E ratio for the 4 companies is 96. I have no interest in using this elevated P/E ratio to value B2Gold, so will conservatively use a P/E ratio of 16. A P/E ratio of 16 is 1/6 of the value of B2Gold's peer group, which allows me to make the most conservative projects possible. I have also chosen this conservative P/E ratio of 1/6 the peer average, as I am using forward earnings for 2018, not trailing twelve-month earnings.
Using a P/E ratio of 16 on B2Gold with its 2018 earnings, we can see just how undervalued the company is at current levels. Based on a gold price of $1,000/oz, the company should see earnings of $130.9 million in 2018, which would give the company a market capitalization of $2.09 billion. While this is below the current share price of $2.34, this is using a gold price $160/oz lower. Based on B2Gold's current valuation, the company is being valued as if gold will be trading just over $1,000/oz in 2018.
Using a gold price closer to current spot prices, we can see that the company is due for a massive re-rating going forward. The company should earn $241.9 million in 2018 using a $1,200/oz gold price, which would value the company at $3.87 billion (using a P/E ratio of 16). At a market capitalization of $3.87 billion, the company's shares would be worth $3.88, or 70% above today's prices. I have chosen to use a 40% discount to pre-tax earnings in my calculations to be as conservative as possible going forward. I believe my 40% discount rate should cover most exploration expenses, as well as the tax rates across the company's soon-to-be 5 mines.
I believe Fekola should command a massive re-rating for B2Gold as it transforms the company into a gold major, with industry leading cash costs. While there is no control over what the price of gold does over the next few years, B2Gold should enjoy a re-rating regardless of gold prices. The company's growth in its production profile will give a considerable boost to its earnings as long as gold remains above $900/oz. B2Gold is my top pick for 2017, as I expect we should see the re-rating begin to trickle into the company's share price the closer we get to Fekola production.
Honorable Mentions And Runners-Up
3. Guyana Goldfields (OTCPK:GUYFF)
4. RoxGold (OTC:ROGFF)
5. Red Eagle Mining (OTCQX:RDEMF)
Summary
I have chosen the above two gold producers for my top picks for 2017 as they can weather nearly any storm in the price of gold. B2Gold should weather the storm as it moves towards a re-rating to a gold major, while Torex Gold can weather the storm due to its industry leading all-in sustaining cash costs. While many gold companies have seen large contractions in their margins over the past few weeks, B2Gold and Torex Gold have not. The $150/oz drop in the price of gold has translated to less than 35% in margin reductions for both companies. Comparing this to gold producers operating at all-in sustaining costs of $1,000/oz, this drop in gold prices erased over half of their margins.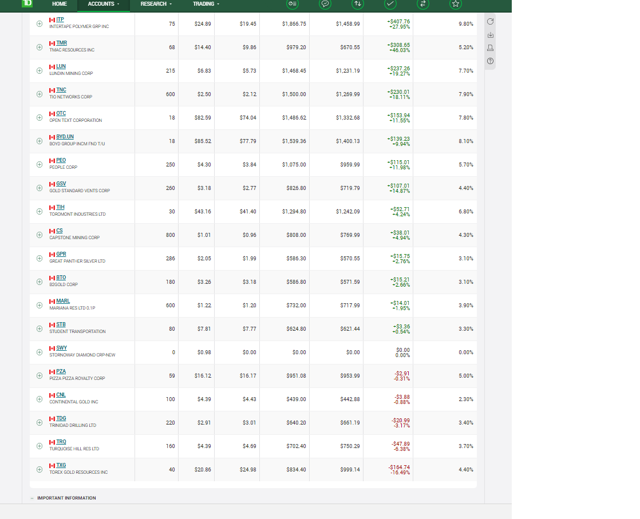 (Source: TD WebBroker Account)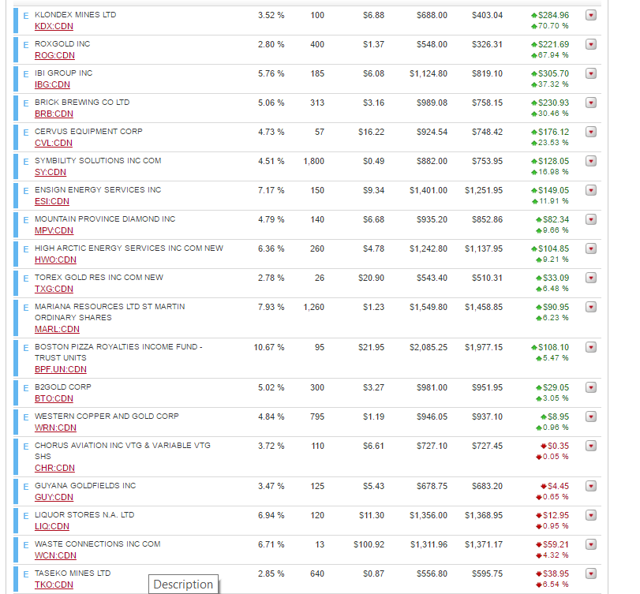 (Source: CIBC Investors Edge Account)
For full transparency, I have shown the majority of my positions above to show my money is where my mouth is.
Disclosure: I am/we are long GUYFF, RDEMF, ROGFF, BTG, TORXF.
I wrote this article myself, and it expresses my own opinions. I am not receiving compensation for it (other than from Seeking Alpha). I have no business relationship with any company whose stock is mentioned in this article.
Additional disclosure: If you liked this article and found it useful, please feel free to follow me by clicking on my name next to my avatar at the top of this article. I also invite you to follow me at www.twitter.com/TaylorDart01 where I routinely share my entries, exits, and stops on new positions, as well as updating followers on sentiment data on markets I am following.
Editor's Note: This article discusses one or more securities that do not trade on a major U.S. exchange. Please be aware of the risks associated with these stocks.