News of U.S. rig counts rising and OPEC announcements have captured energy headlines across the world. However, very few seem to be talking about the drastic difference in Venezuela's survey production for November vs. the actual oil production, or how Venezuela's economy is doing after the massive devaluation of its currency.
A Reuters survey points to Venezuela oil production above 2.2 million b/d, but the actual implied production figure from the trader reports we get is 1.92 million b/d. In addition, the OPEC deal announcement has Venezuela's oil production at 2 million b/d at the moment. This raises the question: Why are the survey results so much different than the trader reports we get and OPEC's 2 million b/d figure?
What we know right now is that Venezuela is not producing 2.2 million b/d, and the last several months of production declines have slowed from 100k b/d to just 30k b/d. Sources familiar with Venezuela's situation tell us that there have been efforts by PDVSA to temporarily pump up production to stem the decline, but the drastic decline will continue the moment these low-hanging fruits are gone. The estimated time frame for this falloff is between February and March 2017. Declines will then accelerate back to 100k b/d.
To say that Venezuela is in economic turmoil might be an understatement. Oil prices rallied from $45 to over $50, yet the benefits seem to have disappeared for Venezuela. The sharp devaluation in the Bolivar region will likely accelerate the economic collapse that we are already seeing. There will need to be some major overhauling if Venezuela is to stop the deterioration in the economy and the decline in its oil production.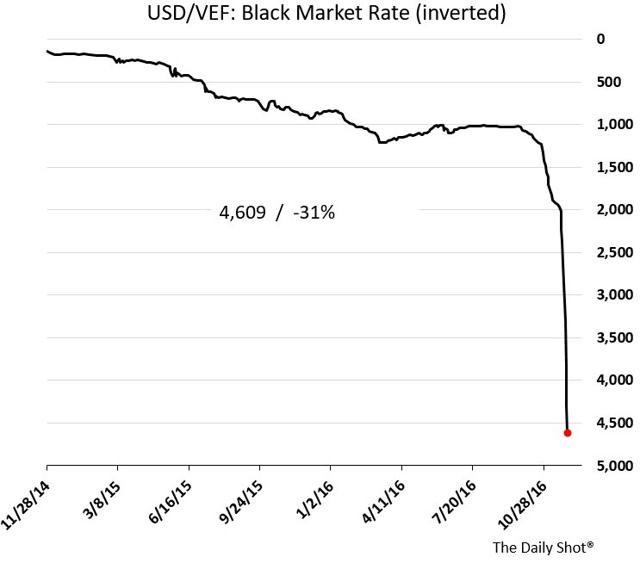 Hyperinflation is already an issue for Venezuela, but this devaluation will likely accelerate outflow and deplete Venezuela's foreign reserve of $10.9 billion. Venezuela's oil company, PDVSA, missed bond payments totaling $404 million and entered into technical default. It has 30 days to pay.
With the currency practically worthless and the economy in shambles, the question is, really, how fast Venezuela's oil production will drop off. And when it happens, how will the market perceive this outcome?
We think the market is underestimating the severity of the situation in Venezuela. Our base case is for Venezuela's oil production to average 1.6 million b/d in 2017. The sharp drop from 1.9 million b/d will offset the gains expected in U.S. shale production, which we estimate to be 300k b/d. So as everyone pays attention to what happens in the U.S., a normal decline year in Venezuela will wipe out all of the shale gains. So much for the U.S. being the new swing producer.
HFI Research has now launched a premium daily that discusses the trading aspects of the oil markets and our analysis of the current fundamentals. If you are interested, please sign up here.
Disclosure: I/we have no positions in any stocks mentioned, and no plans to initiate any positions within the next 72 hours.
I wrote this article myself, and it expresses my own opinions. I am not receiving compensation for it (other than from Seeking Alpha). I have no business relationship with any company whose stock is mentioned in this article.