We expect -37 Bcf for this week's storage report, increasing our estimate from last Friday by +4 Bcf. The change highlights the bearish flows confirmed last Friday, and the market continues to pay more attention to the 11- to 15-day outlook rather than how bearish last week was.
Overnight model runs were once again bullish with higher heating degree days (HDDs) expected for the week ending Dec. 23. Storage draws for that week will be quite impressive according to the latest HDD update, and if the next four weeks pan out at the current pace, natural gas storage will fall below the five-year average by the first week of January. How will traders react to that forecast? Remember, traders trade much more on "anticipation" of news rather than when the news happens. So if storage forecasts start to show by early next week that there's a high probability that storage will fall below the five-year average by January, you should expect natural gas prices to rally quite a bit.
Most traders we talk to are positioned in some type of spread trade vs. going outright long. We had one subscriber point out to us that April contracts are lagging behind the January and February months, but remember that when traders start to unwind that trade, the April contracts will massively outperform. The herding is getting a bit extreme now, with most of the traders we talk to pointing to that trade - and we all know what happens to a crowded trade.
Moving on to fundamentals, U.S. gas production still has not rebounded. It has actually decreased and averaged just 70.5 Bcf/d yesterday. Overall U.S. natural gas supplies were 75 Bcf/d down from over 80 Bcf/d last year. Geckoi Capital has also highlighted many times in the comment sections of our articles that the structural increase in natural gas demand shouldn't be ignored, and current weather conditions have natural gas demand higher than the 2013-14 period despite not being nearly as cold.
Fundamentally, the structural imbalance right now will support natural gas prices above $3.25/MMBtu as long as weather conditions remain normal. Once we see that U.S. natural gas production is still struggling to recover even at $3.50/MMBtu, then the market will need to move much higher to correct the imbalance.
We have long said that the odds do not favor the bears, but instead favor the bulls this winter. However, with natural gas prices hovering around $3.65/MMBtu now, it raises the question: How much upside is left?
Being outright long natural gas futures here does not have an attractive risk/reward. Perhaps a spread trade calling for higher gas prices in April might be the better way to do it. Our expectation is that natural gas prices will move above $4 for eight to 12 months in 2017, so there could be a better trade structure to take advantage of that.
Eight- to 14-Day Outlook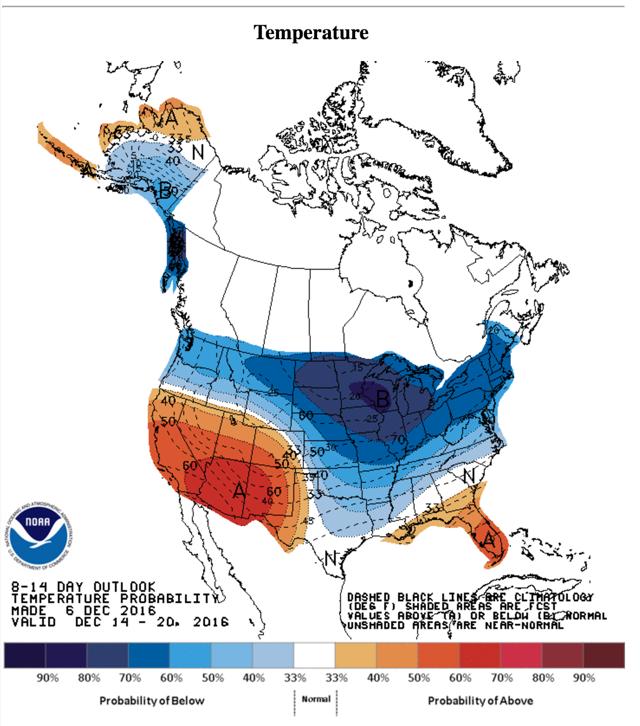 HFI Research has recently launched a premium daily article in which we update subscribers at the end of the day on key natural gas fundamentals and give updates on any weather model changes. If you are interested, you can sign up here.
Disclosure: I/we have no positions in any stocks mentioned, and no plans to initiate any positions within the next 72 hours.
I wrote this article myself, and it expresses my own opinions. I am not receiving compensation for it (other than from Seeking Alpha). I have no business relationship with any company whose stock is mentioned in this article.