On November 8, 2016, the Indian government put into place demonetization measures which were intended to be a measure against widespread corruption in the country.
As of end November, Indian equities fell 8% post demonetisation and Trump's victory. The consumer discretionary sector (-15.5%) has been hit hardest, followed by industrials (-12.1%) and materials (-12%).
What took people by surprise was not just the sudden nature of the announcement but also the scale. The value of demonetised notes exchanged/deposited will amount to a massive 55% of total money stock demonetised.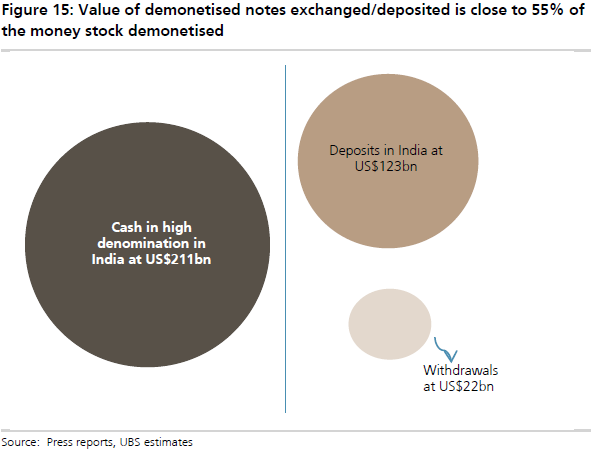 From a bird's eye view today, this will trigger three sets of effects.
The first will be the transactional impact of a hard cash deficit, especially considering the fact that cash transactions form 87-90% of all transactions historically. What this means is banks will be unable to replace the demonetised cash in time. This effect, while transient, will hamper business activity over the near term. As a result, look to real GDP growth in 2H FY17 to come under meaningful pressure. GDP growth should decelerate or even contract slightly post the 7.1% YoY growth estimated by the government in 1Q FY17.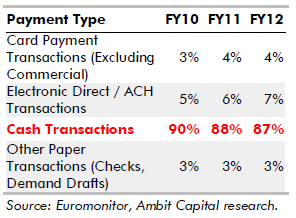 The second effect will be of a more structural nature. For instance, non-tax paying businesses reliant on cash in the informal sector will become unviable. More importantly, the real estate sector, where a significant portion of purchases is funded using black money, will be severely impacted.
Lastly, a more positive structural boost should amount to tax-paying businesses in the formal sector. The formal sector will be able to capture the market share vacated by the informal, non-tax paying sector forced out by the demonetisation measures. Recall that the first effect, i.e. the cash deficit, would result in poor economic performance. This structural boost, on the other hand, should offset the first effect and propel GDP growth higher in FY18.
What does a cash crunch and slowing near-term GDP growth mean? Rate cuts. Look for the RBI to consider rate cuts of 25-50 bps near term, perhaps even over 2H FY17 to combat the transient effects of demonetization. Additionally, the second and third effect, i.e. the squeezing out of the informal/unorganized players by stronger players, will have enough of an impact on inflation to support the case for a rate cut. Anecdotal evidence suggests the impact on price formation is likely to be dominated by disrupted demand rather than disrupted supply, hence a rate cut would prove stimulative.
Will the RBI move in December? Unlikely. Lower market rates and the institutional need to take a positive position on the demonetisation process should keep the RBI's hand for now. However, as price and activity data evidence builds, the case for a policy rate cut will grow. Constraints to more cuts remain, however. Limited signs of recovering activity, ineffective fiscal policy, or disappointing oil price/US rate trajectories could throw a spanner in the works.
Overall, though, it is important to look past the near-term GDP blip. Yes, things will slow, but longer term, the strongest players will gain market share as competition from unscrupulous/unorganised players reduces. Such structural reform, while painful, should create a sounder Indian economy going forward.
Near term, things will get worse before it gets better for India. From the turmoil, however, a good opportunity to buy into India's structural growth story could be emerging. Valuations have come down to attractive levels, with P/Es moving toward pre-Modi levels.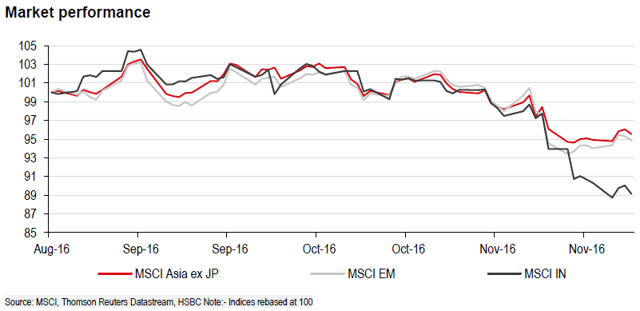 The chart above highlights clear underperformance by the iShares MSCI India Index (BATS:INDA) vis-a-vis other EM indices (NYSEARCA:EEM). Justified? I think not, considering India's underlying fundamentals remain sound compared to other EMs. Furthermore, India's USD debt exposure and foreign ownership in the bond markets remain at the low end of the EM spectrum.
Hold on for now, but watch closely because the time to buy back into the Indian growth story could be fast approaching.
Disclosure: I/we have no positions in any stocks mentioned, and no plans to initiate any positions within the next 72 hours.
I wrote this article myself, and it expresses my own opinions. I am not receiving compensation for it (other than from Seeking Alpha). I have no business relationship with any company whose stock is mentioned in this article.