In this article we're taking a look at long time consumer goods provider Colgate-Palmolive Co. (NYSE:CL). The stock has produced adequate returns amounting to 7% compounded annual capital appreciation for the trailing 10 years, plus an annual dividend yield around 2%: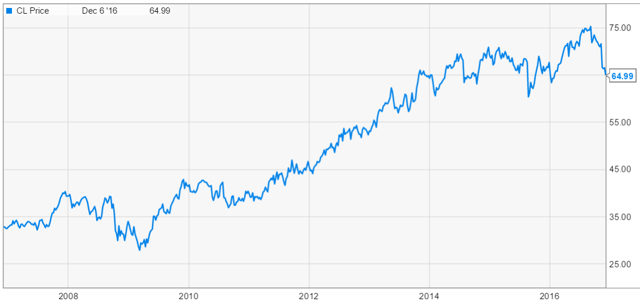 (Source: Faloh Investment)
Colgate-Palmolive Co. Stock Valuation
After including a few "steadying" assumptions (which we'll touch on in the following segments), the DCF Model returned these facts: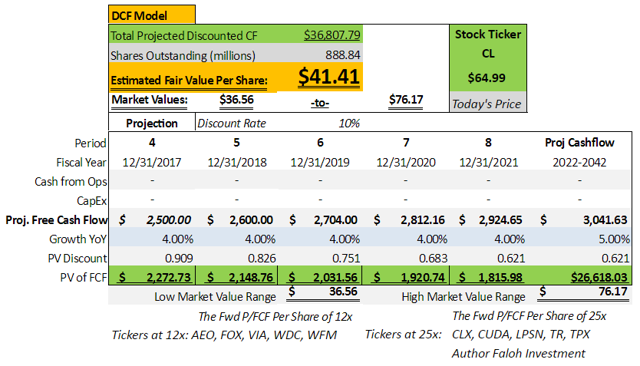 (Source: Faloh Investment)
Overall, the company landed a fair value of $41.41 per share. Companies earning similar amounts of free cash flow are on the market for prices of 12x through 25x, so a fair trading range or Market Value range for the company appears to be $36.56 - $76.17. The company's trading for $64.99 as of this writing.
A company tends to hit the upper or lower part of its estimated Market Value Range during any five year period depending on the general market's trading range, the timings of the company's internal business cycles, and the results of the company's operating performance.
In the next segment we'll take a look at the stock charts.
Quick Free Cash Flow Chart
CL's Price, Free Cash Flow, and Price to Free Cash Flow are included: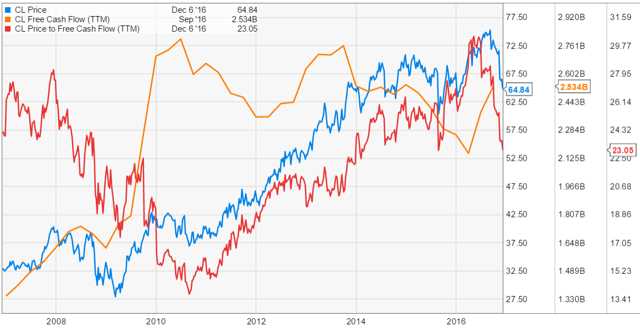 (Source: Faloh Investment)
Reading this chart's orange line, I notice free cash flow generated by CL has been overall positive. The stock's price was moving sideways for a period of two years after the 2007-2008 global financial crisis. From 2010-2014 the security's trading price seemed to play catch-up after a big leg upwards was revealed in the annual free cash flow generated from 2008 to 2009.
Balance Sheet
The company's cash balance of $1.3B and other minor receivables relative to current liabilities give the company a healthy current ratio of 1.03. Cash liquidity at the company is a bit stretched but as an on-going concern they're healthy, counting on their present assets and creditworthiness. The company's small cash position may induce some price volatility in the case of a business slowdown, but almost nothing can cripple the company's ability to continue operating.
Long term debt is of little concern at CL. The $5.6B in debts are easily funded by free cash flows which have exceeded $2B for the trailing four years' time. The balance sheet at CL is healthy.
Expert Summary
CL has been in the consumer goods business for over one hundred years. They've displayed a consistent ability to earn profits, although some years have been more lean than others. Speaking of profit, the company's profit margin has been elevated throughout the latter part of the 2000's as globalization and productivity improvements have helped the company reduce operating costs. They've also expanded into new markets during this time.
The company's free cash flow hit an all-time annual high in March of 2010 and the stock's market price played catch-up since then as the annual free cash flow appears to have settled around a new high. Look for opportunity when reported free cash flow bounds higher again in the future.
Dividend growth at the company has been consistent and in the last year they've paid out approximately 66% of their free cash flow as dividends. This is in line with their annual trend in payouts, which resulted in dividend payouts accumulating to approximately 50% of free cash flow in 2002.
Regular capital expenditures which have topped around $800M in recent years and considering operating in flows, leave the company room to grow the dividend by another 19%, all other factors remaining stable. Therefore the dividend is well-secured by the company's cash earnings and some additional room to grow the payout is available.
Takeaway
CL has great market share around the world. Their premium oral hygiene products have over 5% market share in the U.S.. Throughout many countries (Brazil and India make two examples) CL commands over 50% of the market. The company's large scale helps them control manufacturing costs on the product. Controlling manufacturing costs enables the company to sell in lower-income markets while maintaining profit margin.
While we return to the DCF Model's result I will summarize my outlook for CL: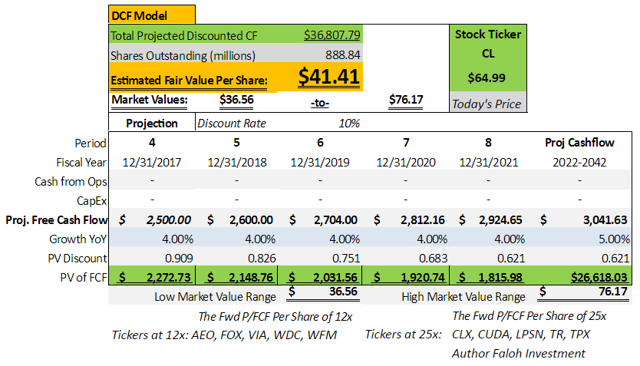 (Source: Faloh Investment)
Since 1990, growing annual free cash flows has been a long-term trend for the company, measuring in at 11% compounded annual growth over the 26 year period. I chose to project 4% annual growth and 5% long-term growth as a conservative baseline for modeling future cash flows. This conservative projection of growth resulted in the fair value measurement of $41.41.
Ultimately, I believe the stock will trade toward the higher part of its range. The consumer goods business they're in is stable, can increase prices with long-term inflation, and with its scale, longevity, and experience, the company's well positioned to continue enjoying success in the marketplace.
5-Year Price Target: $76.17, a 5 year CAGR of 3% from today's trading price of $64.99 while earning a 2% or greater annual dividend yield on invested capital.
Disclaimer: This article represents the opinion of the author as of the date of this article. This article is based upon information reasonably available to the author and obtained from public sources that the author believes are reliable. However, the author does not guarantee the accuracy or completeness of this article. It is merely the author's interpretation of the information contained in the article. The author may close his investment position at any point in time without providing notice. The author encourages all readers to do their own due diligence. This is not a recommendation to buy or sell a security.
Please click the + icon next to my user name and follow me, Faloh Investment, as I work to keep you informed on further developments as the market continues to present major value opportunities.
Disclosure: I/we have no positions in any stocks mentioned, and no plans to initiate any positions within the next 72 hours.
I wrote this article myself, and it expresses my own opinions. I am not receiving compensation for it (other than from Seeking Alpha). I have no business relationship with any company whose stock is mentioned in this article.