The stock market went on quite a tear in the 3+ weeks immediately following the election, with the month of November especially beneficial for small-cap stocks.
Before delving into what it all might mean for small-cap investors, here's a quick rundown to help contextualize just how dynamic a month it was:
1) This was the best November in the history of the Russell 2000 Index. featuring its highest monthly return since October 2011 when small-caps were just emerging from a precipitous decline.
2) The performance spread between small-cap and large-cap was the widest in 14 years (since April 2002).The small-cap Russell 2000 index gained 11.2% for the month versus respective gains of 3.9% and 3.7% for the large-cap Russell 1000 and S&P 500 Indexes.
3) Small-cap value enjoyed a good year's worth of results in one month! During November, the Russell 2000 Value advanced 13.3% compared to 9.0% for the Russell 2000 Growth.
4) Small-cap value earned an even bigger advantage quarter-to-date, thanks to better performance during the mini-correction earlier in the quarter. From 9/30/16-11/30/16, small-cap value was up 9.6% versus a gain of 2.2% for small-cap growth.
What drove small-cap value's lead?
The strength of small-cap value has come from cyclical (and diverse) sectors including Financials, Industrials, Consumer Discretionary, Energy, and Materials.
Financials benefited from a steepening yield curve that should help to boost bank profits, while optimism about accelerating economic growth helped Industrials and many Materials stocks. The U.S. consumer has ratcheted up spending, and rebounding commodity prices helped both Energy and, again, Materials.
Small-Cap Cyclical Sectors Lead in November
Russell 2000 Sector Returns November 2016 and QTD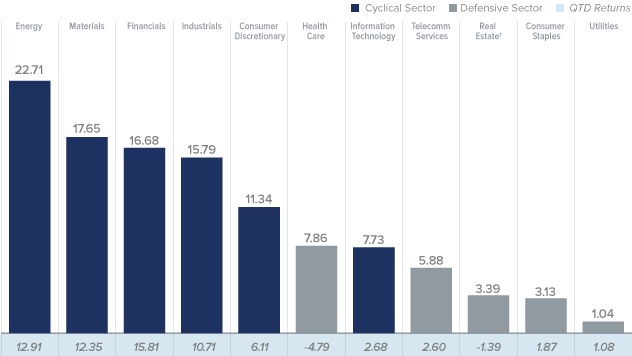 1 Real Estate, formerly part of Financials, became a separate GICS sector on 8/31/16.
What does this mean for small-cap investors?
To be sure, this is all welcome news, especially for small-cap active managers with a cyclical tilt.
After such a remarkable run, it's also understandable to ask, perhaps with a bit of trepidation, where small-caps go from here. We are contrarians, after all.
First, the current rally has exacerbated an already pronounced shift from growth to value while also solidifying a move from large-cap to small-cap.
The post-election environment has also seen a dramatic rotation away from safety-bonds and defensive stocks most notably. Investors have shown increased confidence in the potential for accelerated economic growth and a likely policy shift from monetary to fiscal-chiefly in the form of tax cuts and projected spending increases on infrastructure and defense.
How much of this is accurate and how much has already been priced in remain to be seen. Certainly, we see these as the critical questions to be answered going forward.
It is not uncommon for major events (political or otherwise) to create outsized, short-term swings that manage to correct themselves as the future becomes clearer. We would not be at all surprised to see a correction over the next few months.
After all, one result of the uptick is that many stocks now sport very high valuations based on these great expectations.
As always, we think certain fundamentals will continue to matter as the interest rate environment (and with it the economy as a whole) returns to a more historically normal (and, in this instance, possibly inflationary) pattern.
From our perspective as small-cap specialists, we see the key fundamentals going forward as earnings, profitability, the ability to self-fund, and valuations that we believe do not fully reflect these positive attributes.
We view small-cap value's leadership as still comparably new and that the cycle will remain favorable for both small-cap value and active approaches to the asset class.
Stay tuned…
Important Disclosure Information
Mr. Gannon's thoughts and opinions concerning the stock market are solely his own and, of course, there can be no assurance with regard to future market movements. Past performance is no guarantee of future results.
The Russell Investment Group is the source and owner of the trademarks, service marks, and copyrights related to the Russell Indexes. Russell® is a trademark of Russell Investment Group. The Russell 2000 Index is an unmanaged, capitalization-weighted index of domestic small-cap stocks. It measures the performance of the 2,000 smallest publicly traded U.S. companies in the Russell 3000 Index. The Russell 2000 Value and Growth indexes consist of the respective value and growth stocks within the Russell 2000 as determined by Russell Investments. The Russell 1000 index is an index of domestic large-cap stocks. It measures the performance of the 1,000 largest publicly traded U.S. companies in the Russell 3000 index. The S&P 500 is an index of U.S. large-cap stocks selected by Standard & Poor's based on market size, liquidity, and industry grouping, among other factors. The performance of an index does not represent exactly any particular investment, as you cannot invest directly in an index.
You may obtain a prospectus for any of The Royce Funds on our website at roycefunds.com/prospectus or by calling (800) 841-1180. The prospectus includes investment objectives, risks, fees, charges, expenses, and other information that you should read and consider carefully before investing.
Distributor: Royce Fund Services, Inc.
Disclosure: I/we have no positions in any stocks mentioned, and no plans to initiate any positions within the next 72 hours.
I wrote this article myself, and it expresses my own opinions. I am not receiving compensation for it. I have no business relationship with any company whose stock is mentioned in this article.