As everyone knows by now, Donald Trump is going to become the next U.S. president. One of the biggest stances he took that helped to bring about his victory is his advocacy for coal. Out of the top five coal producing states -- Wyoming (40%), West Virginia (11%), Kentucky (8%), Pennsylvania (6%) and Illinois (6%), as of 2014 -- Trump only failed to secure the lowest producing state of Illinois. This should not come as too much of a surprise because although coal produced 33% of the electricity used in the United States in 2015, it has slowly been declining since 2007. Even China, by far the largest producer of the world's coal, saw a 3.7% decline in consumption in 2015. This declining use of coal translates into a loss of jobs for many and it's no wonder why so many people are worried for their future and are hoping for a change.
2016 was a great year for coal
2016 has seen significant price increases in companies dealing in the coal industry. Teck Resources Ltd. (NYSE:TECK) is a diversified resource company in Canada and the largest producer of steel-making coal. Opening the year at $3.63, they are now currently at $25.88, a 613% increase. CONSOL Energy, Inc. (NYSE:CNX) is a United States based company that primarily deals in the production of natural gas and coal. CONSOL opened the year at $8.57 and is currently at $21.63, a 152% increase. Although these increases are significant, I don't believe either company can keep it up. Teck's current high is only just catching up to their 2014 high of $26.08. CONSOL still has not come that close to their recent high's of $47.45 and $33.83 for 2014 and 2015, respectively. These trends are probably more attributable to the fact of just how severe the recent price falls have been. Coal clearly is not obsolete yet and with the recent global spurring of Trump concerning coal, these stocks had nowhere to go but up.
Still a dying breed
I believe this recent surge and possible fixes to be temporary. Trump promised to revive the coal industry by taking away President Obama EPA's Clean Power Plan (CPP). Even if he does succeed and coal consumption increases a little because of businesses, it's a Band-Aid at best. Not even considering the fact that coal is less efficient and emits more CO2 than natural gas, it's becoming more expensive. Since fracking has led to a boom in the United State's supply of natural gas, it's becoming cheaper and utility companies are taking notice. They have been switching from coal to natural gas, on their own, in order to save money. In fact, this year is expected to be the first year that coal will no longer be the United State's top resource for the production of electricity. In 2016, natural gas is estimated to take the top spot at 33%, compared to coal at 32%.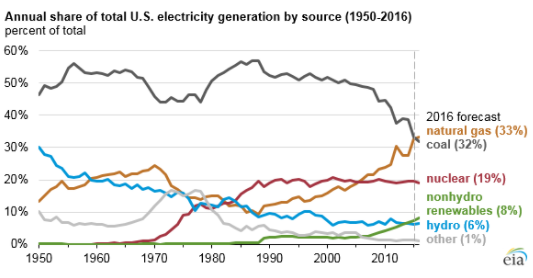 (EIA.gov)
If fossil fuels aren't what you're looking to invest in though, I'd recommend Brookfield Renewable Partners L.P. (NYSE:BEP). Brookfield Renewable Partners are one of the largest renewable power operators in the world and focus primarily on operating hydropower assets. With a forward annual dividend yield of 6.03% and the global push for more renewable energy, it is hard not to see the potential benefits of this stock.
Too late to jump on board
Coal was king for many years but more and more jobs are being lost every year in the industry. Although 2016 was a great revival year from an investment standpoint, I believe it's more than likely just a temporary rise. It is still a dying fuel source that is consistently going down in consumption and production. With more efficient and cheaper alternatives, there's no reason to expect that coal would make a permanent comeback. Rather than wasting money to bring back a dying industry, efforts should be put forth to bring new industries into these unemployed areas. By using our money to train people for prevailing industries, jobs could be maintained for many years and not by trying to cling to the outdated past.
Disclosure: I/we have no positions in any stocks mentioned, and no plans to initiate any positions within the next 72 hours.
I wrote this article myself, and it expresses my own opinions. I am not receiving compensation for it (other than from Seeking Alpha). I have no business relationship with any company whose stock is mentioned in this article.