A common refrain from oil bears recently is that US shale production will increase dramatically, now that OPEC and non-OPEC members have agreed to a production cut. We've long-held that the shale band is a fallacy, that US production will not increase as dramatically as anticipated, and that any increase will actually be needed to meet the unrelenting decline curve and likely increased demand next year.
Recent news provided some evidence that this is turning out to be true.
Hedging and Cash Flows
Remember that increased oil production only comes from increased capital spending. Like in the Field of Dreams, if you spend it, oil will come - the "it" being money, whether borrowed, from equity sales and/or operating cash flow. Oil bears argue that with higher oil prices, shale producers will have much higher cash flows to increase their capex budgets. If they can "break-even" at $50/barrel; oil prices in the mid-$50s to $60s are downright luxurious. While we think cash flows will surely increase, the real gains will be capped.
Recent reports indicate that shale producers have hedged significantly immediately after the OPEC agreement. After enduring a tumultuous 2016, can we blame them for securing their cash flows for 2017? This rush to hedge though has sent the price curve into backwardation.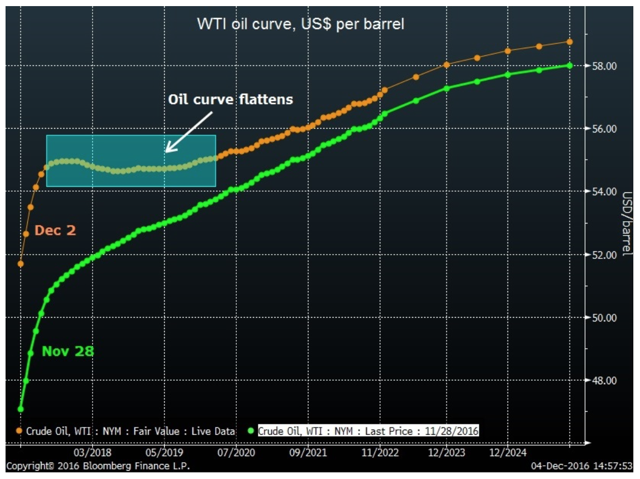 Source: Bloomberg, 12/2/2016
Here's the truth about hedging. Yes, it guarantees cash flow, but it also caps them because you've essentially pre-sold your future inventory. For the barrels that you've sold via derivatives, you're basically saying that the price you see quoted today is enough. Even if oil prices continue rising, it won't matter, the inventory that was already hedged won't benefit. Nevertheless, E&P companies are choosing to exchange tomorrow's profit potential for security today.
Capping Cash Flows Affects Borrowing
This tradeoff will have two effects.
First, increased hedging will inhibit the growth of operating cash flows - cash that can then be used to fund additional capex. If you presold at say $50/barrel, but oil rises to $60/barrel, the $10/barrel profit that could have been used for capex is lost forever.
Second, the lower cash flows (than what could have been) also decrease a company's ability to re-lever and borrow more to fund capex.
This second point has to be considered in today's lending environment where banks are reducing their exposures to E&P loans. If cash flows don't expand dramatically, then capital won't flow as freely. Thus, the two are intertwined, and access to debt is a key ingredient if US E&P shale companies are to grow production faster.
It's unsurprising banks are being more conservative in lending to the oil industry given the impending debt wall. Bloomberg states:
"More than $21 billion of debt from oilfield services and drilling companies is estimated to be maturing in 2018, almost three times the total burden in 2017, according to a report from Moody's Investors Service on Aug. 9. More than 70 percent of those high-yield bonds and term loans are rated Caa1 or lower, and more than 90 percent are rated below B1." Bloomberg (August 9, 2016)

"[T]he talks with lenders may be tougher than expected because bankers are wary of all the funded term debt that comes due after 2019, BI credit analyst Spencer Cutter wrote in the report last week." Bloomberg (November 22, 2016)
So to reiterate, hedging early caps the potential upside that comes with higher oil prices, which in turn caps an oil company's ability to spend on or borrow for capex investments.
Oil Service Costs
Moreover, we've said all along that service provider costs will increase (here and here). It's a direct result of higher oil prices. Drilling for oil will cost more. Oil companies have been surviving off of the backs of service providers, and they've fared poorly in the past few years, as evident by the increasing number of bankruptcies among oil service providers.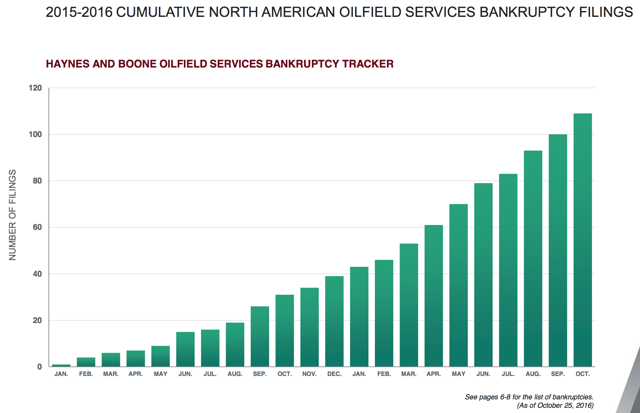 Source: Haynes and Boone: Oilfield Services Bankruptcy Tracker (October 2016)
Notice that this chart depicts cumulative bankruptcies, which are still occurring as of today. Note also that the bankruptcies have been sizeable, as the aggregate debts have exceeded $18B, so both small and large scale service providers have suffered.
With consolidation and bankruptcies, there are fewer service providers around, which means the remaining ones have more leverage. Thus, reduced supply coupled with increasing demand will lead to cost inflation.
The Permian as a canary?
Case in point, just look at the concentration of rigs in the latest Baker Hughes report. Notice the Permian? It accounts for more than half of the rigs in the major basins.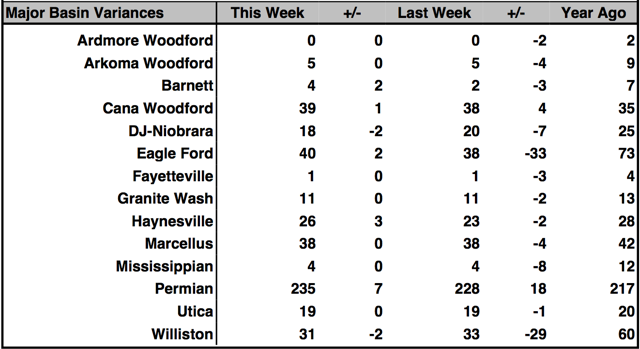 Source: Baker Hughes Rig Count (December 2, 2016)
It's little surprise that Credit Suisse recently stated:
With service prices, particularly pressure pumping expected to rise in 2017 on the back of increased activity, a Permian operator commented that it is already seeing greater than a 20% increase in completion costs. The biggest concern for Permian management teams has been a potential scramble for equipment and services that higher commodity pricing could introduce, and the OPEC move has the potential to drive faster service cost inflation than we would have otherwise seen, muting the impact of the oil spike on returns for US shale operators."

Credit Suisse US Independent E&Ps (December 2, 2016)
Grow Yes, Explosive Growth, No
So at 4.6M bpd (US production less Alaska and the Gulf of Mexico), don't expect US shale production to suddenly and significantly leap higher. Balance sheets must be repaired, and insuring survival is still the first priority. Grow? Sure, somewhat, but let's not lean too far out from the skis.
Couple the above with our hypothesis that OPEC is incentivized to adhere to the cuts, we believe that if demand continues to increase, supplies will be constrained by the end of 1H 2017, and oil prices will likely vault higher than $60/barrel.
As always, we welcome your comments. If you would like to read more of our articles, please be sure to hit the "Follow" button above.
Disclosure: I/we have no positions in any stocks mentioned, and no plans to initiate any positions within the next 72 hours.
I wrote this article myself, and it expresses my own opinions. I am not receiving compensation for it (other than from Seeking Alpha). I have no business relationship with any company whose stock is mentioned in this article.