One might view all the insider buying at TheStreet (NASDAQ:TST) and surmise that it offers something to investors. However, closer scrutiny reveals that the same persons have been acquiring stock in the financial media company since it traded near $2 per share, as compared to under $0.90 today. Meanwhile, the firm is reporting losses and burning through cash.
TheStreet's shares trade on the Nasdaq, and when the price of a stock on the exchange falls beneath $1 for 30 consecutive days, delisting procedures can start. According to Google Finance, TST has been available for under $1 since November 1st. As an enterprise that ostensibly provides insight into financial matters, it perhaps should have proactively done a reverse split in order to preclude the current situation.
The corporation itself is largely dependent upon subscribers who may be gaining awareness of its status with the Nasdaq. There is granularity: 46% of subscriptions are attributed to business-to-consumer ("B2C") and the remaining 54% to business-to-business ("B2B"). B2B clients should be better informed of listing requirements whereas B2C customers probably turn to the company for education on related matters.
As of the most recent quarter, total revenues are down 9% since Q3 of last year and 6% so far this year. B2C revenue has declined $1.5 million, or 16%. According to the firm's quarterly SEC filing, advertising revenue is 14% lower because of lower repeat business. The arithmetic puts ad revenue at $2.4 million, or about 15.8% of the company's top line. However, fewer persons are subscribing, and those who do pay less. There has been a 15% decrease in the weighted-average number of subscriptions combined with a 1% decrease in the average revenue recognized per subscription, all associated with the B2C segment.
Effective leadership might ultimately need to reconsider the value proposition of its products. Can the company recognize and utilize talent? What alternatives are available?
It sounds as if the company's B2B arm is able to tread water, though. Per the Conference Call Transcript, B2B revenues have increased by 1% due to products such as "The Deal, BoardEx and RateWatch and our growing institutional conference business," to $7.2 million.
We've broadened the product line to include events which is helping, but we do have - there's been some consolidation in the deals customer base. The number of investment banks is down and whenever they merge, we lose a customer.
One might make inferences about company-wide payroll. Apparently, compensation to representatives is an issue because sales and marketing is up 1%, but a reduction in commission expense offsets online advertising. Cost of services expense has decreased 9%, partly due to compensation. However, G&A expense is up 4% with "comp" costs cited. So, it seems that remuneration is still going to higher ups.
An immediate task for the highest paid employees should be to get the stock price above $1. It might be effectuated through a future reverse split. If it is perceived to be because of the need to trade on the exchange, marketability of products to B2C customers might be affected.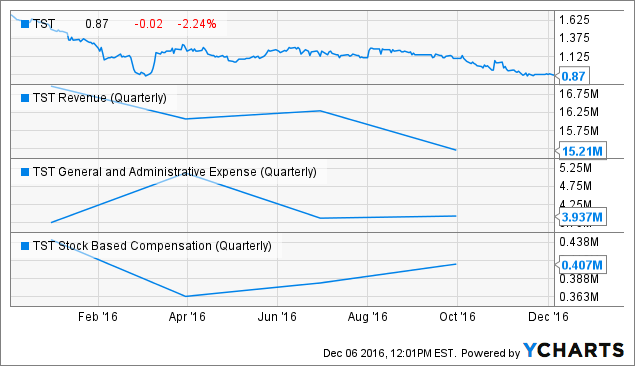 Meanwhile, morale could be an issue. Its shares have been hard to borrow throughout recent memory; Nasdaq action can further weigh on sentiment. After all, it is a company that intends to help persons navigate financial markets. On the other hand, with the holidays ahead - and perhaps ceremonial activities - there is still the chance of a renewed esprit de corps.
Proverbially, TheStreet might be between a rock and a hard place, stuck in mud that is turning into quicksand. It offers subscriptions to businesses and consumers, but its own topical issues must be compounding difficulties. Gaining permanent compliance with the Nasdaq should be among its priorities.
Disclosure: I/we have no positions in any stocks mentioned, and no plans to initiate any positions within the next 72 hours.
I wrote this article myself, and it expresses my own opinions. I am not receiving compensation for it (other than from Seeking Alpha). I have no business relationship with any company whose stock is mentioned in this article.
Editor's Note: This article covers one or more stocks trading at less than $1 per share and/or with less than a $100 million market cap. Please be aware of the risks associated with these stocks.