Random Itinerant is a Valeant (NYSE:VRX) bull. Naturally, I disagree with him on many things. However, his December 5th article on Valeant and the ill-advised Salix sale was excellent - in both writing quality and perspective.
He brought up an interesting point about Valeant's management but did not extend the logic to its full conclusion. I will broaden his logic to its full conclusion. This finding is simple, and it is a fundamental problem with Valeant as an investment. Valeant has a problem with managerial decision-making.
The removal of Pearson and other key executives did not resolve this issue.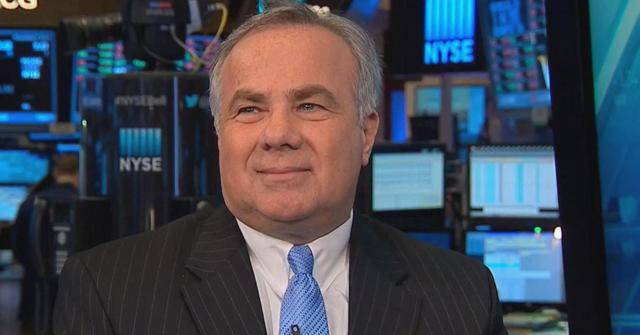 source: CNBC.com
Background
Valeant's problems were not inevitable. They were the result of bad decision-making. The media likes to portray Valeant as evil and corrupt, but I think 'bumbling' is a more apt description. All throughout its history, Valeant has made weird and self-destructive decisions.
In June 2015, Valeant reached an all-time high of over $200, and the P/E ratio was over 75. How does a company become so overvalued? It's simple, the market expected growth and by rewarding Valeant with such a high stock price they gave management an easy, low-risk way to generate the capital needed to keep financing that growth.
However, Valeant doesn't operate like that. Instead of selling $200 stock, Valeant's management thought it would be a better idea to issue over $10 billion in new debt at almost the apex of its stock price.
The stock price tumbled soon after, leading Valeant to its current predicament.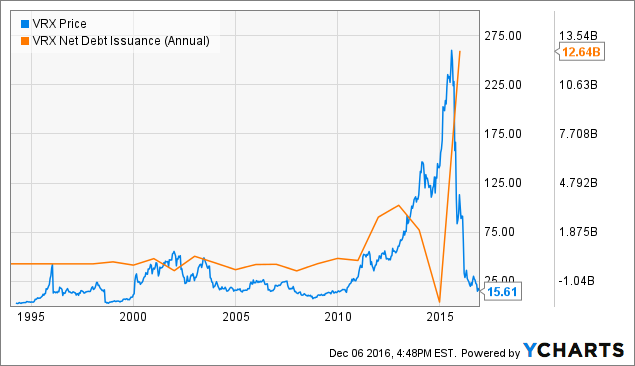 The Bad Management Continues
Many expected Valeant's mismanagement to end with Pearson. The company was supposed to turn a new leaf with its new CEO, Papa, and several other replacement executives. However, this has not been the case.
When we look at Papa's old company, Perrigo, on top of a similar stock chart, we see many of the same problems that caused the crash at Valeant.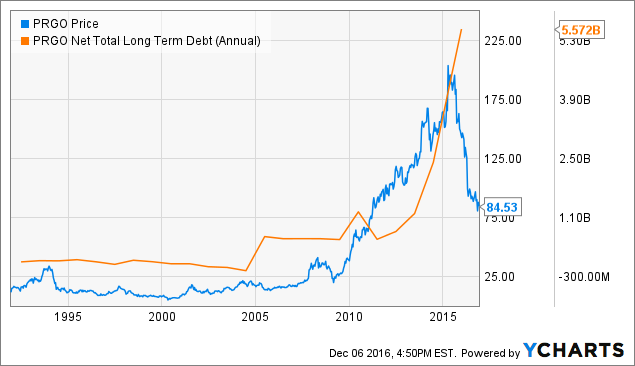 According to Seeking Alpha's David Trainer:
The saying goes "birds of a feather flock together." With the news that Valeant had named Joseph Papa, its new CEO, we began to analyze just what Valeant was getting. Through this analysis, we found that Perrigo Company (NASDAQ: PRGO), the firm Mr. Papa is leaving behind, exhibits many similarities to Valeant, including misleading non-GAAP measurements, aggressive, shareholder destructive acquisitions, and executive compensation misaligned with shareholders' interests. Perrigo is in the Danger Zone.
Read the eye-opening report here
Regardless of the CEO, dysfunction rarely starts in the top levels of an organization.
I believe that when Valeant's trademark dysfunction reached the top levels, it had already corrupted every other aspect of the business. This is evidenced by the company's continued floundering after the removal of its old senior leadership.
Cannot Provide Accurate Guidance.
Valeant does not seem to have a firm grasp on the performance of its assets and seems unable to provide accurate projections.
Off the top of my head, I remember this company cutting guidance in March 2016, June 2016, November 8th and it will probably continue to do so in the future.
In most of these cases, outside sources predicted what the firm's management seems to have missed. On the earnings call, the new Valeant CFO appeared to be pronouncing the names of many of the firm's important assets for the first time. I have a tough time trusting the projections someone makes about an asset they cannot pronounce - maybe that is unfair but better safe than sorry.
Endless leaks.
Valeant has more holes than Swiss cheese, and the company is letting out numerous and disastrous leaks. Many of which appear to be baseless rumors coming out of 'credible' inside sources and damaging the price of the stock.
They also hamper the company's negotiation process for asset sales because they make it look desperate and weak. When Takeda Pharmaceuticals walked away from the Salix negotiating table, Valeant instantly lost 8 percent in its stock value. If Takeda comes back, they will have a much stronger hand.
Valeant needs its stock price. I believe equity issuance is the only realistic way for the firm to pay down its debt.
Boneheaded Tactics
Valeant claims to want to sell Salix, but meanwhile it is increasing its expenditure on the division - why? Shouldn't the company wait until after talk of a sale are over before pouring money into the division it is planning to sell?
As mentioned in Random Iterant's article, publicly discussing the sale of a unit can hurt the performance of that division because of physician uncertainty, and reduced efficiently.
Apparently, Valeant discovered this in 2014.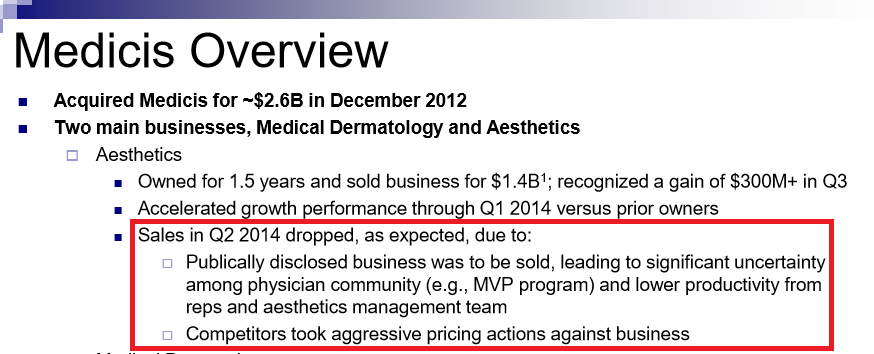 Valeant clearly has not learned from any of its mistakes, and if the information provided about Medicis is accurate (and not just a Valeant excuse), we will probably see Salix division revenue weak in the fist quarter of 2017 - along with several other divisions the company is planning to sell according to leaks. On that note, maybe we will see another guidance cut too?
Conclusion
If you invest in Valeant based solely on it the value of its assets, ability to pay down its debt and generate cash flow in the future, you could make a plausible argument that the company is undervalued. Valeant's situation is rough, but it isn't impossible to rectify.
However, Valeant is more than just its assets and cash flow. A company is made up of people, decision-making, priorities, and values. When you look at Valeant's decision-making track-record and consider the fact that this problem has not been solved, anything is possible in Valeant's future - I mean that in a bad way.
Bankruptcy is a real possibility, and while Papa and the other managers will get a golden parachute, regular shareholders will not.
Disclosure: I/we have no positions in any stocks mentioned, and no plans to initiate any positions within the next 72 hours.
I wrote this article myself, and it expresses my own opinions. I am not receiving compensation for it (other than from Seeking Alpha). I have no business relationship with any company whose stock is mentioned in this article.