Ten days ago, Gulfmark Offshore (NYSE:GLF) announced a proposed comprehensive debt restructuring transaction which I already discussed in detail in two articles on Seeking Alpha. Basically, I voiced my skepticism about the chances for the transaction to be consumed mainly due to the very little incentives for bondholders to tender their bonds into the offer and the very high minimum tender amount requirement of $250 mln for the company's outstanding $430 mln in senior unsecured notes due 2022.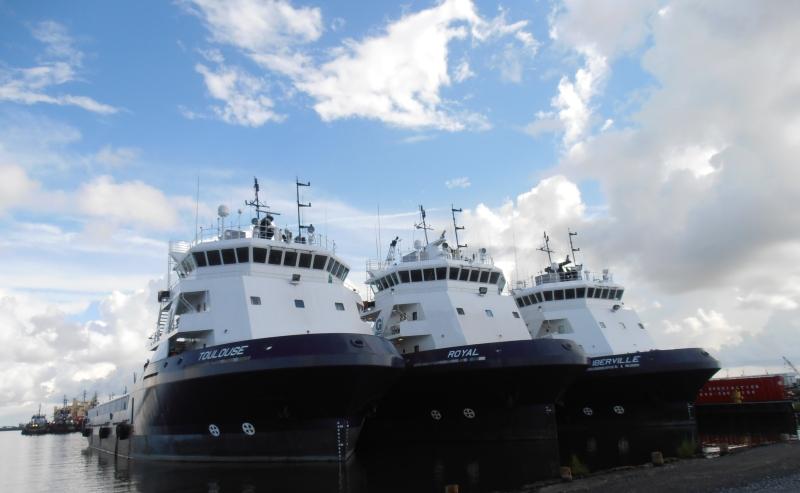 Picture: Platform supply vessels "Toulouse", "Royal" and "Bienville" - Source: shipspotting.com
In addition, competitor Seacor (NYSE:CKH) has secretly amassed $54 mln of the bonds in recent months and already approached the company to pursue a pre-packaged bankruptcy reorganization and to subsequently merge with Seacor's offshore service subsidiary, Seacor Marine Holdings, with basically no recovery for current shareholders other than some options to purchase Seacor stock.
Moreover, I criticized the harsh conditions for the proposed new credit facilities.
In conclusion, I advised noteholders
not to tender their bonds into the offer given the only slight premium to the current market price and the large haircut to face value involved. Instead, I would patiently wait for Seacor to potentially come up with an improved offer or GulfMark to sweeten the tender conditions themselves. Even if the proposed transaction won't be executed and the company instead decides to reorganize under bankruptcy protection, the bonds would most likely be good for a substantial stake in the restructured company given that GulfMark currently just carries $50 mln of higher ranking debt.
As it turned out, I was proven largely right by yesterday's surprise news of the formation of an ad-hoc noteholder committee that not only rejects the proposed tender offer but is actually "considering an alternative transaction that will maximize value for all GulfMark's creditors and stakeholders":
An ad hoc committee of noteholders of GulfMark Offshore's 6.375% senior notes due 2022 ("Noteholder Committee") has organized and retained Milbank, Tweed, Hadley and McCloy and Houlihan Lokey. The Noteholder Committee is made up of sophisticated financial institutions and hedge funds and holds approximately 50% of all outstanding notes, which is the majority of the notes when excluding notes held by insiders. The Noteholder Committee, therefore holds a blocking position with respect to the proposed tender offer launched by GulfMark on November 23, 2016 (the "Proposed Tender Offer").

The members of the Noteholder Committee will not be tendering into the Proposed Tender Offer and strongly encourages other holders not to tender as well. The Noteholder Committee is currently considering an alternative transaction that will maximize value for all GulfMark's creditors and stakeholders. The Noteholder Committee also invites other senior noteholders to reach out to Gavin Kagan at Houlihan Lokey (212-497-7945) or Benjamin Krauskopf (212-497-7846) to discuss the issue or if interested in joining the Noteholder Committee.
So with the ad hoc committee controlling approximately $215 mln of the $430 mln in outstanding notes and Seacor holding another $54 mln, there's virtually no chance for the tender offer to be consumed in the proposed form.
So with the appearance of a noteholder committee "made up of sophisticated financial institutions and hedge funds" on the scene this is already the third party reaching out to participate in the restructuring of GulfMark Offshore in recent weeks.
As the ad hoc committee has retained Houlihan Lokey (NYSE:HLI), an investment bank with a special focus on the oil and gas industry and restructuring transactions, investors can reasonably expect to receive an alternative proposal within rather short notice.
And while the ad hoc committee promises to "maximize value for all GulfMark's creditors and stakeholders", I do not expect this to be necessarily the case for the company's equityholders given the very strong bargaining position of the newly established noteholder committee which isn't exactly incentivized to leave much, if anything, on the table for common shareholders - as already evidenced by the terms of the recent Seacor offer.
With the majority of the senior claims now bundled within a powerful and deep-pocketed consortium, equityholders should consider themselves fortunate to be offered anything close to the terms of the currently proposed transaction but might very well end up with much less or possibly even nothing.
That said, there's always a chance for things to improve, particularly in light of the recent OPEC decision and the resulting major rally in shares of peers Tidewater (NYSE:TDW) and Hornbeck Offshore Servives (NYSE:HOS).
Bottom line:
While I fully expect noteholders to be offered a superior deal within short notice, I continue to remain skeptical on the prospects for equityholders with the majority of the senior notes now bundled within a powerful ad hoc committee that has very little incentive to leave much on the table for claims ranking lower in the company's capital structure.
That said, the committee's bold promise of maximizing value for all stakeholders might be enough to spark a most likely short, but nevertheless violent rally in the thinly traded shares, particularly when considering the stock's recent substantial underperformance in comparison with its peers.
Given the latest developments, noteholders should patiently wait for things to unfold while equityholders might soon be presented with a chance to dispose of their shares at substantially higher prices.
Disclosure: I/we have no positions in any stocks mentioned, and no plans to initiate any positions within the next 72 hours.
I wrote this article myself, and it expresses my own opinions. I am not receiving compensation for it (other than from Seeking Alpha). I have no business relationship with any company whose stock is mentioned in this article.
Editor's Note: This article covers one or more stocks trading at less than $1 per share and/or with less than a $100 million market cap. Please be aware of the risks associated with these stocks.